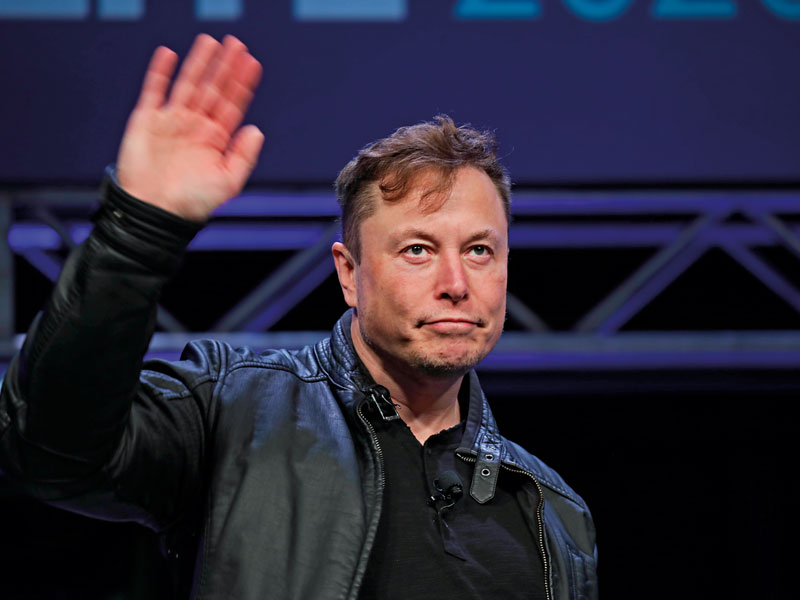 Elon Musk, currently the second richest person in the world&nbsp
It wasn't so long ago that a billionaire was considered to be unimaginably rich. But as new industries emerge in the digital age, billionaires have become almost two a penny and bets are being made on when we will see the first trillionaire. The individual will probably be male, American and somebody already among the top 10 wealthiest people in the world. And, according to venture capital billionaire Chamath Palihapitiya, he may emerge from a highly virtuous industry. "The world's richest person should be somebody that's fixing or fighting climate change," he told CNBC in an interview.
Working from the latest Forbes list of the world's billionaires, as of May 2021 the front runners look like being Amazon founder Jeff Bezos with $177bn, Tesla and SpaceX's Elon Musk with $151bn and French fashion king Bernard Arnault and family with $150bn. Not far behind are Microsoft founder and philanthropist Bill Gates with $124bn, Facebook's Mark Zuckerberg on $97bn and Chinese business magnate and philanthropist Jack Ma, co-founder of the Alibaba group, on over $51bn, who leads an Asian charge of the super-rich.
Constantly increasing in size
The wealth of these modern-day Midases fluctuates on a daily basis according to share market movements, but it steadily increases in the medium and long term. For instance, in just one trading day during April 2021, the net worth of Musk shot up by $7.8bn when Tesla's stock rose by 4.7 percent. On the other hand the wealth of the Arnault family slumped by $87m when the shares fell by just 0.145 percent. However, the net worth of these individuals has soared over the years.
For instance, the wealth of the Arnault family has more than quadrupled since 2012, quite enough for parent company LVMH to buy Tiffany & Co for $15.8bn in January 2021. There is no obvious reason why the wealth of today's behemoth billionaires should not continue to increase at comparable rates. Barring some kind of natural catastrophe that wipes out entire economies, Bezos could get to the trillion mark first, according to a study by American researcher Comparisun, while Zuckerberg could make it by the age of 51. Incidentally, the valuation of Amazon the public company is already approaching the $2trn mark. "Of the 25 individuals we analysed," reports Comparisun, "only 11 realistically have a chance of becoming a trillionaire during their lifetime, based on their recent rate of wealth growth." Adding weight to the research, this study was conducted before an astonishing post-pandemic rebound in the share markets, notably in the US, that has already created more billionaires and turbo-boosted the net worth of those at the top of the rich list.
In the first quarter of 2021 the big technology stocks, for instance, bounced back with a vengeance and are expected to keep on growing, according to most analysts, as they capitalise on pandemic-induced behavioural shifts. According to data interpreted by finance markets analyst Finbold, the market value of the top 500 US public companies soared by $1.99trn in the first quarter of 2021, rising from $33.38trn to $35.38trn. More importantly, since 2015 the value of these companies has grown by 88.47 percent, up from $18.77trn. Inevitably the wealth of the major shareholders, the super-rich, has increased simultaneously.
The new generation
Also, a whole new generation of billionaires is emerging, like Whitney Wolfe Herd, the 31-year-old co-founder of online dating group Bumble. In February 2021 Herd became the world's youngest self-made female billionaire, with $1.3bn.
Globally, no fewer than 87 women became billionaires for the first time, bringing the total number of female billionaires to 328 spread across a wide range of industries. They are led by 67-year-old Françoise Bettencourt Meyers and her family, 33 percent owner of L'Oréal, whose net worth increased by $24.7bn to $73.6bn, largely because of the rebound in the stock. Collectively, the world's female billionaires added more than $570bn to their wealth, bringing their combined net worth to $1.53trn.
Another huge beneficiary of the pandemic was 71-year-old Alice Walton of Walmart fame, who increased her net worth by $7.4bn, bringing it to nearly $62bn. The boost happened mainly because the retailing giant's stock rose more than five percent as the stores posted a 69 percent increase in online sales in yet another demonstration of the power of the digital economy. Overall, e-commerce gathered momentum during the pandemic. Amazon, for example, hired an extra 175,000 staff to cope with demand for online sales while revenues shot to record highs.
The next crop of super wealthy is expected to come from the many industries that rely critically on artificial intelligence, big data and other next-generation tools. According to US investment site RealWealth, the winners will include biotechnology, online healthcare, online education and meeting platforms. Bezos and Musk, however, are both investing heavily in commercial rocketry.
There are still plenty of old-economy billionaires like India's Mukesh Ambani, who has built up a net worth of more than $84bn through Reliance Industries, which is involved in petrochemicals and retail while having a foot in the telecoms door with a 4G phone service called Jio. But the evidence would seem to show that the path to trillionaire-hood lies in the digital economy.