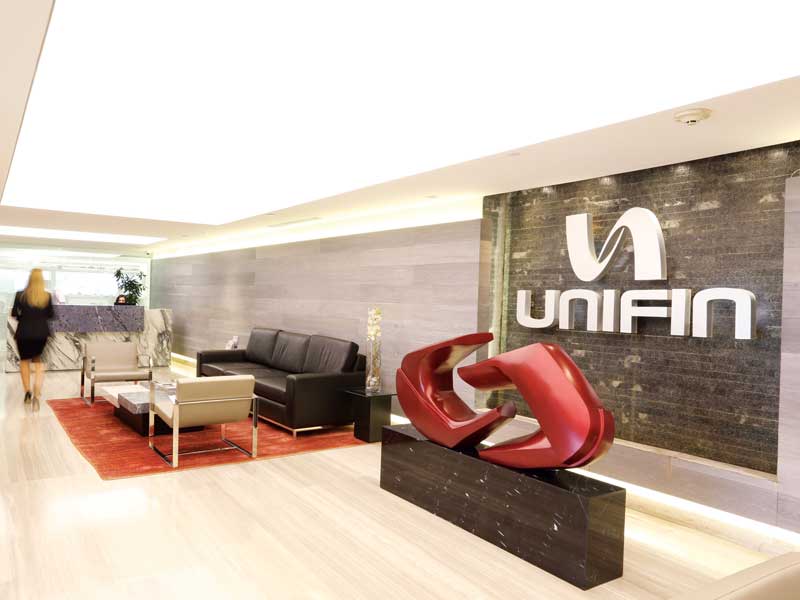 Unifin is a leading independent leasing company founded in Mexico. It functions as a non-banking financial services company, specialising in operating leasing and auto lending&nbsp
Interview with:
Rodrigo Lebois Mateos, Founder at Unifin
February 2, 2018
Many of the world's most successful business leaders share a common trait: a period of their life that saw them hovering on the edge of failure. It is a common narrative that the owner of a now tremendously successful company was once responsible for a venture that sent them towards near collapse. However, this period of difficulty often proves to have a silver lining. In fact, many leaders consider a period of failure to be the most powerful learning exercise they experience, and even the key to their future success.
We do everything in our power to make sure deals are a success. Even if it is necessary to shift strategies eight or 10 times, we do so, and do so quickly
Such is the case with the career of Rodrigo Lebois Mateos, founder of Unifin. Unifin is a leading independent leasing company founded in Mexico. It functions as a non-banking financial services company, specialising in operating leasing and auto lending, among other areas. Unifin primarily targets small and medium-sized businesses, offering operating leases for equipment, machinery and transportation vehicles across a vast number of sectors.
The business has quite a remarkable story behind its history and founding. Lebois was born in Mexico City in 1963 to a fairly well-to-do, albeit not incredibly wealthy, family. At the age of 30, he left the automotive sales company he had become a partner of in order to create Unifin. The business began from the humblest of beginnings as a car rental service. Lebois had only $300,000 to his name, but he was also able to lever a number of solid relationships with a few bankers and investors, in part thanks to a shared fondness for golf.
The business model he pursued was initially quite straightforward. "I decided to obtain credit from banks in order to purchase cars and then rent them out, while my clients' promissory notes served as sureties," Lebois told World Finance. One year later, towards the end of 1994, Lebois had posted a remarkable $450,000 in profit. As a result, in just a year, the company's capital rose to $750,000 and its credit line to $3m.
Ups and downs
What Lebois didn't see coming, along with the rest of the world, was the Mexican financial crisis of December 1994. Growing political instability in the country increased Mexico's risk profile, and after intervention by the country's central bank, a raft of international investors pulled out of the country in the face of an overvalued peso. Lebois, who had been familiar with the world of finance from a young age, felt especially attracted to risky yet rewarding opportunities. He effectively bet $17m on the stability of the Mexican economy and the peso. In December, Mexico's central bank devalued the peso by 100 percent, going from 3.5 to seven pesos per US dollar. Consequently, on January 1 1995, Lebois awoke to $17m worth of debt.
"From age 31 to 38, I devoted my energy to negotiating my debt with each bank, until I managed to pay it off completely in 2001. It was a seven-year process filled with payments and renegotiations," Lebois told World Finance. Paying off a $17m debt was an exceptional feat; the vast majority of Mexican debtors affected by the crisis either declared bankruptcy, declared themselves unable to meet their liabilities, or simply disappeared. Meanwhile, Unifin was kept afloat thanks to bank loans for the purchase of cars and debt restructuring through the Mexican unidad de inversión index.
Lebois was forced to start again from scratch in 2001, but his company grew without pause from that moment on. He hired talented banking experts to lead the company, and even managed to avoid being hit by the financial crisis of 2008.
"Building the success of Unifin has not been easy," he explained. "In the 1990s, 160 or 200 companies were in competition with Unifin. To differentiate the company from these rivals, I made the strategic decision to focus on providing quality service." These days, Unifin has three strings to its bow: operating leasing, financial factoring and auto loans.
Lebois acknowledges that Unifin's competitive edge is its service. One of Unifin's mottos is 'solutions made to fit your needs'. Lebois explained: "We figure out how to find the goods required by our clients, and we investigate in a way that enables our clients to realise their dreams, but always through methods based on a solid foundation."
Unifin becomes a partner with the businesses it works with, although its clients have to demonstrate the capabilities needed to succeed. Lebois observed: "Everyone wants their business to succeed and we pride ourselves on doing everything we can to make sure partnerships end well. There must be some common ground to stand on, and Unifin works to arrange a situation that benefits all." He added: "We do everything in our power to make sure deals are a success. Even if it is necessary to shift strategies eight or 10 times, we do so, and do so quickly. Cases are reviewed on a daily basis. Even if it is necessary to redo things three or four times a day, it is simply done when it needs to be done".
Secrets to success
Today, Unifin has $1.5bn in assets, and has a debt of $1bn. The company has 500 employees and 7,000sq m of office space in 12 cities throughout Mexico. If Unifin were a bank, it would be the sixth-largest in the country.
Unifin is also a company of young people, shunning complex internal politics in favour of horizontal business dynamics. As Lebois explained: "There are supervisors, of course, but everyone works towards the same goal with significant autonomy."
Recently, Unifin has made a significant effort to hire more young people. Lebois believes that it is the talent in the lower echelons that propels the company forwards. "For instance, older people are often not very familiar with technology, but younger people that have grown up with it often have an innate understanding of it. Innovation comes from young people, especially from those that bring in new ideas and make financial corporations less rigid," he explained.
If the markets do change, Unifin has the capacity to adjust with great speed. Lebois elaborated further: "It is possible for Unifin to do so because the company's structure is not too rigid or too tense. It is agile and able to change as per the needs of our clients, while we are also able to quickly redirect efforts towards new products."
This backdrop has enabled Unifin to post significant success; the company's May 2015 share offering was the first for a Mexican public company since December 2014. Indeed, Unifin now offers a unique proposition among the once-crowded lending market. As Sergio Camacho Carmona, Chief Financial Institutional Officer at Unifin, said at the time of the transaction: "The Mexican SME market has very low penetration by the banks. In fact, banks aren't involved in the leasing business in general, which, of course, provides us here at Unifin with an excellent advantage."
What has been a defining characteristic of the company over the years has been the particular business quadrant it has operated in. Camacho said the company has carved out a successful niche because it is a one-stop shop for small and medium industries: "In other words, we give clients the opportunity to lease yellow equipment, IT equipment, office furniture and other products at the same time – rather than them having to spend days or weeks sourcing it from various companies. We will also offer a custom-made financial solution, which fits in with the company's particular strategy and ensures they remain in sound financial health."
The company is currently enjoying a positive moment in its history, with the business environment in Mexico looking promising for the immediate future. Small and medium-sized businesses in Mexico are expected to experience significant growth over the next few years. "Unifin is in a good place to meet these businesses demands, with our headquarters in Mexico City and strategically placed offerings where the majority of SMEs are located. We have regional offices in Hermosillo, Chihuahua, Monterrey, San Luis Potosi, Guadalajara, Leon, Queretaro, Puebla, Veracruz, Merida and Cancun," said Lebois.
Unifin donates resources to a large number of altruistic organisations, including Casa de la Amistad para Niños con Cáncer, Fundación Dr Díaz Perches and Fundación de Desarrollo Sustentable y Servicio. The company does not do so directly, nor does it make these donations public, as it does so through other foundations. "The donations are made with company and employee funds: for each peso that an employee decides to donate, Unifin gives two additional pesos," Lebois told World Finance. "Employees decide how they want to support and in what ways they wish to participate in the activities organised by the foundations."
All of these factors bode well for the company's future, as it looks to play a positive role in Mexico's economy over the coming years. After overcoming tremendous challenges in the past, both Unifin and Lebois expect continued success in the future ahead.