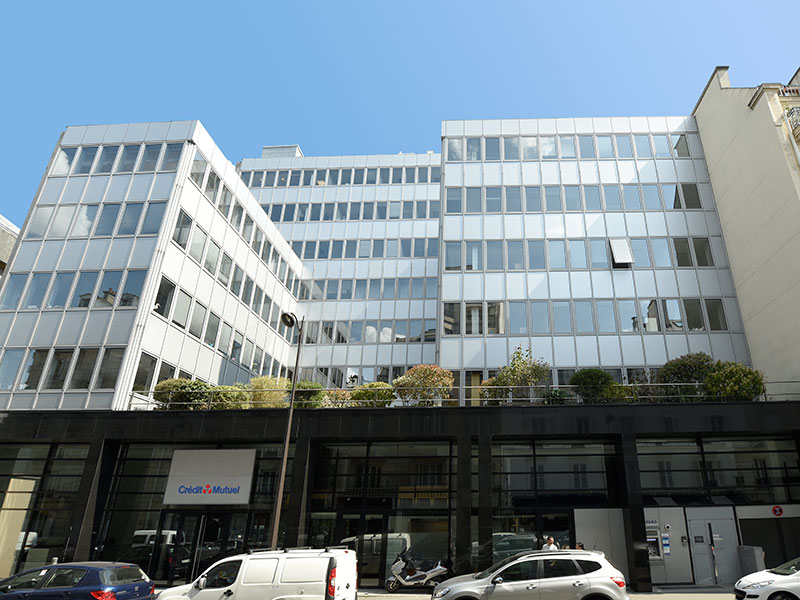 Crédit Mutuel's headquarters in Paris, France&nbsp
Author:
Nicolas Théry, Chairman at Crédit Mutuel
Today's economic environment is unprecedented. It is marked by negative interest rates and a near-flat rate curve, as well as increasing regulatory pressure. Aside from these already trying factors, the financial landscape is disrupted further by heightened and diversified competition from non-banking sectors, in line with the profound changes brought about by digital technology.
In spite of these myriad challenges, Crédit Mutuel endeavours to strengthen the unity of all of its related institutions, while still respecting the diversity of the 19 federations and six federal banks that make up its composition. In doing so, the bank strives to live up to the trust placed in it by its mutual directors, members and customers.
This trust was confirmed in 2017, when Crédit Mutuel became the winner for the banking sector in BearingPoint and TNS Sofres' Customer Relationship Podium Awards for the 10th time. This string of victories highlights how Crédit Mutuel remains the preferred bank of French people.
The group's motto, 'a bank owned by its customers, that changes everything', means, first and foremost, having a direct link to our customer-members, which requires us to listen, serve and be responsible.
This bond allows us to focus our investments in a way that best meets the needs and expectations of our customers and their respective regions, and to understand, before all other banks, the business sectors that will directly benefit customer-members in the future.
Cooperative approach
Crédit Mutuel is one of the soundest banks in Europe. Our ratings – A from Standard & Poor's, A+ from Fitch and Aa3 from Moody's – reflect this, and are among the highest throughout France. This recognised financial stability is a result of the commitment of all the group's employees and mutual elected directors, which secures the trust of all our partners.
In 2016, Crédit Mutuel Group comprised 2,107 local banks, 19 federations and six federal banks. Together, they have found the right balance between responsible independence, unity and solidarity.
The National Confederation, which is responsible for prudential coherence, owns and guarantees the proper use of the Crédit Mutuel brand and defends collective interests. It also ensures the smooth operation and cohesion of the group.
Crédit Mutuel is a strong model of mutualism, which I am convinced is a resolutely modern idea. Through the variety of services that we offer, we are much more than a bank, thanks to the strength of our organisation, which fits into the global network.
We find this to be the case because, at heart, we are a network of local banks, and so collaboration and mutual support is integral to our existence. Furthermore, because we are constantly focused on using technological innovation to support individuals, ethics, responsibility and professional conduct, the example we set can be found throughout our governance.
Remaining the bank of the future means continuing to bring together seemingly contradictory values.
Staying close
The first of our core values is 'performance and proximity'. This means remaining close to our customers and members, even if they are far away. Through this commitment, we are able to unite regional groups around the values of mutualism – subsidiarity, solidarity and soundness – and around our Crédit Mutuel brand.
In this way, we can actively, responsibly and effectively finance the development and vitality of our regions, while also responding to tomorrow's economic and societal challenges.
Crédit Mutuel Group in numbers
Net banking income
€16.8bn
Net income
€3.3bn
Common equity tier 1 ratio
15.7%
Leverage ratio
6.1%
Liquidity coverage ratio
144.3%
Crédit Mutuel Group works alongside all those involved in the regional economy, including self-employed professionals and small and medium-sized enterprises (SMEs). Rated as the number-three bank for SMEs, Crédit Mutuel finances some 680,000 customers and has a market share close to 16 percent.
The group is strongly positioned among business start-ups, which can be attributed to its many partnerships with start-up support organisations. Its partners include leading start-up support networks such as Initiative France, France Active, BGE and ADIE.
Crédit Mutuel's local banks are central to the physical, digital and telephone relationships we have with customers. We respond to customer needs by offering simple, innovative and secure products and services, and also through the quality of our advice.
This has given rise to new types of interaction between account managers and customers and, concomitantly, to new professional prospects for employees, with the goal of further enhancing their responsiveness and availability. As such, customers can contact their account managers at any time.
This can be via the internet through smartphones and tablets, through secure emails and phone calls, or even through social networks. Our account managers can also communicate with customers via sales points and electronic payment services.
In providing so many different avenues, we merge local banking with physical and digital channels to ensure even better convenience, attention and advice.
At present, customers can already subscribe to products and perform processes via our remote channels. By the end of 2018, they will be able to subscribe to most of the group's products.
For example, they will be able to take out consumer loans using an electronic signature, view all their accounts (including those with rival banks), capture documentary proof using their smartphone, and consult their bank statements and contracts online.
'Soundness and solidarity' is another core value at Crédit Mutuel, which means ensuring that all our federations and federal banks continue to enjoy balanced development and financial security.
In a world marked by fragmentation and the pursuit of individual strategies, Crédit Mutuel is developing a socially responsible and future-oriented approach. We are committed to securing the trust of our customers and members, our mutual elected directors, and our employees.
While respecting the independence of its local banks, federations and regional banks, the group's strong emphasis on unity also provides them with necessary support, in addition to contributing to economic and social development.
Owned by customers
Crédit Mutuel is a cooperative, mutual bank governed by the French cooperatives law of September 10, 1947. Created more than a century ago, its origins date back to the local cooperative associations set up by Frédéric-Guillaume Raiffeisen, which laid the foundations of the cooperative movement, including the principles of social responsibility, solidarity among members and regional roots.
Now, 150 years later, Crédit Mutuel still belongs exclusively to its 7.7 million members, who own its capital and shape its strategy within a framework of democratic governance.
As a mutual bank, Crédit Mutuel makes all decisions with its members in mind. Though it expands, it continues to remain true to its founding values: proximity, solidarity and social responsibility.
At heart, we are a network of local banks, and so collaboration and mutual support is integral to our existence
These values form Crédit Mutuel's identity, set it apart from other banks, and confirm the relevance of its business model in support of its members and society as a whole. Crédit Mutuel's general meetings, which are organised annually by each local bank, give members the opportunity to voice their opinion according to the 'one person, one vote' principle.
At the end of 2016, Crédit Mutuel had 7.7 million members and 30.7 million customers at over 2,000 local banks, run by more than 24,000 member-elected representatives. These directors are themselves committed, active members who participate in the administration of a local bank alongside employees. As members of the local community, they convey and promote Crédit Mutuel's values.
The mission of the central body – Confédération Nationale du Crédit Mutuel – is to defend the collective interests of its member-customers, while also protecting and promoting the Crédit Mutuel brand (to which it holds the rights), and ensuring the group's prudential coherence.
In a tough environment, shaken by low interest rates as well as stiffer competition and regulations, Crédit Mutuel continues to forge ahead with a single goal: remaining united in its diversity and affirming the uniqueness of its banking model so as to build the bank of the future.
The results reflect the dynamic momentum of all the regional groups and their diversity. They reflect their multiple initiatives, the quality of their digital transformation and, of course, the trust placed in them by their member-customers.
At Crédit Mutuel, our key success factors are the dynamic momentum of our networks, the importance given to the training of staff and elected members, and, naturally, our local physical and digital presence, which ensures a constantly improving service for our customers.
As well as being a local bank that is present throughout France, Crédit Mutuel also has an international dimension. Underpinned by its strong financial position and the vitality of its networks, the group has continued to expand in France and Europe, and is now present in 13 countries.
As a bank committed to responsible and sustainable growth in support of the economy, it has kept its focus on adapting continuously, while still keeping its unique identity.