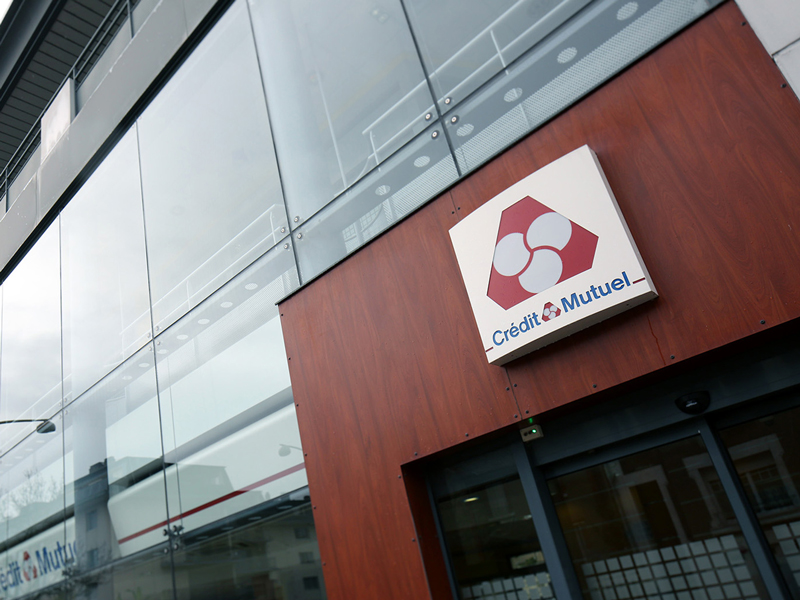 The Crédit Mutuel branch in Laval city centre. The French bank has been a pioneer in adopting the latest technology for the benefit of its customers&nbsp
Author:
Nicolas Théry, President, Crédit Mutuel Group
August 22, 2018
Every day, new technologies are promising to revolutionise the way customers interact with their bank. As automation becomes more practical and customers' expectations rise, new tools and features will become the factors that differentiate banking groups from one another. Many of the tools that have recently entered the market are impressive, but selecting the ones that will best serve our customers is a difficult task. To avoid wasting time and money, it is necessary to have a deep understanding of customers, their needs and how relationships with them can be improved.
Crédit Mutuel Group has long been considered a pioneer in the banking sector, offering a range of high-end services that utilise the latest technology
For more than 10 years, Crédit Mutuel Group has been a pioneer in adopting the latest technology to the benefit of our members. Continuing that legacy of industry-leading development is central to our current focus on improving customer service. By making customers the centre of our innovation efforts, we are using our expertise to address their ever-changing needs, habits and priorities. This will also simplify the bank's operations, speed up customer interactions and enhance the quality of everything we do. We are not interested in creating virtual, impersonal relationships with customers, but will use technology to augment current services to make them more personal, relevant and meaningful.
The Crédit Mutuel Group's approach is to give each customer a personal advisor who can be contacted via a multitude of mediums, such as email, video conference calls and in-person at a branch. This system relies firmly on human interactions, with account managers remaining the ideal contact point for members and customers. We see many digital technologies as outstanding tools to facilitate more meaningful, efficient and better interactions with customers. By offering bespoke personal service alongside the best tools in digital banking, the group's services are tailored for customers' new behaviours, habits and expectations.
Adjusting to change
Crédit Mutuel Group has long been considered a pioneer in the banking sector, offering a range of high-end services that utilise the latest technology. Long before many of our peers did, we identified fully online banking as a future standard and changed our relationship with customers accordingly. This has prepared us for the current era, with digital transformation picking up even more speed across every sector of the economy, which has in turn led to many changes in the way businesses interact with their customers and partners.
For Crédit Mutuel Group, the introduction of new services, the development of new systems and our support of innovation will enable the group to further strengthen its ties with customers, while also offering the best banking experience possible.
As a customer-focused, technically oriented bank, Crédit Mutuel Group is examining where digital tools can be implemented to assist our members and customers at each local bank and branch. Systems like modern telephone networks, mobile payment applications and digital documents make current services more efficient, while remote service platforms and fintech tools are leading to the development of services that were not available before. The group's affiliates and subsidiaries have been continuously developing new solutions using these tools, all the while providing participants with the support necessary to negotiate the many changes that are occurring.
By providing diversified and customised services, the group is positioning itself as a true partner in its customers' lives. We are making every effort to ensure the relationship our customers experience is smooth, bespoke and harmonious. Whether customers do business in person or remotely, all the technology we implement supports the idea of an 'augmented relationship' between an advisor and a customer, resulting in better communication on every level.
We see a lot of areas where we can deploy innovative solutions, but communication is a particular focus of ours. Innovative systems are constantly being developed that relate to network tools and services directly offered to customers, which has steered our focus towards Wi-Fi. With this infrastructure in place, we can deploy many exciting services in our branches. Tablets can connect to the bank's network, allowing customers to securely provide an electronic signature on forms. Customers can access complimentary Wi-Fi at a branch, complete with a personalised portal displaying the Crédit Mutuel or CIC brand. Employees can maintain access to the information system without having to be tethered to a workstation or desk. At our headquarters, Wi-Fi rounds off our existing connection facilities in meeting rooms.
The telephone reception platforms used by Crédit Mutuel Accueil and CIC Accueil have been folded together into a new, centralised solution. This system has improved the quality of our communication, exceeding our customers' expectations in this regard. In fact, the expansion and virtualisation of our advisor group has enabled employees at a wide variety of sites to take calls from our members and customers. New services are always being added, including a chat service to provide support for customer-members on the group's websites.
Fintech's finest
Each year, we introduce a number of new services to make customer relationships more responsive and dynamic. For instance, our implementation of optical character recognition has allowed us to automate the processing of various documents, some of which are generated in large quantities within the business. In particular, the optical processing of invoices significantly shortens reimbursement periods for our insurance customers. This technology has also prompted us to rethink how we collect information from our customers; today member policyholders can obtain an automobile insurance quote using their smartphone, simply by submitting three photos in three clicks.
In 2018, major progress was made on two projects: the redesign of our mobile application, and the switch from SMS alerts to push notifications. Both of these projects will result in a simpler service for both customers and members.
With Avantoo, the group is offering a novel product by bundling mobile phone services with a bank account. This bundle includes a current account linked to a payment card, efficient remote services, access to a personal advisor, and a 50GB mobile phone plan, with or without a smartphone. This offer will gradually be enhanced with new services, such as contactless payment.
All of Crédit Mutuel's regional groups have developed a significant presence in the fintech ecosystem. In particular, Crédit Mutuel CM11 is the first French banking group to introduce cognitive techniques on a wide scale to support its advisors, using IBM's Watson solution. It also offers Lyf Pay, a recently launched universal mobile payment solution. Crédit Mutuel Arkéa is also developing the innovative Max services platform, while Crédit Mutuel Maine-Anjou, Basse-Normandie and Crédit Mutuel Océan have joined forces to acquire HelloAsso, an innovative funding platform for associations.
Crédit Mutuel North Europe launched the concept of 'innovation labs', which combine imagination, creativity and achievement to address challenges the group is facing. Starting in early 2016, 10 labs were opened and more than 60 lab technicians have worked tirelessly to find and deliver innovative solutions, which have included a recently released mobile recruitment app. We're excited about the future, especially as many other innovations are also under way.
Cognitive or bust
One area we see as having tremendous potential to improve our relationship with customers is cognitive technology. The goal of our new internal tools developed using IBM's Watson technology is to improve our services, while also simplifying the work of our account managers. These cognitive solutions, which include an email analyser and virtual assistant, have been in development since 2016. In 2017, we rolled them out to 20,000 employees at 5,000 banks across the Crédit Mutuel Group and CIC branches. After initially being launched across the insurance and savings business lines, Watson is being extended to areas such as consumer credit and rental solutions this year. These new cognitive solutions first and foremost support our advisors, who remain in control of all transactions and act as the single point of contact for the customer.
By providing customised services, the group is positioning itself as a true partner in its customers' lives, making every effort to ensure the relationship is smooth, bespoke and harmonious
With Watson, we can analyse the 250,000 messages we receive each day from our customers. This solution allows the Crédit Mutuel banks and CIC branches to automatically identify the most common requests, determine their level of urgency, and then assist the advisors to process requests far more efficiently than before. Our advisors also have access to four virtual assistants, which make it easy to quickly provide reliable and precise answers to customers' questions, even in complex business lines such as automobile and home insurance, savings products, health insurance and pensions. This project represents the first large-scale commercial use of Watson in a business in France.
On the back of these early efforts, the group is pursuing more applications for cognitive computing that will assist employees and customer-members. New email analysers are being developed for specialised platforms, and we are currently investigating where we can utilise voice and image analysers. An internal team that is dedicated to mastering these technologies is being assembled, and will ensure these types of solutions can be developed and supported on a large scale across the company. New positions are being created to facilitate the perpetual improvement of these solutions, and a focus on training will assist our employees whose tasks are becoming increasingly complex as more tools are added.
In the next few years, the scope of cognitive technologies will be extended to many areas of the company: sharing expertise within business lines; customer relations assistance; improving the ergonomics of digital relations; compliance and security.
Complete certainty
Trust is the most important part of any banking relationship, and Crédit Mutuel Group continues to differentiate itself by the extreme requirement of confidentiality and data security of its members and customers. The strengthening of fundamentals and security requirements of industrialisation must accompany progress in innovation. The security of our remote services has always been a top priority for the group and, accordingly, we deploy a range of safeguards to mitigate all risks. All are perfectly suited to the challenges involved in digital banking and are simple for both members and customers to use.
All transactions are processed in a secure mode by SSL encryption at the highest authorised level. We have the highest standards for authenticating customers using usernames and passwords. We also provide a browser extension that allows the customer to verify that they are on the genuine Crédit Mutuel or CIC remote banking site and not an imposter. Alternatively, we can also authenticate users via a 'personal key-card' solution that provides secure access to sensitive services, such as adding new beneficiaries for transfers. We also deploy a real-time fraud detection engine that alerts customers to suspicious activity and suggests any security measures that may be necessary.
Our policy of continuous innovation helps enhance the profile of the Crédit Mutuel group. In 2018, we won first prize in the banking sector in the 2018 BearingPoint – Kantar TNS customer relations business awards. This distinction, won for the 11th time in 14 years, is a testament to the trusting relationship that exists in the field and on a daily basis between account managers and customer-members. Crédit Mutuel's future in a changing world is to keep its values of 'helping and serving': we give advice beyond the simple financial product; we personalise services; and we consider changes as opportunities.