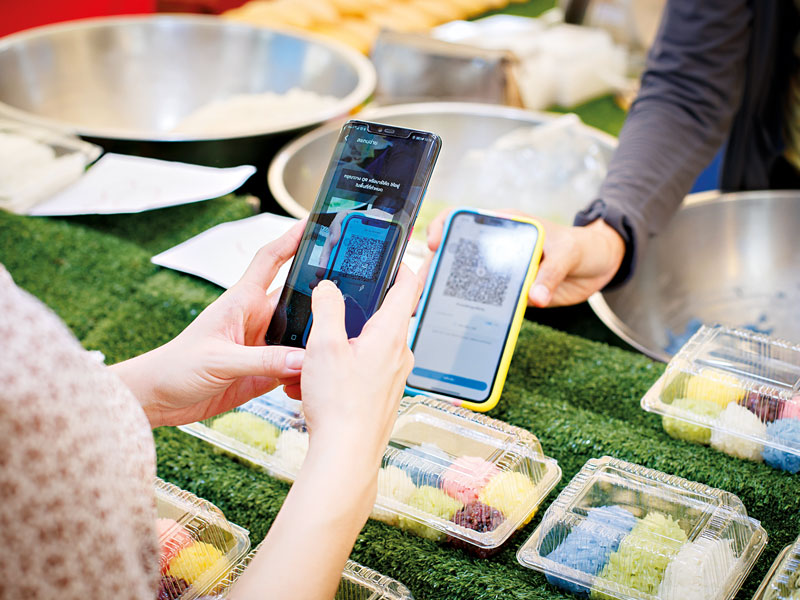 &nbsp
Author:
Payong Srivanich, President & CEO, Krungthai Bank
As a state-owned commercial bank, Krungthai Bank always stands beside the people and society of Thailand as one of the country's economic pillars and the government's strategic partner in implementing government policies, reflecting our vision of 'growing together for sustainability.'
In order to respond to drastic changes in customer behaviour due to digital disruption, we have decided to drive a dual strategy in which we improve the efficiency of our traditional banking business and safeguarding it against disruption while venturing into new businesses that focus on leveraging data on digital platforms so that we can interact with our customers more effectively and meaningfully. As we believe that digital technology is the key to empowering better lives for Thai people, we have been focusing on developing our digital infrastructure and using digital technologies to serve both our customers and the people of Thailand.
Our Thailand open digital platform, Pao Tang mobile application, now has over 33 million users, making it the largest digital banking platform in Thailand. We are also serving 13 million users of Krungthai NEXT mobile banking application, 16 million users of Krungthai Connext LINE service, and 1.5 million users of Tung Ngen mobile application for merchants.
We have defined five key ecosystems that are highly relevant to people's lives and we believe that making improvements in these areas will eventually lead to better quality of life and sustainable growth.
1. Government technology
As the government is trying to realise its Thailand 4.0 ambition, we have been working closely with it to lay foundations for the country's digital transformation and digitise government services. Our open digital platform, Pao Tang mobile application, is the main platform used to connect the people to government services, and as the platform provider, we expand our customer base and help Thai people familiarise themselves with digital and financial technologies. The COVID-19 pandemic has accelerated digital adoption rate and Pao Tang has become the main tool used to implement relief schemes and deliver financial aid to people, helping the people benefit from government schemes and helping the government gain valuable data that can be used to deliver more targeted economic policies and packages in the future.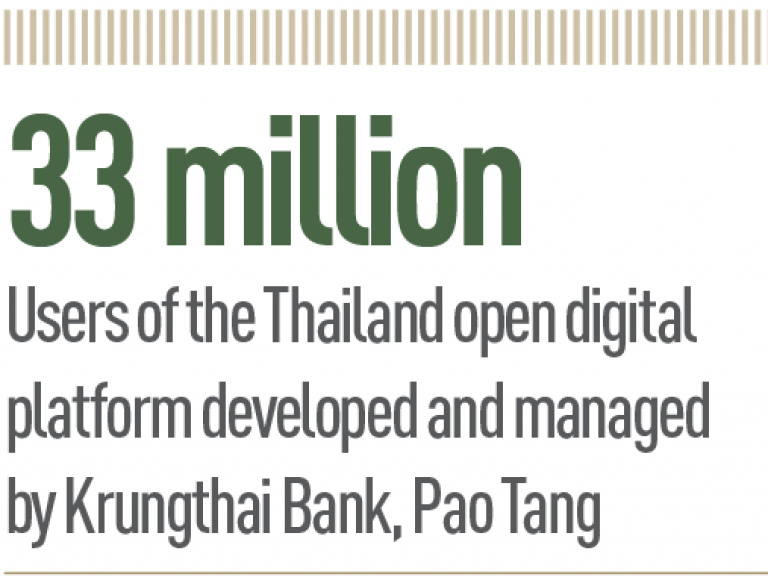 Millions of people have benefited from different COVID-19 relief and economic stimulus schemes made available via Pao Tang. Among others, Half-Half co-payment scheme, where the government helps pay half of the bill when a registrant makes a payment at a participating merchant using Pao Tang's G-Wallet, has helped people lower their cost of living, boosted domestic consumption and helped small merchants survive the economic slump.
Moreover, we have digitised and upgraded several government services with blockchain technology. For example, the blockchain-based Thailand VRT mobile application and web application allows tourists and merchants to process VAT refunds for tourists more conveniently, accurately and paperlessly.
The e-Court and e-Filing platforms have digitised court procedure, making dealing with the court faster and more convenient, which directly benefits the people and has helped Thailand's ranking in the Ease of Doing Business Index.
2. Health and wellness
Krungthai Digital Health Platform was introduced to enhance the efficiency of the public health system and enable 'Smart Hospital' to improve the people's medical and healthcare experiences. We have worked with the National Health Security Office (NHSO) to provide easier access to universal healthcare via Health Wallet on Pao Tang and improved the management systems for hospitals under the universal healthcare programme.
Within the Health Wallet, people can make appointments for medical services at hospitals or medical units nearby, view medical service history, use Health ID QR codes to verify their identities and make payments for the excess fee that is not covered by universal healthcare. Pao Tang is also used in COVID-19 management projects; for example, people can request free antigen test kits and people in Bangkok can register for vaccination in Pao Tang.
We believe that digital technology is the key to empowering better lives for Thai people
We have also partnered with various hospitals to pioneer the smart hospital model where health technologies, such as self check-in kiosks, AI chatbot for patient screening, telemedicine and a blockchain-based health information exchange system are employed to help them serve their customers better and improve their efficiency. Furthermore, as we realise that having a strong research and development capability will benefit the country in the long run, we provided financial support for King Mongkut's Institute of Technology Ladkrabang to contribute towards the building of King Mongkut's Chaokhun Thahan Hospital and establishing it as an innovative hospital and a medical research and development centre that will uplift the country's healthcare industry and reduce reliance on imported technologies. All our efforts in the health and wellness ecosystem help to ensure healthy lives and promote well-being for Thai people.
3. Educational institutions and students
The bank has partnered with universities in the 'Smart University' project to develop a cashless society within the university by providing cash management solutions on the Krungthai digital platform and installing cashless payment facilities in universities. University-specific mobile applications are developed to help students and staff manage their university-related tasks and activities.
For example, students can view class schedules and check-in classes, receive class-related notifications, view an unofficial transcript, use the app as a virtual student ID card, and make payments. This helps students and staff familiarise themselves with the digital lifestyle and prepare them for the digital economy and Thailand 4.0.
4. Transportation
Transportation is one of the most important activities in people's daily lives so we aim to make fare and toll payment simpler, faster and more convenient by making them cashless and creating a common ticketing system that includes different public transportation services.
We installed QR code payment and EDC machines on buses so that commuters can pay with a credit or debit card, a government welfare card in which people with low income receive financial aid, a BMTA contactless prepaid card, or by scanning a QR code.
We have installed contactless payment terminals on smart ferries so that fare payment can be made using a debit or credit card as well as a HOP prepaid card. As for expressway tolls, motorists can easily pay tolls with cards and we are currently developing a free flow toll collection system that will greatly reduce congestion at toll booths.
In an effort to create a common ticketing system that connects trains, buses and ferries, we have developed 'Mangmoom Card', a debit card that can be used to make fare payment within the 'Mangmoom' common ticketing network, which currently includes the blue and purple lines of MRT trains. The network is expanding and will cover more mass transit options in the future.
5. Payment
We have upgraded the Krungthai NEXT mobile banking application with cloud native technologies to make the application scalable, stable and secure, so that we can make lives simpler for everyone. The application can handle massive concurrent transactions while providing a stable and seamless user experience as well as maintaining the highest level of security. One of the key features in Krungthai NEXT is its bill payment service, which covers the largest number of payees in both public and private sectors, thus covering the payment needs of our customers in a single mobile application.
Krungthai e-Donation platform was developed to make donation simpler for both donors and organisations receiving donations. When a donation is made via QR code payment, the donation record is directly submitted to the revenue department, thus removing the paperwork and making it more convenient to claim tax deduction for the donation.
Go Local, Grow Local
Leveraging the bank's strengths in financial literacy and a strong line-up of products and services, we, together with partners who are experts in different areas, engage with local communities to help them develop their local businesses and capabilities, promoting the sustainability of the communities.
Koh Tao, Better Together
Krungthai Bank joined hands with UNDP Thailand and Raks Thai Foundation in the 'Koh Tao, Better Together' campaign to help boat drivers in Koh Tao who were affected financially by the travel ban due to the pandemic. We used our e-Donation platform, which has made the donation process more convenient and improved the transparency of crowdfunding. The money raised was used to hire boat drivers to clean beaches and collect debris, which helped the nature of Koh Tao recover and promoted harmonious and sustainable living with nature.
We have prepared and readied ourselves, as well as the country, for the upcoming full-scale digital economy by continuously developing financial service platforms in the five ecosystems that respond to customer needs as well as employing technology to reduce inequalities and promote social and environmental sustainability. All of these efforts reflect our continued determination to realise and stay true to our vision #GrowingTogetherForSustainability.