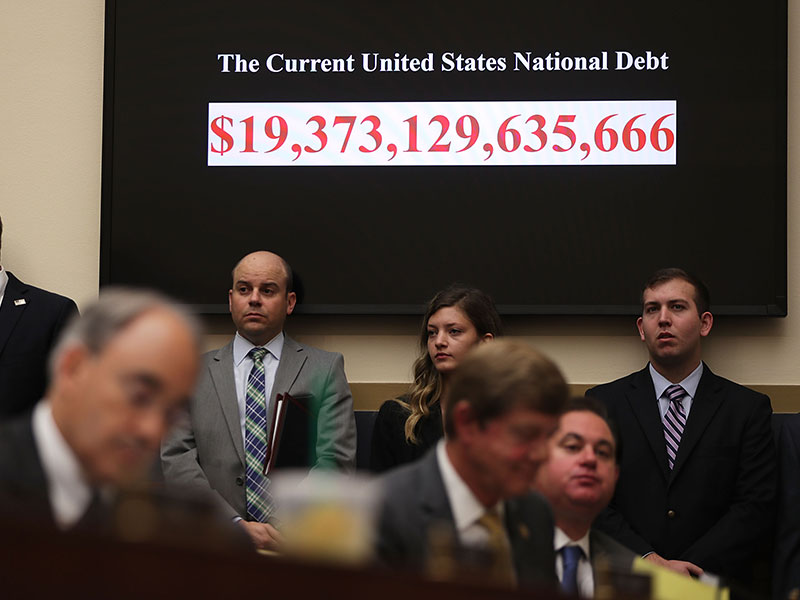 A clock showing the current national debt of the US is seen during a hearing before the House Financial Services Committee. The IMF has warned governments over increasing global debt levels&nbsp
The International Monetary Fund (IMF) encouraged governments to implement measures to reduce global debt to a level that is more in line with global GDP. Following the release of its October 2016 Fiscal Monitor report, the IMF said swift government intervention is necessary to combat the current global debt level of $152trn – 225 percent of global GDP. Two thirds of global debt is held in the private sector.
Speaking at a press conference following the release of the report, Vitor Gasper, director of the IMF's fiscal affairs department, said $152trn is a record amount in global debt. "A crucial message from the fiscal monitor is that when private debt is on an unsustainable path, it is important to intervene early on in the process to make sure financial crises and recessions can be prevented."
Swift government intervention is necessary to combat the current global debt level of $152trn – 225 percent of global GDP
Overall, debt has not yet fallen from the levels reached during the 2008 global financial crisis. According to the IMF report, slow economic growth since this event has resulted in debt levels not being reigned in.
To combat this spending, the IMF suggested governments lead programmes to restructure debt and tax deals in order to encourage creditors to extended repayment periods. While combating debt levels has traditionally fallen under the responsibility of central banks, the IMF has suggested more active government policies may be more effective in the long term.
"Fiscal policy can do more, as the case may be, to restore nominal growth, facilitate adjustment, and build resilience", Gaspar said. He also explained that global markets are diverse, and there is not a suitable one-size-fits-all approach. Instead, a comprehensive, consistent and coordinated effort is needed from governments.
Also highlighted in the IMF report was the uneven distribution of debt across the world. High levels of debt were concentrated in advanced economies and some large emerging markets, like China.
The release of the Fiscal Monitor report immediately followed the release of the IMF's World Economic Outlook, in which it predicted global growth would slow to 3.1 percent in 2016.