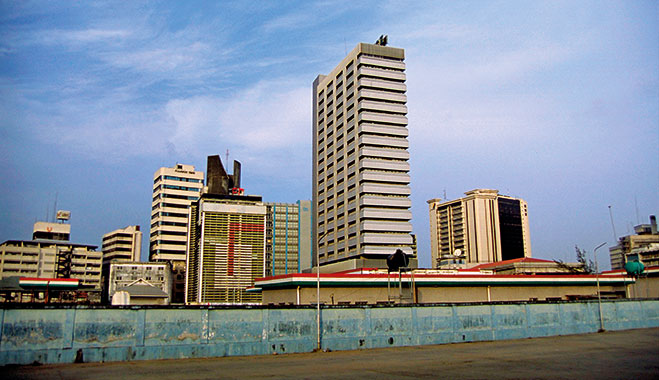 The business district of Lagos, Nigeria. Mobile penetration is increasing rapidly throughout the country&nbsp
Interview with:
Segun Agbaje, CEO, Guaranty Trust Bank
July 16, 2016
The market for e-banking and e-payment platforms in Nigeria has grown in recent times. However, this isn't to say there aren't challenges, and the perception of e-banking among Nigerians must itself change before the country's banks can capitalise on this opportunity to good effect.
World Finance spoke to Segun Agbaje, Managing Director and CEO of Guaranty Trust Bank (GTBank), about the way in which the banking landscape in Nigeria has evolved and what GTBank is doing to spearhead some of the latest developments in e-banking and e-payments.
How have e-banking and e-payment platforms in Nigeria developed recently?
Not only have the platforms rapidly expanded in size and scope over the last couple of years, they are now critical to Nigeria's efforts in building a strong and modern economy. By lowering the cost of onboarding new customers for banks, and at the same time reducing the cost of banking for customers, these platforms have evolved into potent tools for driving financial inclusion. This is most evident in the mobile banking segment, where the high mobile penetration rate has been successfully leveraged to extend the frontiers of banking in terms of service delivery and financial inclusion.
What is the biggest challenge for e-banking in Nigeria?
At one time, I would have said the reliability of networks, but right now we have the technology and technical knowhow for the operational growth and stability of e-banking platforms. Perhaps the biggest challenge is the customer's perception of the ease and security of e-banking platforms, and this is primarily a knowledge gap issue. While we have recorded significant improvements in changing customer perceptions, and therefore acceptance, this knowledge gap still exists among a significant segment of the market.
However, within this challenge are immense opportunities for growth. According to the March 2016 subscriber statistics from the Nigerian Communications Commission, we have over 148 million mobile phone users in Nigeria and, going by bank verification number data, we have just about 24.5 million bank customers. Ours is by no means a mature market, and that presents immense opportunities for us. We will continue to leverage the opportunities mobile technology can offer to drive growth (see Fig. 1) and financial inclusion.
How has GTBank taken advantage of developments in this field?
We initially launched Bank 737 as a one-click airtime top-up service, which enabled existing customers to top up their mobile lines directly from their bank accounts. We quickly became the leader in this segment, and we now control 70 percent of transactions for airtime top-up.
Inspired by the success of the one-click airtime top-up service, we expanded the service into an all-encompassing mobile bank that offers a wide range of traditional and unorthodox financial services. Bank 737, which runs on USSD technology, does not require data and allows our customers to transfer money, check account balances, pay bills, purchase airtime and open accounts directly from their mobile phones, among other services, by simply dialling *737#.
We introduced Bank 737 to drive financial inclusion and to deliver quicker, cheaper and more efficient services to our customers. We have recorded success on all fronts, with more than 1.5 million active users, about $5bn in transactions via the platform, and an average monthly growth rate of 100,000 new users.
Why is an emphasis on customer experience important for the continued development of e-banking and e-payment platforms?
E-banking removes the human element of service delivery. It is, therefore, imperative that customers have a seamless experience when using these services. To this end, we are developing our e-business products with a keen focus on simplicity and interactivity, in order to enable customers to 'do it themselves', with a convenience relative to being guided by a customer care assistant.
Can you expand on how GTBank has worked to develop e-payment platforms?
The user experience is the key component of the design architecture of our platforms. We maintain an omnichannel approach in the development of our e-payment platforms, in order to ensure maximum interaction and satisfaction at all touchpoints of the customer journey. From making it possible for customers to open bank accounts without walking into a banking hall to creating stress-free avenues for payments and collections, we are leveraging e-banking to redefine the customer journey into one characterised by swift, convenient and seamless service delivery.