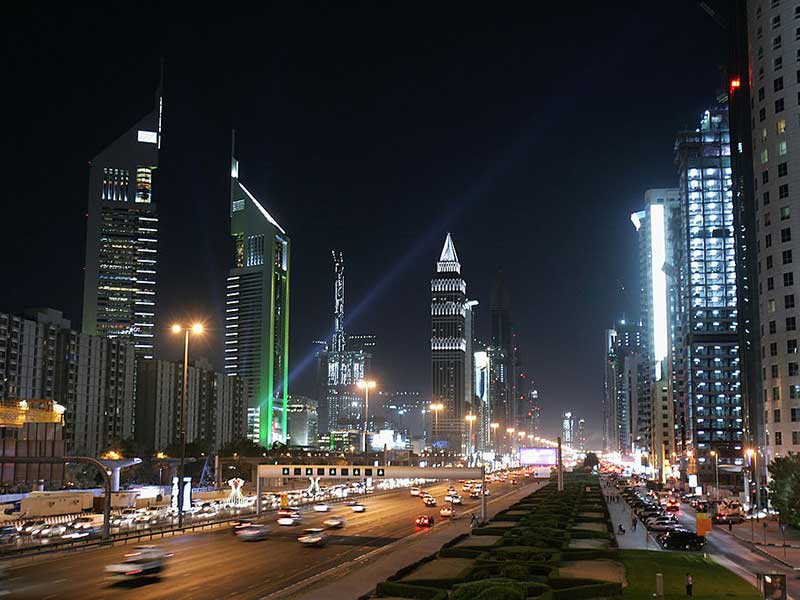 Dubai's preparations for Expo 2020 are expected to support economic activity in the UAE&nbsp
Interview with:
Mohammad Nasr Abdeen, CEO, Union National Bank
May 4, 2017
Islamic finance is an ever-changing field, full of innovation and growth in equal measure. There are now around 15 Islamic banks and finance companies operating in the UAE. Across the world, Islamic finance has seen rapid growth, with assets reaching $2trn with expectations to cross the $3trn mark by 2018. This development has been driven by a growing Muslim population eager to find institutions that suit its needs.
While a boon for the industry, this growth has also posed challenges relating to how it can be successfully managed in the future. One bank that is working to manage this growth while creating new products is Union National Bank (UNB). Since it was founded in 1982, UNB has established itself as a leader in the field and a company that focuses on the future.
The bank and its subsidiaries now boast an international presence, through which UNB embodies the 'we care' ethos adopted upon its establishment. World Finance had the opportunity to speak to the CEO of UNB, Mohammad Nasr Abdeen, about the bank's successes and the future of Islamic banking.
How has the Islamic banking industry changed in recent years?
In the past three decades, Islamic banking has emerged as a competitive framework and a possible substitute for the conventional banking system. Islamic banking is no longer limited to specialised institutions and has expanded both geographically and in product richness, with structured credit finance receiving most of the attention.
The rapid growth of Islamic banking over the years has resulted in the introduction of complex banking products and structures. Taking note of the demand, a number of western countries have recently started allowing Islamic banks to operate in their respective jurisdictions. The UK became the first leading western country to issue a government sukuk (Islamic bond). The first fully fledged Islamic bank in Germany was launched in 2016, while Japanese lawmakers are now considering issuing regulations that will allow Japanese banks to provide Islamic finance products.
What are some of the achievements of UNB's subsidiary, Al Wifaq Finance Company?
Al Wifaq Finance Company was established in 2006 as a subsidiary of UNB, offering Sharia-compliant products for the growing Islamic banking market. Al Wifaq is led by a highly qualified management team and a Sharia supervisory board comprising distinguished and eminent Sharia scholars.
The vision of Al Wifaq Finance Company is to be a premier Sharia-compliant finance brand in the UAE. It has acquired a leading role in the Islamic financial sector, offering innovative products and services across the retail, SME and corporate sectors through a growing network of seven branches in the UAE.
As a responsible corporate citizen, Union National Bank plays an active role in the development of the local and international community
Despite turbulent and challenging market conditions, Al Wifaq and Islamic Banking have achieved an asset growth rate of 25 percent, from AED 6.2bn ($1.69bn) in December 2014 to AED 7.8bn ($2.12bn) in September 2016. Furthermore, Al Wifaq continues to play an active role in supporting the local community through its corporate social responsibility (CSR) policy and initiatives.
And how has UNB performed in that time?
In the third quarter of 2016, the group recorded balance sheet growth across all key business segments as it pursued its prudent strategy of growing its business in a sustainable and selective manner. Loans and advances increased by seven percent on a year-on-year basis, reaching AED 73.6bn ($20bn) by 30 September 2016, while customer deposits grew marginally by two percent to AED 74.8bn ($20.4bn). Furthermore, consolidated total assets were up by four percent to AED 105.4bn ($28.7bn) over the same period.
The bank also concluded a five-year senior unsecured bond issuance of $600m under a Euro medium-term note programme. The order book was oversubscribed three times, demonstrating the strong investor appetite for UNB credit. The UNB Group's focus remains on managing its cost structure efficiently and continuing to invest in future growth areas and technology upgrades to enhance the overall customer experience.
What does 2017 look like for UNB?
During 2017, real GDP growth is expected to grow by two percent in the UAE, according to estimates by the Economist Intelligence Unit. The pick up will partly result from an expansion in oil production capacity and non-oil growth, mainly from the infrastructure, healthcare, transport and logistics sectors. Preparations for Expo 2020 in Dubai are also expected to support economic activity, given related infrastructure spending.
The slump in oil prices and its impact on financing options and demand has prompted substantial rethinks to fiscal policy at both the federal and emirate levels. The government is expected to improve fiscal sustainability through reductions in subsidies for fuel, electricity and water in 2017. Among the more substantive measures that have been planned, a value-added tax will be introduced from January 2018.
Moreover, both the federal government and governments of the individual emirates are expected to make greater use of international bond issuance to avoid draining liquidity from the domestic banking system.
UNB's stability is well documented. How do you plan to maintain that?
UNB is unique within the UAE banking sector as it is 60 percent owned by the governments of Abu Dhabi and Dubai, with the remaining 40 percent being held by public investors.
We are known for our prudent lending policy, and we do not focus on a specific economic sector as a key driver for growth. Instead, we ensure there is an appropriate diversification of our exposure to the various sectors that make up the local economy. The relationship between risk and return is continually assessed for each sector and business line, in keeping with prevailing economic conditions.
UNB remains well capitalised and has consistently received strong ratings from reputable international rating agencies. The bank has also received several industry awards and accolades. Our success lies in greater engagement with communities, which is at the core of the bank's CSR programme.
Given this success, does UNB have any plans for international expansion?
Our focus is currently on the UAE. We understand the business environment, the market dynamics and the return on our investment, which is why the latter is higher than in any other location. We entered the Egyptian market by acquiring an established bank and rapidly grew from eight branches in 2006 to 42 branches by end of 2016. The Egyptian market is important for us because of the size and the different services that can be provided there. UNB-Egypt is achieving excellent results over there.
$2trn
The Islamic banking industry's total assets
$58.3bn
Trade between the UAE and China in 2016
UNB has a branch each in Qatar and Kuwait, which both hold potential due to their resources and growing population. Lastly, UNB was the first bank from the UAE to open a representative office in Shanghai, which we are planning to convert into a fully functional branch soon.
How important is China to UNB's future?
China's central bank is expected to pick a Chinese lender to clear renminbi transactions in the UAE, which would strengthen the growing economic ties between China and the Middle East.
From an economic and financial centre point of view, the UAE is the most appropriate location to set up an offshore renminbi market because of the UAE's role as a trans-shipment point for goods to the rest of the Gulf. Trade between China and the UAE was estimated at $58.3bn in 2016, up from $54.8bn in 2015, at a growth rate of 6.4 percent.
In the longer term, the UAE clearing centre could encourage GCC issuers to tap funding in China through panda bonds – yuan-denominated debt sold by foreigners into Chinese markets. All Dubai International Finance Centre-based operations of China's big four banks have doubled their combined assets to $21.5bn in the past 18 months, accounting for 26 percent of all assets at the centre.
The main rationale for UNB's presence in China is to help our customers who deal with Chinese companies and nationals, and vice versa. China has a longstanding relationship with the UAE, which is growing rapidly. UNB's Egypt operation is also expected to benefit from the growing Chinese-Egyptian relationship. We help our customers reach their respective markets, and conversely Chinese investors and operators in this region.
Hoes does UNB stand out from its rivals?
Over the years, UNB has won several awards for its quality products and excellent customer service in the UAE region and across the globe. CSR is a key area of focus for UNB and is intrinsically embedded in the bank's vision, mission and strategy. The firm is committed to having a positive impact on our customers, employees and the communities in which it operates, with a dedicated budget allocated for CSR initiatives every year.
UNB is committed to sustainability reporting and publishes its sustainability report and key performance indicators every year by following the latest G4 Global Reporting Initiative guidelines. The bank is also among the initial signatories of the Dubai Declaration on Sustainable Finance, which is part of the United Nations Environment Programme Finance Initiative.
As a responsible corporate citizen, UNB plays an active role in supporting the development of the local and international community by sponsoring various events in different categories, such as education, Emiratisation, community causes, special needs, climate change and the environment. UNB is also a recipient of the Dubai Chamber CSR Label for the second consecutive year.