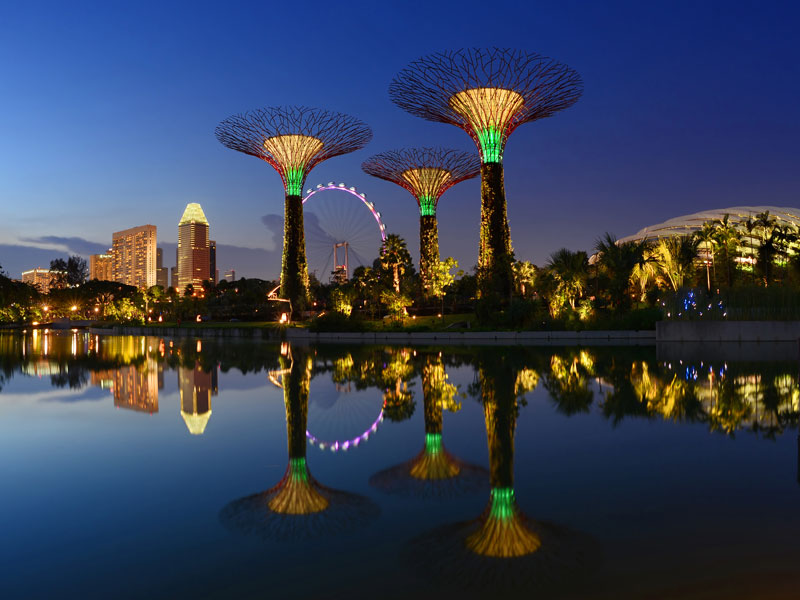 Dragonfly Lake, Singapore&nbsp
"What protection teaches us, is to do to ourselves in time of peace what enemies seek to do to us in time of war." In his 1886 book Protection or Free Trade, Henry George discussed the ills of tariffs. Protectionism, he argued, harms domestic markets, keeping prices high and wages low. He would have been alarmed, then, by current global trends.
For most of the past 20 years, there has been an international movement towards trade liberalisation. But more recently, anti-globalisation sentiment has been spreading among nations. Bilateral tariffs on trade between the US and China have risen and other countries are adopting increasingly protectionist rhetoric. The pandemic has only added momentum to the deglobalisation trend, with the World Trade Organisation predicting that world trade will decline between 13 percent and 32 percent in 2020.
This could be bad news for economic prosperity. Although free trade has not created economic success for all – and, indeed, some economists argue that free trade directly exploits developing countries – many studies have shown a direct correlation between trade openness and the reduction of poverty within a country. Open trade can widely increase the availability of goods for low-income households and spur job creation.
Even if the cross-border exchange of goods and services is declining, economies' ability to trade – both domestically and internationally – has improved. Despite fears of de-globalisation, economic openness is at its highest-ever level, having improved by 8 percent over the last 10 years, according to the Legatum Institute. A number of nations have consistently shown themselves to be top of the list in this regard.
Singapore
Singapore is considered one of the easiest countries in the world in which to do business and its economy is frequently ranked as one of the most open in the world. Its commitment to free market policies has helped the country pull in large amounts of foreign investment, rapidly accelerating economic growth. When Singapore became independent in 1965, it was a poor, isolated country with no industrial tradition. Just seven years later, after it lowered taxes and reduced corruption, one quarter of manufacturing firms in the country were either foreign-owned or joint-venture companies. In March of this year, Singapore was one of seven countries that issued a joint statement saying they would remain committed to maintaining open supply chains during the pandemic.
Hong Kong
The "one country, two systems" framework under which Hong Kong is governed allows the city certain freedoms not enjoyed in mainland China. The territory facilitates a pro-business environment, has an independent judiciary described as "world class" in a Bank of East Asia economic analysis, and is the world's top market for initial public offerings. Its free market policies have made Hong Kong a global business and financial powerhouse.
However, China's erosion of freedoms in Hong Kong could compromise that status. In May, US President Donald Trump said he would consider taking steps to revoke the city's favoured trade status in the US, after China announced it would impose a national security law in the region.
Netherlands
The Netherlands owes much of its economic prosperity to international trade. Its favourable geographic position and well-connected seaports such as Rotterdam and Amsterdam have helped it become the logistical hub of Europe.
Because of this, the country has held a strong international orientation for much of its history. For example, when the Cold War ended, the Netherlands sought to establish economic ties with the emerging markets in Eastern Europe that were now opening up to free-market capitalism. Today, many firms in the country are multinational and there are no regulatory restrictions on foreign direct investment. According to Nordea Trade, it is one of the largest recipients of foreign direct investment in the world.
New Zealand
Roughly 30 years ago, New Zealand's economy was one of the most regulated in the OECD. Now, it's one of the least regulated and most market-orientated. In 2018, the World Bank ranked New Zealand first in the world in terms of doing business and for transparency.
This transformation came as a result of trade liberalisation during the 1980s, which saw export subsidies and import barriers lifted and controls on interest rates, wages and prices removed. Given how small New Zealand's internal market is – the country has a population of just 4.8 million – international trade is crucial for its economic success. Today, exports account for around 30 percent of New Zealand's GDP, according to the World Bank.
Finland
As anti-globalisation sentiment has spread around the world, Finland has remained committed to maintaining an open economy. At 20 percent, Finland's corporate tax rate is among the lowest in the EU, and the country regularly tops international surveys for economic competitiveness and transparency.
Globalisation has helped Finland grow from a very poor country in the early 1900s, to a rich nation often recognised for its high quality of life. International trade accounts for about one third of its GDP. Although 60 percent of that trade is conducted with the EU, it also has strong economies ties to the US, with two-way trade in goods and services between the nations amounting to over $12bn in 2018.