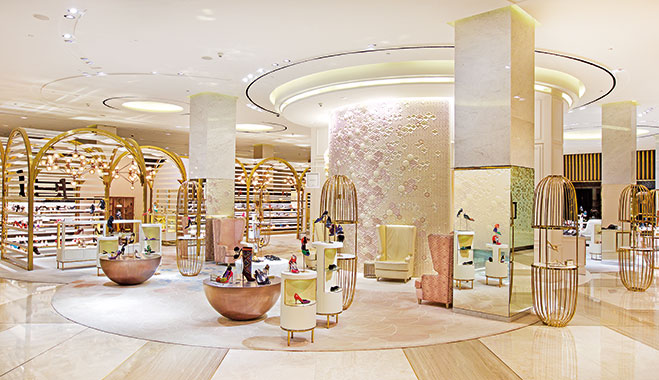 The Level Shoe District store in Dubai, which stocks luxury items brought to the region by Chalhoub&nbsp
Dubai is ranked second only to London in terms of international retailers' percentage, making it one of the main global retail locations. This is only set to grow further, with new malls being constructed, companies increasing their investment in new technologies, and training more local talent in the kingdom. According to the Kearney Global Retail Development Index, retails sales in the UAE in 2013 grew by five percent, totalling $66bn.
The successful bid by Dubai for the Expo 2020 will further secure its dominant role. One such firm set to form a core of this boom is the Chalhoub Group. Founded in Damascus, Syria in 1955, it has today grown to distributing more than 280 fashion and cosmetics brands such as Christian Dior, Louis Vuitton and Christian Louboutin, across the Middle East. Now based in Dubai, the company prides itself on the personalised experience it gives to its customers, paying them attentive detail.
This personal and luxury experience, provided in person by their staff in-store is also now being replicated online, as they branch out into e-commerce. World Finance spoke to Co-CEO Patrick Chalhoub on how the firm is facing the challenges in the retail market today, along with how it combines an attentive service to customers while giving back to society.
Consumers and millennials in particular are starting to look at luxury brands beyond the logo, for the product itself
What have been the company's biggest achievements over its 60-year history?
The journey started in 1955 when my parents established the first Christofle boutique in Damascus. The inspiration and essence is linked to the cultural and personal bond they shared with their circle of friends, which combined an appreciation for French beauty, elegance and savoir-faire, alongside a Middle East sensibility.
Since the beginning, our vision was to build successful luxury brands in the Middle East, giving them the tools and means to grow and develop. One of our biggest achievements has been to offer excellent service to all our partners and provide a unique experience to all our guests, making our group the leading partner of luxury in the Middle East.
We are extremely proud of what we have accomplished over the past 60 years. We have a dedicated team of 12,000, all of whom are engaged and working with passion, excellence, intimate knowledge of the region and its consumers, and consistently demonstrate our values of respect, excellence and entrepreneurship.
We are proud of being able to create our own concept stores which are a reflection of the group's know-how, and this has already been successfully implemented and demonstrated by the leading perfumery network of Wojooh in the Middle East region which has flourished in Saudi Arabia, as well as the Level Shoe District which is the international leader for luxury shoe retail.
What is the thinking behind your new concept stores?
The Middle East customer is young and increasingly knowledgeable. A few years ago they needed reassurance and considerable advice, whereas today the customer is becoming more and more knowledgeable and assertive. They need not only access to brands, but also the choice among different brands, which they will find in department and specialty stores, such as the ones we are building.
Furthermore, the Abu Dhabi market has grown quite tremendously with the growth of franchise brands, but is lacking in specialty and department stores. The opening of Yas Mall, with its size and variety, needs to be anchored by a specialty store that offers luxury and aspirational products, which the group is introducing with Tryano. We expect Tryano to be an enchanting garden – alive, entertaining and very specialised in three categories: bags, kids and beauty.
What do they bring to the business?
The group creates unique multi-brand concept stores, with the aim to fill a gap in the market with choice and depth. We focus on creativity and innovation through the development of our own concepts, with the objective to bring something new to the market, through the offering, environment and services.
How are you working towards improved sustainability in the Gulf?
As the leading partner for luxury across the Middle East, we aim to be a role model for the region. We therefore encourage and motivate our team members to be engaged both on professional and personal levels in order to protect future generations. This is why we have created Chalhoub IMPACT, the sustainable engagement strategy for the Chalhoub Group, which aims to engage our teams and partners to improve social and environmental performance. The initiative is split into three pillars: empowering youth through education; environmental sustainability through behaviour change; and humanitarian assistance for social issues affecting local and global society through awareness and fundraising.
Chalhoub Group is a member of the UN Global Compact Community and we have launched our third white paper entitled Luxury in the Gulf: a sustainable future? Conscious about the challenges in the region, such as dependence on non-renewable resources and youth unemployment, the company work with the private and public sectors to find solutions.
What are some of the biggest challenges you have faced recently?
The customer is becoming increasingly knowledgeable, demanding and volatile. Thus, we have to offer a real experience, real knowledge and real storytelling. The customer is also less loyal due to an increased variety of choices in the market. To counter this, our stores are expected to become an extension of the home, with large spaces, including private areas, comfortable seating and legendary Arabic hospitality. It will be digitally enhanced with pre-booking, e-commerce and virtual trials simultaneously shared online.
Customers want to be recognised when stepping into the boutique; their tastes and needs anticipated. Products will have to be launched in the Gulf at the same time as in the West, as well as including special lines for Gulf customers in terms of sizes, cuts, shades and scents for the exclusive launch in the Gulf or ahead of the global market.
Other challenges include human resources and finding the right, talented people, and subsequently training them, particularly in our drive for the Gulfanisation of our resources where the group has taken a leading role to recruit and develop GCC nationals.
On the other hand, the market in the first six months of 2015 has been very challenging, and the group has had to adapt to the new 'norm' characterised by slower growth, due to overall macro-economic factors, affecting both local consumers and tourists, notably many from China and Russia. The weak euro has also created a pricing challenge (see Fig. 1).
How did you overcome these challenges?
We nurture our customer relationships, bonding and integrating with them through personal relationships with our staff and by building on the power of family and friends. We accompany luxury Gulf consumers and anticipate their aspirations. The other aspect is that we have to be extremely consistent in the way we present the overall story of the product, pricing, and service. We must maintain a coherent and consistent high-quality experience. We always have to remain innovative and creative, bringing new ideas, concepts, products and exclusive products to the consumer.
It is quite clear that the region has entered a new phase for luxury development. An increasingly maturing retail sector, global and regional macro-economic factors, as well as increasingly assertive consumers, are translating into much slower market growth. The personal goods luxury market has enjoyed eight to 10 percent annual growth over the last decade, but this will probably slow down to around four to five percent in the next few years. This obviously puts a lot of pressure on regional groups – though the market is still growing – but also presents opportunities for those brands that will be the most innovative and fully understand the needs and expectations of local consumers.
What are some of the biggest trends you've noticed within your industry?
Technological innovation is becoming critical in the luxury sectors. Consumers are connecting and advising each other, and engaging with the brands, wherever they are, whenever they want, thanks to the evolution of the digital drive. Beyond technological innovation, innovation in luxury products is also becoming fundamental in the region. Consumers and millennials in particular are starting to look at luxury brands beyond the logo, for the product itself.
How have you altered the company's strategy to accommodate these changes?
We are driving the development of digital access in order to connect more closely with our customers. We plan to launch e-commerce sites for our own concepts – Level Shoe District and Wojooh – through which we will offer a seamless experience for our online guests, as we already do in store. We are establishing concept and specialty stores that will realise the evolution of our customers, while ensuring we offer an experience in our retail store that makes for memorable shopping experience.
What is next for the Chalhoub Group?
We would like to focus on guest experience and e-commerce. We also want to continue to innovate in the way we sell and engage with consumers, collaborating more with brands and address the specific needs of local consumers. Furthermore, we want to continue to develop and launch innovative retail concepts and continue investing in our people.