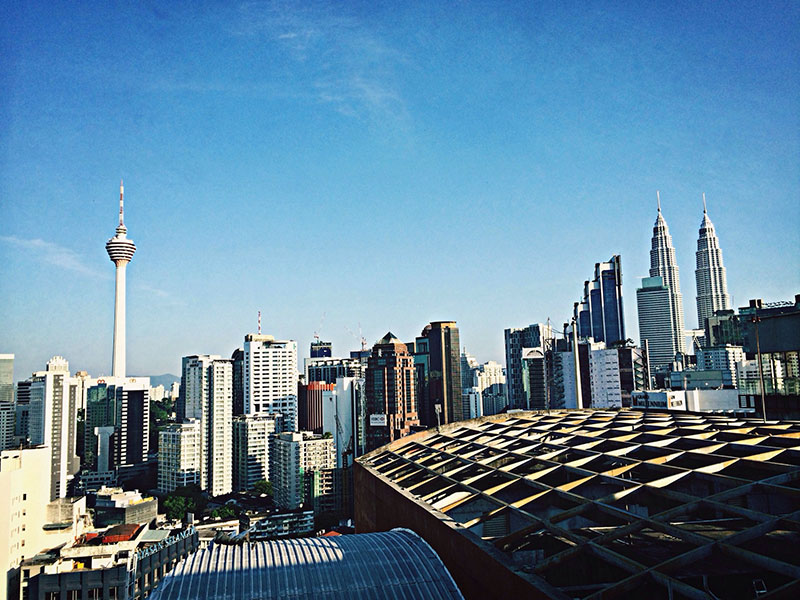 Kuala Lumpur, Malaysia. A string of major infrastructure projects promise exciting things for the country's economic development&nbsp
Interview with:
Tan Sri Dato' Sri Leong Hoy Kum, Group Managing Director of Mah Sing Group Berhad
October 26, 2016
The cloud of economic uncertainty over Malaysia has lifted, and with it the outlook for the country's property market has taken on a whole new shape. A string of major infrastructure projects bodes well for both the commercial and residential sector, and stable incomes mean buyers are doing away with the wait-and-see approach that was so prevalent in the past.
Testament to its success in the property market, Mah Sing Group Berhad was recently selected as one of Macquarie's top 10 picks for Malaysia. The report said: "Mah Sing is our top pick in the Malaysian property sector… Mah Sing has placed itself well in the market to capture the first homebuyers and upgrades at affordable pricing points. We believe, given the current property market conditions, Mah Sing will retain its exposure in the affordable segment in 2016 as this segment was seen to have better support from the buyers, especially in the Central Region."
World Finance spoke to Tan Sri Dato' Sri Leong Hoy Kum, Group Managing Director at Mah Sing Group Berhad, about Malaysia's changed circumstances and the steps the company has taken to capitalise on this newfound sense of optimism.
Can you tell us about the property market in Malaysia and how Mah Sing has managed to maintain its market leadership position?
The competition among property developers here in Malaysia is very high, and this is a good thing. It is through healthy competition that we have been able to push ourselves to be better at what we do and to grow Mah Sing to where the company is today.
More than just building homes, we strive to provide innovative solutions to buyers looking to own their own homes
For the time being, Mah Sing will continue to focus on end-user demand for beginner homes, driven by a young demographic, continuing new household formation and stable labour market conditions. Our future sales pipeline includes the Meridin East township in Pasir Gudang, with affordable landed homes and Cerrado serviced apartments. While the group carefully times its launches to ensure products are in line with market demand, it also actively pursues sales from existing projects.
New growth corridors will benefit from ongoing and proposed major infrastructure projects such as the MRT [mass rapid transit], LRT [light rapid transit] and extension, and the proposed High Speed Rail.
What in your brand positioning makes you stand out from the competition?
At Mah Sing, our developments are known for their exceptional quality. When our buyers purchase one of our homes, they will likely stay in it for a considerable portion of their lives. As such, we ensure all of our developments are up to the mark when it comes to quality. Each of our developments goes through stringent quality assessments and we have also won numerous awards, which highlight our dedication in delivering quality homes. Nowadays, quality is no longer an extra: it is a given.
To maintain our position as a market leader, we are also highly committed to providing uncompromising customer experience. As a premier lifestyle developer, Mah Sing continues to ensure pleasant and memorable customer experiences at all points of contact – from handing over vacant possession, to managing customer feedback for continuous improvement in our products and services.
Our biggest asset is our people. Hence, it is a challenge to find talent. We want the cream of the crop to automatically have top-of-mind recall when they want to apply for a job in the property industry.
In your opinion, what was the biggest success in Mah Sing's history?
Innovation is the key to the group's success, and as a group we always look to offer something more to our buyers. We are proud of our Iconic Series developments, which have changed the Kuala Lumpur skyline. Mah Sing's Iconic Series is a series of innovative developments known for their revolutionary design and exceptional quality. These properties have also enjoyed an excellent take-up rate. Our four Iconic Series developments include the Icon Tun Razak, the Icon Residence in Mont Kiara, M City in Jalan Ampang, and Icon City in Petaling Jaya.
More than just building homes, we strive to provide innovative solutions to buyers looking to own their own homes. We make this possible through our innovative campaigns, which offer different methods through which buyers can finance their homes.
How does Mah Sing stay on track with its overall plans and ensure its revenue is sustainable?
We are exploring land acquisition and joint venture opportunities. The group has approximately MYR 895.3m ($220m) in cash and bank balances, as well as a net gearing of 0.06 times compared to 0.09 in Q1 2016. As previously mentioned, the group's remaining gross development value and unbilled sales can potentially support the company's revenue growth for eight to nine years.
Further adding to the group's cash position is the final stage billings, which amount to approximately MYR 446m ($110m) for the properties to be completed this year. Mah Sing has a key focus in Greater Kuala Lumpur and Klang Valley, as well as in Johor Bahru, Penang and states with strong economic prospects.
Mah Sing's Cerrado Residential Suites Tower A achieved an impressive 100 percent take-up rate during its launch, with all 404 units of Tower A being taken up over a two-day period. The successful launch of Cerrado's Tower A has seen Southville City lock in MYR 1.77bn ($432m) in just over two years. This follows the successful launch of Lakeville Residence's Final Tower in Taman Wahyu, which attained a 92 percent take-up rate in August.
Mah Sing later launched Tower B of Ferringhi Residence 2. The first launched tower of the development opened up a total of 120 units for bookings. A total of 101 units were sold, which amounts to an 84 percent take-up rate.
The launch of Mah Sing Group's largest township, Meridin East, saw the township's double storey link homes, the Greenway, reach an impressive 85 percent take-up rate. Greenway comprises 492 units of double storey link homes priced from MYR 357,000 ($87,212).
What is the financial outlook for Mah Sing for the remainder of 2016?
Property is a cyclical industry; we support the market's needs for affordable housing through our attractive pricing points, with 50 percent of 2016's planned residential launches priced below MYR 500,000 ($122,146). Overall, 89 percent of our planned residential launches are priced below MYR 1m ($244,292), with 68 percent priced below MYR 700,000 ($171,000).
We are planning to further intensify our efforts in the coming months, and we are well positioned to reach a sales target of MYR 2.3bn ($560m) with our upcoming launches in the second half of 2016.
MYR 183.9m
Mah Sing Groups's net profit in the first six months of 2016
MYR 27.5bn
Its remaining gross development value as of 30 June 2016
How does Mah Sing ensure it has the best minds and skills to stay ahead of economic trends?
Mah Sing is a market-driven developer. We go where the market is, and we strive to customise our product offerings to the needs of the market. Currently, our strategy is to focus on accessible, mass market housing in line with market demand and, as 89 percent of our planned residential launches are under the MYR 1m range and 50 percent are under MYR 500,000 ($122,146), we are primed to capture the market.
We also have a dedicated research team that conducts in-depth studies on what the market needs. The information we gather gives us the ability to identify and set new trends. Our product development team works with both international and local architects to design the product so that it appeals aesthetically and meets the needs of the buyers.
How do you inspire your employees to strive for excellence?
The description of a good leader is to be driven, passionate and disciplined. I have always emphasised to my team that change is constant and openness to change means constantly improving and learning new things.
I am proud to say that these are the traits my team practice. We are able to adapt quickly and constantly innovate our products to meet the market's needs. At Mah Sing, we understand the significance of human capital to the group: we are committed to nurturing a diverse, versatile and dedicated talent pool for the growth and development of the group.
Various trainings are held to provide a platform for employees to discover and realise their full potential. In 2015, our employees had more than 27,000 training hours – a significant increase from 12,000 hours in 2014. We are also concerned about our team's wellbeing, health and safety in and outside the workplace. Further to ensuring our workstations are conducive, Mah Sing Sports Club is taking the lead in encouraging a work-life balance with activities such as badminton, fitness classes, Skytrex Adventure and festive celebrations.
As a leader, what have you learned from your employees?
Along the years of building Mah Sing together with my team, we have learnt that life is about continuous learning and improvement. The world is constantly changing and, as a market-driven developer, we need to adapt to and stay ahead of the market. This commitment guides us in everything we do, and we strive to live up to our brand's promise in building sustainable projects as part of a well-managed company.
What do you see the Mah Sing group achieving in the next 10 years?
I hope to see Mah Sing continue to grow and maintain its stature as one of the top developers in the country. We would like to continue our township development, niche industrial development and strategic commercial and mall development. Southville City is turning into the talk of the town and I hope to see it become the next major township in Malaysia. My ultimate goal is to see Mah Sing recognised as a world-class developer.