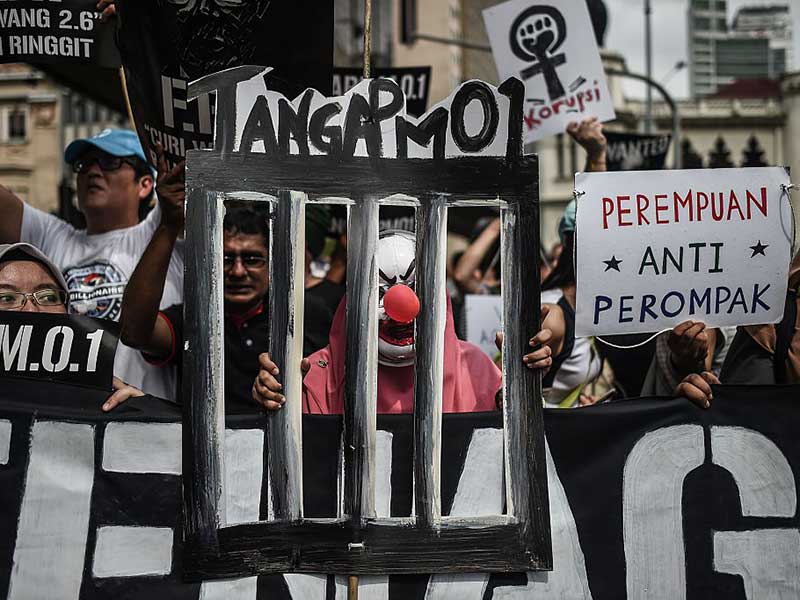 Students protest the 1MDB scandal in Kuala Lumpur&nbsp
Malaysia's notorious 1MDB political corruption scandal is set to take another turn as the US prepares to file criminal charges against one of the alleged perpetrators. According to The Wall Street Journal, US authorities intend to charge Malaysian financier Jho Low with wire fraud and money laundering in connection to the corruption scandal.
In addition to the proposed charges against the businessman, the US Department of Justice is attempting to seize over $1bn in Low family assets, including a $165m superyacht controlled by Low. Citing people familiar with the matter, The Wall Street Journal claimed Singapore is also in the process of building a criminal case against Low and his associates. With authorities around the world closing in on Low, the Malaysian businessman has gone into hiding and his whereabouts are currently unknown.
With authorities around the world closing in on Low, the Malaysian businessman has gone into hiding and his whereabouts are unknown
The criminal charges against Low relate to his alleged involvement in the ongoing 1MDB scandal, which has emerged as one of the largest cases of financial fraud in modern history. In 2015, Malaysian Prime Minister Najib Razak was accused of misappropriating over MYR2.67bn ($603m) from a state investment fund called 1Malasia Development Berhad (1MDB).
In addition to directly channelling funds into the Prime Minister's personal bank accounts, 1MDB has approximately MYR42bn ($9.5bn) in outstanding debt, a large portion of which stems from a 2013 state-guaranteed $3bn bond sale led by Goldman Sachs. The Wall Street stalwart is believed to have earned at least $500m from arranging bond sales for the 1MDB fund.
Since the scandal first broke in 2015, six countries have launched investigations into the fund's financial malpractices. Prime Minister Najib has consistently denied any wrongdoing, insisting he has never taken money from 1MDB or any other public fund. Despite maintaining his innocence, many have called for Najib's resignation, while former Malaysian Prime Minister Mahathir Mohamad has filed a lawsuit against his successor over his alleged interference into government probes on 1MDB.
While the US chases 1MDB convictions, the majority of arrests have occurred in the regional financial hub of Singapore. The nation is renowned for its tough stance on political corruption, and was indeed the first country to file criminal charges relating to the scandal. Singapore has jailed four private bankers to date, and is closing in on its local branches of BSI and Falcon Private Bank – two Swiss private banks allegedly used to transfer illicit funds during the scandal.