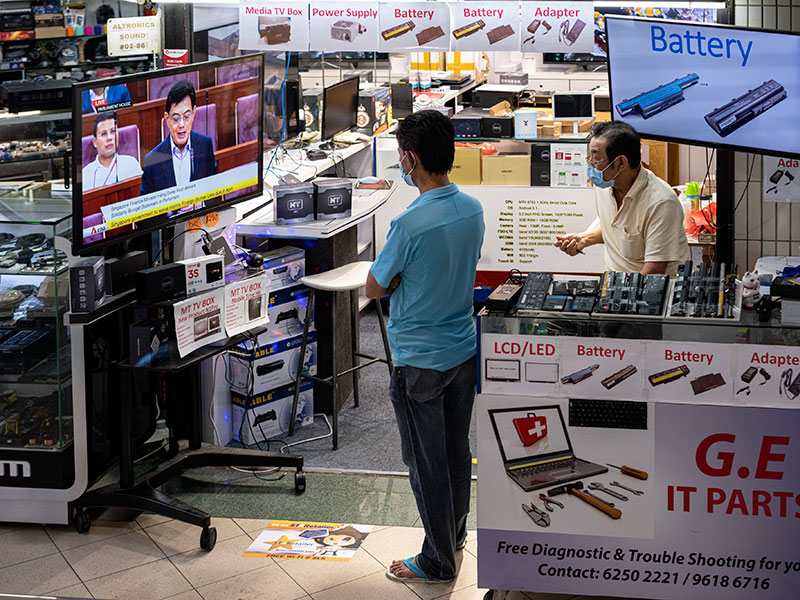 Businesspeople watch on as Singapore's finance minister, Heng Swee Keat, announces the government's latest stimulus package &nbsp
Author:
Charlotte Gifford
On May 26, the Singaporean Government announced it would inject SGD 33bn ($23.3bn) into its economy, which has been severely impacted by the COVID-19 pandemic. It is the city-state's fourth stimulus package in as many months.
Unveiling the package, Singapore's finance minister, Heng Swee Keat, said: "We are dedicating close to SGD 100bn [$70.5bn] to support our people in this battle, which is almost 20 percent of our GDP. This is a landmark package and the necessary response to an unprecedented crisis."
The Singaporean Government has said its latest stimulus package will be used to help retain jobs
So far, much of the funds provided by the last three stimulus packages have been used to support a wage subsidy initiative, dubbed the Jobs Support Scheme. The first stimulus package, unveiled in February, set aside $6.4bn to support businesses, workers and families affected by the novel coronavirus. In March, Heng added $48.4bn in a supplementary Resilience Budget and, in April, he rolled out the Solidarity Budget, which provided a further $5.1bn to boost the economy.
The government has said this latest package will be used to help retain jobs. It includes enhanced support for businesses in hard-hit sectors, including those that can't easily resume operations once lockdown is lifted, rental waivers and relief for small and medium-sized businesses, and the creation of more than 40,000 jobs in the public and private sectors.
Despite its quick response to the pandemic – Singapore was one of the first countries to impose restrictions on travellers from China and parts of South Korea – the city-state is considered particularly vulnerable to the economic fallout because it relies heavily on trade for growth. The so-called Fortitude Budget was announced just after Singapore's Ministry of Trade and Industry slashed its forecasts for GDP.
It's now predicted that Singapore's GDP will contract by between four and seven percent this year – the worst contraction the city-state has seen since gaining independence.