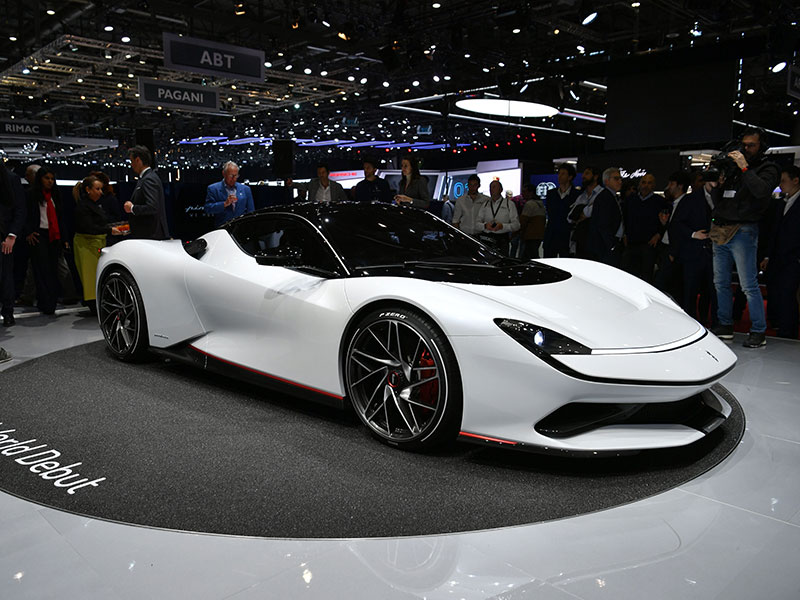 In March, Pininfarina made a momentous announcement, unveiling its first own-branded car (also the world's first all-electric supercar), the Pininfarina Battista&nbsp
Author:
Elizabeth Matsangou
In the automobile sector, Pininfarina occupies a special position. The Italian design house is responsible for some of the most beautiful cars that have ever graced the roads – the Ferrari Daytona, Cisitalia 202 and Alfa Romeo Spider, to name a few.
In March, Pininfarina made a momentous announcement, unveiling its first own-branded car, the Pininfarina Battista. Not only is the vehicle a thing of beauty (you'd expect nothing less), but it's also one of the world's first all-electric supercars. After waiting decades to make such a massive move, Pininfarina pivoted from designer to manufacturer with as loud a bang as possible, producing a vehicle that is nothing short of pure ingenuity.
Describing the Battista, Michael Perschke, CEO of Automobili Pininfarina, told World Finance: "While it looks very modern, it's still a very classic, timeless look. We have the ambition that in 15 [to] 20 years, the Battista will stand in a couple of car museums and is going to be celebrated as probably the most iconic first [electric vehicle] hypercar ever made and also one of the most classic designs in that segment."
Building a brand
To understand the prestige associated with Pininfarina, it's important to reminisce a little. The company's founder and designer extraordinaire, Battista Farina, who later changed his last name to Pininfarina but was generally known as Pinin (meaning 'baby of the family'), was born in Cortanze, Northern Italy – the 10th of 11 children. With so many mouths to feed in this rural setting, the family moved to the city of Turin in search of a better life.
Pininfarina has been making history for more than eight decades, recurrently breaking the mould and driving automobile design forward
Growing up, Pinin would often visit his brother Giovanni at his workplace, one of Turin's many carrozzerias, or car body shops. It was there that he first fell in love with automobiles. In 1910, Giovanni set up his own carrozzeria, Stabilimenti Farina, alongside Pinin and another of their brothers, Carlo. Pinin, who was 17 at the time, was placed in charge of design and publicity. His time at Stabilimenti Farina was invaluable but, after two decades, Pinin decided to go it alone and establish Carrozzeria Pininfarina in Turin.
The business quickly found success. The first official Pininfarina design, the Lancia Dilambda, was showcased at the 1931 Concorso d'Elegance Villa d'Este, a prestigious classic car event. Soon after, Pinin wrote that he had "sold a Dilambda spider cabriolet to the Queen of Romania" and that he had begun "to have some of the nobility [among his] customers".
With Pinin's reputation blossoming, he continued to build close relationships with mainstream manufacturers. Pinin then made history with the Cisitalia 202 in 1947, which won first prize at the Concorso d'Elegance Villa d'Este that year. The car was not just a boon for the brand; it put Italian car design on the world stage for the first time. The vehicle even became the first car to be permanently showcased at New York City's Museum of Modern Art.
Then came the partnership for which Pininfarina is most famous: in 1951, Pinin first met with Enzo Ferrari, founder of the eponymous luxury car manufacturer. They agreed on a location halfway between one another's headquarters as both men were too stubborn to visit the other's offices. Commentators said the partnership wouldn't last; not only did it thrive, it produced some of the most iconic cars in history, with some 200 Ferraris designed by Pininfarina to date.
Expansion followed when, in 1953, Pininfarina began manufacturing complete body designs for high-volume manufacturers, starting with the Peugeot 403. The company's growth continued, prompting it to move production from Turin to a modern factory in Grugliasco in 1958. The Alfa Romeo Giulietta Spider, another of the design house's first mass-produced vehicles, was a huge success.
In 1961, Pinin handed the reins to his son, Sergio – Pinin passed away just five years later. Sergio pushed forward with his father's vision, cementing the company's relationship with Ferrari. Over the following decades, Pininfarina continued to design beautiful automobiles, but it had never manufactured its own – until now.
Shifting gears
At the end of 2015, the Mahindra Group bought Pininfarina for a reported €25.3m ($28m), an acquisition that signalled a major shift for the brand. The business that Pinin founded in Turin 89 years previously now lives on as "mainly a business-to-business company that sells industrial design and engineering services to other automotive industrial clients", according to Perschke.
Perschke added: "Around one-and-a-half to two years ago, the Mahindra Group, as the key strategic investor behind Pininfarina, made a cautious strategic decision to spin off a separate legal entity that is solely focused on the sales, marketing and promotion of Pininfarina as a [business-to-consumer] business – so a purely client-orientated business unit."
Anand Mahindra, Chairman of the Mahindra Group, was compelled to pursue an avenue of business that Pinin was never able to. Perschke explained: "[Pinin] always wanted to create his own branded car, but for many reasons, especially due to the very close ties with Ferrari, they never went out of that shadow [of] designing cars for others… and therefore always got limited [to] serving others. And that was something which… Mahindra very clearly said is an unfinished story."
The road less travelled
In continuing this story, the company went down a surprising new route with an all-electric vehicle. Perschke puts this down to Mahindra too, explaining: "He's a strong advocate of sustainability and a supporter of the anti-climate-change movement." According to Perschke, Mahindra's decision to pursue a self-branded vehicle was based on the requirement that the company would move towards electric vehicles. He told World Finance: "There are plenty of start-ups trying to get into the [electric vehicle] space and one thing they all lack is provenance, exclusivity, luxuriousness, storytelling and an authentic reason to be [ – unlike Pininfarina]… I think that's where I got intrigued and said it's a very unique idea because nobody else has [the] kind of opportunity [that Pininfarina does]."
It has undoubtedly helped that electric vehicle technology has progressed immensely in the last decade, while the reputation of electric cars has experienced a massive boost. But to manufacture an electric supercar that's capable of 1,900 horsepower, 1,696Nm torque and that can go from zero to 186mph in less than 12 seconds, an industry pacesetter had to get on board.
To produce such a high-performing electric vehicle, Pininfarina partnered up with Rimac Automobili, the Croatian electric hypercar manufacturer behind the Concept One – one of the fastest electric vehicles in the world when it was unveiled in 2011. "When we met, Mate [Rimac] and myself professionally fell in love and said, 'That's a great partnership'," Perschke said. "He's straightforward, he knows what he's talking about, he's passionate and he also had the ambition to partner." He compared their first meeting to that of Pinin and Ferrari: "That was the marriage in the 50s [and] 60s for the combustion engine marriage; I think we had an [electric vehicle] marriage. Rimac [Automobili] is a technology company and Pininfarina is a design company; this resulted in the Battista."
This union has allowed Pininfarina to tick the three crucial boxes that would make its first own-branded car a success. "First and foremost, we have to give a cutting-edge design, which people fall in love [with]," Perschke told World Finance. "Secondly, we're not falling short of any other hypercar. Our ambition [is that it] has to exceed any other hypercar because only then will you be recognised and cut through the clutter. And thirdly, we need to fulfil not only the performance level in terms of acceleration and top speed, but we also wanted to give a very good range. And that's why our range in Europe will exceed 500km in a [worldwide harmonised light vehicle test procedure] cycle in a testing cycle."
With these features cemented in the Battista, Perschke believes Pininfarina can succeed in its mission for its newest model to be an electric car that people fall in love with. Its reception suggests some already have. When the car was first unveiled at the 2019 Geneva Motor Show, for example, many commentators – from Forbes to Car magazine – highlighted the Battista's beautiful design. "[It was] not the most stunning electric car, it was the most stunning show car in Geneva full stop," Perschke said. With this striking, high-performing model, the Battista is helping to fight the misconception that electric cars are slow and ugly.
Pininfarina has been making history for more than eight decades, recurrently breaking the mould and driving automobile design forward. It achieved this again in 2019 with its first self-branded, all-electric car. The Battista is pushing boundaries in the industry, proving the incredible potential of electric vehicles – yet another testament to the extraordinary legacy of Pininfarina.