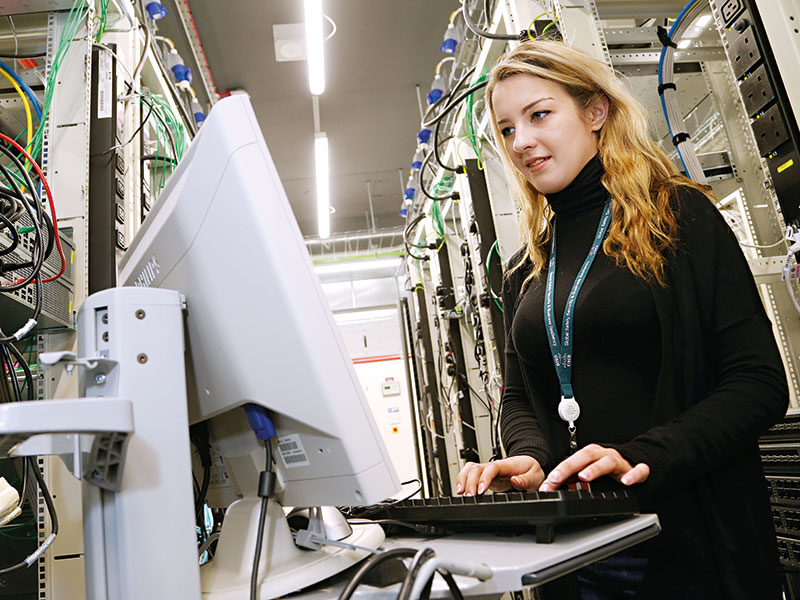 Gemma Dalziel, an Apprentice Engineer at Cisco, working on network technologies&nbsp
Author:
John Perkins, Chair of the Education and Skills Panel, Institution of Engineering and Technology
January 19, 2017
Engineering represents 27 percent of British GDP and supports 14.5 million jobs across the country, making it a driving force for both the UK and global economies. In the UK, the sector has been calling on the government to redress the economy towards engineering for years, and to take action to significantly improve the pipeline of engineering graduates and apprentices emerging from British universities and colleges.
Following the UK Government's announcement of its commitment to creating an industrial strategy, and in the face of a growing global appetite to transform the way we educate engineers, we must assess the biggest opportunities for the engineering industry.
New tactics
An industrial strategy should help the government, industry and society work together to deliver a resilient, productive, sustainable and competitive industrial sector. An industrial strategy must take a long-term approach, which should be both cross-government and cross-party. Fundamental too is a far-reaching strategy for developing future generations of highly skilled engineers who can help to advance innovation and technological change.
The free movement of people is vital to supporting the engineering and technology industries. Policies that hinder this movement could severely damage a thriving and sustainable industrial strategy. Entrepreneurs and start-ups are often cited as the lifeblood of the economy and undoubtedly have been the drivers behind much of the innovation we take for granted. For this reason, they need special attention and investment from the government in order to flourish and reach their potential to support
the wider economy.
There is a growing number of expanding sectors within engineering that will drive future demand for engineers in the UK
Our need for more engineers is well documented. There are simply not enough young people taking up the traditional engineering gateway subjects such as maths, physics and design and technology, and then taking their studies further, whether through an apprenticeship or higher education. Even where we do have engineering skills, our 2016 IET Annual Skills and Demand in Industry survey suggests they are often not the right ones for an industry where technology and innovation is moving so fast.
In the survey, 62 percent of employers said the skills of their new graduate recruits do not meet their business needs, while 68 percent were concerned the education system will struggle to keep up with the skills required for technological change. Momentum is building behind the argument that we need to develop new approaches to engineering education, with greater emphasis on the practical, creative and problem-solving side of things. Globally, universities are introducing new degree programmes based on the premise that a background in creative subjects is as valid a launch pad for an engineering career as a traditional mathematical one.
In May 2017, the IET and Engineering Professors' Council will host a high-profile global conference to discuss new approaches to engineering education, which will draw on expertise, thought leadership and best practices from the UK and internationally.
As part of championing a new approach to engineering education, there is also a call for more emphasis on the importance of practical work experience for engineering students. The IET has recently published recommendations outlining how industry, government and academia could do more to offer engineering students practical work experience. These recommendations include developing a government-led national work experience framework, and extending the apprenticeship levy to include internships and work placements in order to help students meet the costs of work experience placements.
Grasping opportunities
There is a growing number of expanding sectors within engineering that will drive future demand for engineers and technicians in the UK: space, new power networks, cyber-security, food security and robotics, to name a few. What all of these sectors have in common is an urgent need for relevant skills that can develop and deploy the exciting technology that will solve the defining issues of our generation. Yet ultimately these sectors need greater awareness, understanding and appreciation of the importance of engineering and technology to the wider economy – from the government, from the wider business world, and from the next generation of potential engineers.
In simple terms, the industry must take advantage of the new opportunities the UK Government's industrial strategy offers. Likewise, it must take advantage of changing attitudes towards engineering education to extend its influence and status, which will drive long-term change and ensure the engineering and technology industry is nurtured and grown – as it should be.
For more information, visit www.theiet.org