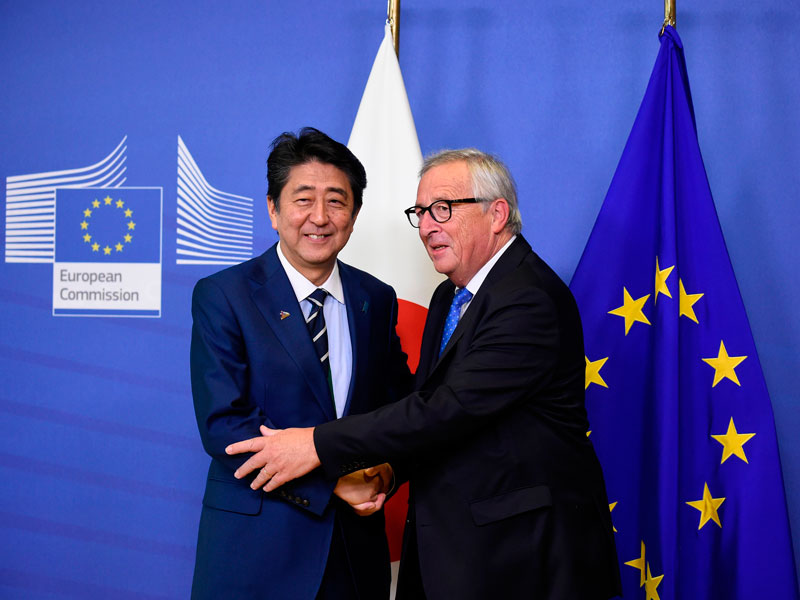 Japanese Prime Minister Shinzo Abe and European Commission President Jean-Claude Juncker meet at the European Council in Brussels in October&nbsp
On December 12, following nearly five years of negotiations, the European Parliament finally approved the EU-Japan trade deal. It is hoped the agreement, the largest ever struck by the EU, "will raise the benchmark for international commercial ties".
President of the European Commission Jean-Claude Juncker said in a statement: "I praise the European Parliament for today's vote that reinforces Europe's unequivocal message: together with close partners and friends like Japan we will continue to defend open, win-win and rules-based trade."
The deal binds together two economies that together account for a third of global GDP
The agreement was ratified with 474 votes in favour, 156 against and 40 abstentions. Japan's parliament agreed to the deal earlier in the week. Once EU member states approve the pact on February 1, 2019, the trade deal will create the world's largest free trade zone.
The deal binds two economies that together account for a third of global GDP. It will remove EU tariffs of 10 percent on Japanese cars and three percent for most car parts. Japanese duties on cheese and wine will also be scrapped.
Additionally, it will open up services markets, including financial services, telecoms, e-commerce and transport. An estimated €58bn ($66bn) of goods and €28bn ($32bn) of services are exported by EU businesses to Japan each year.
Before the US withdrew its signature, Japan was part of the 12-nation Trans-Pacific Partnership. However, Donald Trump's rejection of the deal saw Tokyo turn its focus towards other prospective partners.
In similar circumstances, after negotiations regarding the Transatlantic Trade and Investment Partnership stalled with the US, the EU also branched out to find other potential partnerships.
"Everyone knows there is a tariff man on the other side of the Atlantic," said Bernd Lange, Head of the European Parliament Committee on International Trade. "Our answer is clear. We are not tariff men, but the people of fair trade."
Japan and the EU face continued tension with Trump, who has imposed tariffs on imports of steel and aluminium. Nevertheless, both parties have pledged to start separate trade talks with the US.