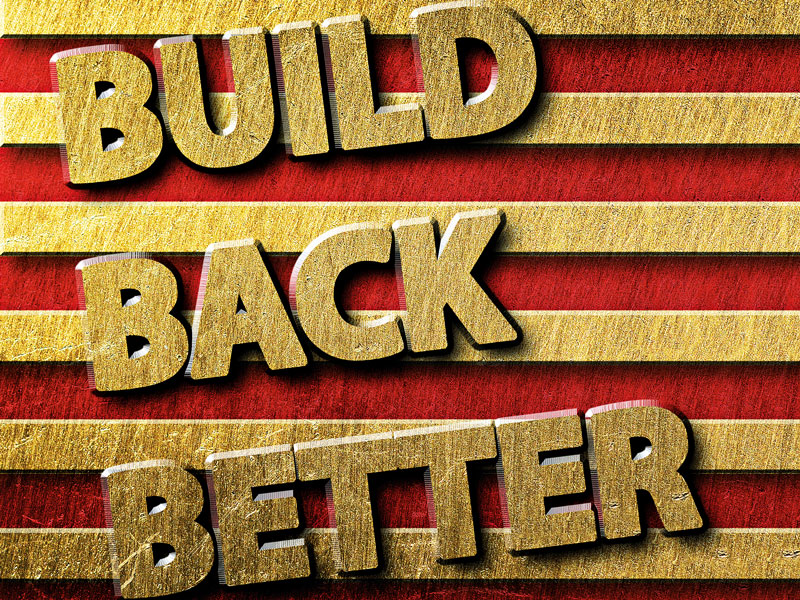 &nbsp
Stock markets barely turned a hair on the change-of-president news in early November 2020. There was no dive or Armageddon, no rush for the exits in anticipation of a Democratic Biden administration determined to punish climate-heating polluters and other stock market villains. But the market's positivity was less an endorsement for the president-elect and more an exhalation of relief that the US had narrowly avoided a contested result: a constitutional crisis with Donald Trump firing grandstanding tweets, or even refusing to quit the White House. Above all, markets love certainty.
Market sentiment was also buoyed by COVID-19 vaccine hope shortly after, popping energy back into retail, travel and banking stocks. "We are still months away from any vaccine being widely available," asset manager giant BlackRock noted in mid-November. "But the game changer is that we now know we are building a bridge to somewhere, providing more clarity for governments and companies about getting to the post-COVID-19 stage."
But markets also have the certainty of the world's most powerful democracy bitterly divided. In November 2020, Donald Trump pulled in the second highest number of votes in US election history, albeit less than his opponent. After four wild years, Trump's centrifugal force is extraordinary. Chief investment officer Thomas Beckett of Punter Southall Wealth told World Finance that despite Biden's victory, "it was a disappointing night for the Democrats and far below most expectations.
It is going to be challenging for the Biden administration to achieve anything structurally significant with the Senate in the grips (just) of the Republicans." The disappointment for the Democrats is considerable. Biden won, yes, but without a clear majority in Congress, depriving him of a solid political base.
Hot influencers in a swing state
Biden's capacity to govern may change with the Georgia run-off elections. Who wins in Georgia will determine which party controls the US Senate. Currently (as of December 2020) the Republicans have a 50–48 majority in the Senate. If Democrats take both seats in this once solid Republican state – now a swing state – Vice President-elect Kamala Harris gets the tiebreaker vote. So the stakes are enormous. Georgia has massive racial divisions and inequality. The capital, Atlanta, is the cradle of the state's civil rights movement. Georgia hasn't voted Democrat since Bill Clinton's election nearly 30 years ago. Georgia, though, is increasingly polarised from rapidly changing demographics – mainly young and diverse, which favours the Democrats; think 'hot' influencers, Twitch and politically tinged live streams.
The 2020 election demonstrated that the economy must benefit the working class more in future if the ideological chasm between Democrats and the Republicans stands a chance of narrowing
Pollster and strategist Frank Luntz told CNBC it's the most important Senate election in modern times – and could go either way. "Whether they roll back Trump's tax cuts or introduce a green new deal – if the Democrats can win both of those seats back then they will be in control of the Senate and the President will have an agenda that won't be able to be challenged by Congress."
If Republicans win just one seat they control the majority and therefore the Biden agenda. So the Georgia run-off will determine the nuts-and-bolts of Senate decision-making and the committees spanning banking, finance, taxation and judiciary. The consensus is that the Republicans will hang onto the Senate. "US voters have this admirable ability to not give politicians too much power," Chris Beauchamp, chief market analyst at IG, told World Finance. "The perception among many swing voters may be that while we've given Biden a chance, we don't want to give him the keys for everything."
Joe Biden: the 46th President of the US
A core Biden quality – the capacity to work with opponents – has never grabbed headlines.
Biden is more the steady journeyman in search of a better outcome, though at some personal cost.
The twin tramlines of tragedy and success have closely tracked his life.
He became a US senator in 1972, defeating strongly liked rival J Caleb Boggs despite a campaign bereft of funding and, often, hope.But he clinched it by 3,162 votes – the closest Senate election of 1972 – thanks to an ability to connect with voters.
But this achievement was over-shadowed by the tragedy, almost immediately afterwards, of his wife Neilia and their one-year-old daughter, dying in a horrific car accident.
He's held down torturously difficult positions on racial equality, notably the Senate school busing programme, in the 1970s.
The close relationship with ex-President Obama, a man he often calls his brother, has cemented support from African-Americans as well as blue-collar white voters.
While a big supporter of public healthcare and mental health programmes, Biden's also faced allegations of misconduct, overcoming accusations of assault by ex-Senate employee Tara Reade.
In 2015 his son Beau, attorney general of Delaware, died of brain cancer, forcing Biden out of the race against Trump.
He now needs every ounce of his low-key bipartisan stamina and judgement to steer America back from four years of comparative isolationism to the familiar ground of multilateral agreements, compromise and the ability to work together – the essence of what the US Founding Fathers intended.
But he will also have to navigate a party with a diverse range of views. Many Democrats are going to be disappointed and the splits will be uncontainable.
Blue-chip help with gridlock?
If there is probable Senate gridlock then the chances of meaningful future US economic stimulus to support the economy – many states were coming to terms with more COVID-19 shutdowns back in November 2020, putting the brakes on a recovery – may fall. VTB Capital global macro strategist, Neil Mackinnon, told World Finance, "At best, it may be $1trn which would be mainly fresh income support and replacing unemployment programmes. It's highly unlikely we're going to get a $2.5trn package." That $2.5trn figure had even been endorsed by Trump, going along with the Democrats, "though that had likely been driven by the opinion polls at the time" adds Mackinnon. Senate majority leader Mitch McConnell doesn't believe Americans need a multi-trillion dollar aid package.
But Biden is determined to get collaboration from corporate America to tackle the pandemic crisis. Biden, remember, has been here before: in 2009 Barack Obama charged the President-elect with the oversight of a near $800bn stimulus package to drag the US out of the global financial crash. Little change is expected at the Federal Reserve. Fed chief Jerome Powell sees his tenure end in early 2022. Powell, a Republican, has paid attention to job growth, earning him brownie points from Democrats keen to see issues like wealth inequality – particularly racial wealth imbalances – raised. The inequality point is complex but vital: the 2020 election demonstrated that the economy must benefit the working class more in future if the ideological chasm between Democrats and the Republicans stands a chance of narrowing.
Elsewhere, hopes for sterner financial regulation, urged by Democrat senator Elizabeth Warren, could see Biden ultimately replace Powell, but the Fed boss himself has endured a fractious relationship with Trump. He remains a continuity figure. Currency moves are notoriously difficult to anticipate but a weaker dollar appears likely, helping US exports and lifting Asian currencies. While trade negotiations, particularly with China, will take a more conventional tilt, Biden leads a divided government, which impacts on the greenback because of policy uncertainty.
But with the money taps open from the Federal Reserve plus more government aid money to tackle COVID-19, inflation may climb if enough spending gets underway from both businesses and consumers. In 'normal' times this would reasonably see the Fed hike rates. The Fed has switched its inflation target from two percent to an average of two percent. It's a small but important nuance, allowing it to delay hiking rates for longer. Many dollar-denominated investors may be deterred and look elsewhere for a home for their money.
Outlook for stocks
A normalising of geopolitical relations will likely favour biopharma companies, as Biden is keen to expand the Affordable Care Act. Chinese stocks – think e-commerce and payment names like Meituan and Tencent – may also gain thanks to a more stable trading US outlook. Some blue-chip European stocks have taken a beating from Trump tariffs, particularly on the automotive and engineering front. But Biden has pledged to rejoin the Paris Agreement, which the US pulled out of in 2017. So, spending on infrastructure for EVs, wind and battery science is good news for this sector.
Much depends on COVID-19. Biden has assembled a task force led by three respected and qualified co-chairs: David Kessler, Vivek Murthy and Marcella Nunez-Smith. Other members of this taskforce are specialists in their own right, says Russell Shor, senior market specialist at FXCM, "and bring a high level of competence to the table," he told World Finance.
"That, to a large degree, has lifted the uncertainty of the COVID-19 spread and the insecurities accompanying lockdown," Shor continues. "More testing is required, but two major uncertainties [Biden win and Pfizer's and BioNTech announcement of a 90 percent potential vaccine] have diminished and this is good for markets." The hope for the US must be for calmer waters ahead. There is a lot for Biden to get through during his four-year term and it would certainly be easier if it could start with the Trump sideshow being shown the exit door quietly.