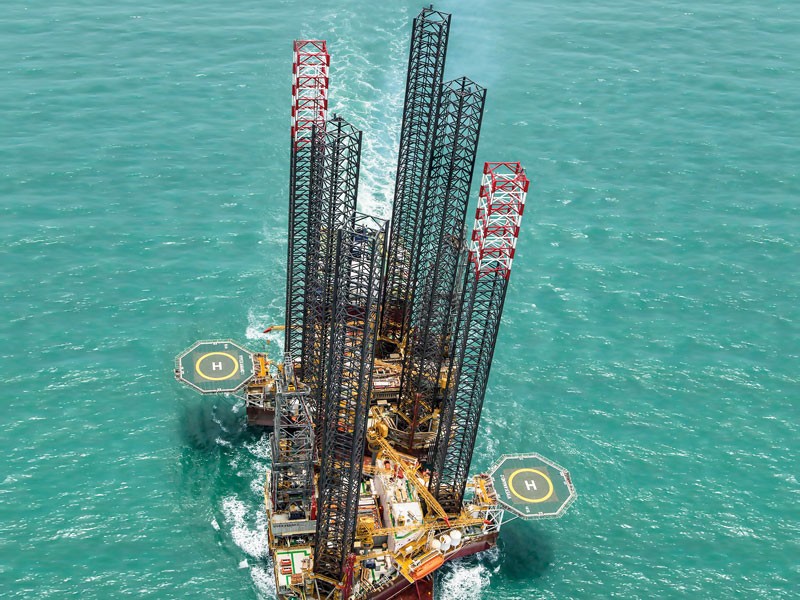 &nbsp
The impact of the COVID-19 virus will be far-reaching and long-lasting for many industries. The crisis was a particular blow for the offshore oil sector, which had only just recovered from the 2014 oil price crash, when prices declined 70 percent in the period to the start of 2016.
In January 2019, oil prices were around $70 per barrel. At the time of writing, oil sits just below the $40 per barrel mark (a reduction of over 40 percent). Oil demand fell as much as 30 percent in April 2020 alone, as lockdowns and travel restrictions forced people to stay at home. Additionally, E&P companies cut their planned Capex spends for 2020 by around $100bn.
If this were not enough, markets have not looked favourably on the market capitalisation of listed offshore service companies. Listed offshore drilling companies have seen reductions of up to around 80 percent in their market capitalisation during the past six months, offering a clue as to immediate as well as longer-term impacts of the current moment.
Modelling by Moody's has suggested that global oil demand might not return to 2019 levels until at least 2025. The ratings agency has further said that there is a possibility that demand won't return to 2019 levels at all due to the combination of weaker economic growth, behavioural shifts and decarbonisation, especially within the transport industry. The result of the US election will surely have an impact here too, given President-elect Biden's pledge to rejoin the Paris climate agreement and push forward with a 'Green New Deal' to tackle climate change domestically.
The drilling sector is being hit particularly hard at the moment, as Dr Ravi Kumar Mehrotra, founder of Foresight Offshore Drilling (FOD), well knows. Having started the drilling division in 1989 (the company started in 1984) as part of Foresight Group International, a family-owned, global enterprise whose areas of business also include shipping and the infrastructure of ports and gas, Dr Mehrotra is well placed to put the current challenges in their wider context and identify what's required if the sector is to thrive. The marine engineer and executive chairman, who is a veteran in shipping and has spent more than 50 years in this industry, spoke to World Finance about navigating FOD through these treacherous waters.
What was the immediate impact of the coronavirus pandemic on offshore drilling?
In late 2019 we were beginning to see day rates improve as more E&P plans were firmed up in drilling. As of now, the drilling sector has experienced an environment where there are contract delays, suspensions, cancellations and terminations along with the somewhat inevitable squeeze on day rates.
How did FOD respond to those challenges in the first instance?
We have over 27 years of drilling experience and a fleet of six rigs, three of which are cyber rigs ordered from Cosco Dalian in 2013 to modernise the fleet. After successful marketing of the fleet ahead of the COVID-19 pandemic and ensuring contracts remain protected from adversities arising after the crisis, the fleet now has a utilisation of 100 percent with a backlog of 18 years. The fleet is delivering an operational up-time that exceeds 99.7 percent and is supporting clients such as ADNOC, ONGC, Oil India and Masirah Oil.
How can a relatively small drilling contractor such as FOD compete with the larger corporations, particularly at a time like this?
With drilling costs accounting for 40–70 percent of offshore oil and gas development costs, it is clear why the oil and gas operators choose their drilling contractors very carefully. Because of their size, larger corporations are often able to leverage their financial and human resources to outperform smaller businesses at every turn. However, as I often remind our team, reputation is all that matters; money, anyone can create. Small can be beautiful. The client sits at the heart of all we do and being smaller means that we are not driven by standard practices and processes. This doesn't mean we do not have accredited management processes, just that we have the agility to adapt to requests. We offer a more customised service by ensuring all levels of management in our group are fully engaged with our clients. This means we can fully understand our clients' needs and develop solutions that are ideal for both parties. Most importantly, though, it means that all internal functions are aligned with the solutions being proposed.
The client sits at the heart of all we do and being smaller means that we are not driven by standard practices and processes
Has the pandemic offered any lessons going forward?
It has highlighted the importance of robust partnerships with suppliers and service providers. By being able to demonstrate that business operations within our organisation remain strong despite market conditions, our partners have been willing to be flexible and support our efforts around debt management and cash flow optimisation. For small companies, the relationship with their partners and the support they can provide becomes an important survival mechanism. And again, it is about the organisation having the relationship – not just relationship managers.
Focusing on your customer is critical. During the pandemic we, like many, experienced significant issues with crew change logistics. It would have been easier to try and pass on our challenges to our clients, claiming that the problems were not of our making or within our control. Instead, our operations and HR teams came up with imaginative solutions to overcome logistical issues, including quarantining staff before and after crew rotations. In this way, operations remained smooth and showed our clients how we were supporting them, not adding to their burdens at this challenging time.
By highlighting and exploiting every innovative aspect of our efforts, whether process, service or technological, we emphasise the unique elements that set us apart from the larger corporations. In turn our clients see evidence of the compelling value propositions that we offer, propositions that enhance our reputation and generate further support.
How do you remain agile enough to respond effectively in these challenging times?
Large organisations can have a strong focus on consistency, whether it is internal with staff or external to clients. This is often achieved through layers of oversight that can increase the time to formalise decisions or approvals.
At Foresight, we have short reporting lines irrespective of geography or task. This permits an agile approach to problem solving and demonstrates to clients a flexible and responsive approach that helps to reinforce a willingness to collaborate.
What is the secret of your success?
Our workforce. To succeed, everyone within the organisation must share the collective desire to test themselves and be prepared to work the extra hours or go the extra mile. The valuable learnings picked up along the way are what will enable the organisation to more quickly and efficiently achieve its desired outcomes.
Collaboration is crucial, particularly for us as a smaller company. There's a shared understanding, a common purpose and a real sense of pride in what we do. It is our teams and our people who regularly perform miracles to get critical milestones achieved for our clients.
There are plenty of examples of the power of this approach, from having a fleet with 100 percent utilisation to running at an amazing 99.7 percent uptime with excellent safety performance. An even more tangible example was the delivery of three brand new rigs from construction through rig readiness to operation in record time, not only getting our rigs operating quickly for our clients but delivering performance levels that exceed the norm. This could not be achieved without a workforce who are committed and engaged, ready to demonstrate that they can not only complete work quickly but thoroughly as well. It also highlights that the transition from construction to operations can be seamless.
How do you foster such a culture within your teams?
Much of the credit for these achievements can be attributed to long-term employees who have been trained within the company. We have learned that there can be no excellence without in-house training. I established the Amer Maritime Training Academy in 2001 to ensure that new entrants to the drilling or shipping world can learn both the basic skills and discipline to aid their development, while becoming clear on culture and expectations.
When times are tough, we endeavour to support our people and help them remain engaged with the business. This pays dividends when our valued clients are placed in their care.
Finally, what would you say is your company's greatest strength?
Attributes such as agility, discipline, resilience, a clear focus on common goals and innovation are measures that help a small organisation compete with the largest of contractors. Building a strong reputation by focusing on these points gives us equal standing with the big players. But of course, for our organisation to be sustainable, we will need to continue evolving and adapting innovations.