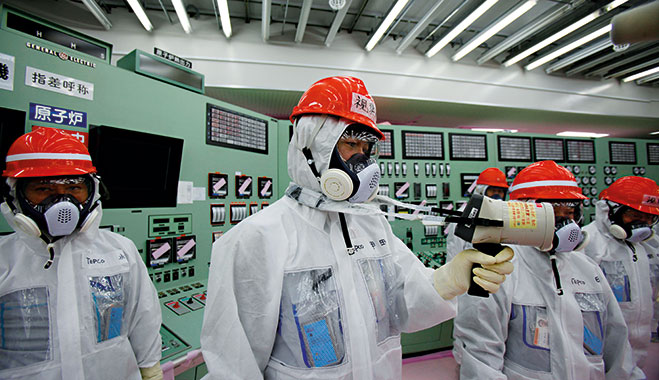 Staff at the Tokyo Electric Power Company measure radiation in the central operating control room of the reactors at the Fukushima Daiichi power plant, Okuma, Japan&nbsp
This August just past, an understandably nervous Japanese population watched as the ribbon was cut at the country's first operational nuclear reactor in two years. Five years on from the Fukushima Daiichi disaster, the industry finally awoke from its semi-permanent slumber – long enough for the government to rethink its anti-nuclear rhetoric – though not long enough for the public to forget. And while dozens of protestors rallied outside the plant, millions more harboured fears of their own about what another tragedy could bring.
Those in favour of the restart have stood fast by the country's new regulatory regime, dubbed the 'world's most stringent regulation standards' by Japan's President Shinzo Abe, intent that under this new regulatory framework another meltdown is nigh on impossible. Plants in the here and now must be designed to withstand a tsunami larger than any on record and must come equipped with an off-site power supply, in response to the inadequacies that plagued the Fukushima plant. On top of that, a new independent Nuclear Regulation Authority (NRA) was established in 2012 to address the regulatory shortcomings identified prior to and after the Fukushima incident.
Plants in the here and now must be designed to withstand a tsunami larger than any on record and must come equipped with an off-site power supply
"The restart of Japan's nuclear reactors are a hugely important step which sets the country firmly on the path to restoring its trade balance [see Fig. 1] and regaining energy independence, as well as reducing emissions", said Jonathan Cobb, Senior Communication Manager for the World Nuclear Association (WNA). "Much has been done to improve the preparedness of nuclear plants to be able to cope with similar situations and to strengthen the regulatory process, but it is only now, as reactors restart, that the industry will be able to demonstrate to the public that [it deserves] their trust."
Reclaiming trust
Francis Livens, Professor of Radiochemistry and Research Director at the University of Manchester's Dalton Nuclear Institute, noted that the restart is a positive thing, not least "because dependency on imported fossil fuels is costly and damages the prospects of Japan reducing carbon emissions". Speaking on the challenges, he added that the focus should fall on "gaining trust among public and decision makers… Clarifying these relationships, as is happening, should lead to a more robust nuclear safety framework and, over time, that will be vital in rebuilding trust."
The confidence shared by supporters, however, is at odds with Japan's majority, who remain resolutely opposed to a restart, irrespective of rising energy bills and the country's worsening financial complexion. One survey carried out by Asahi Shimbun last year showed that 59 percent of the public were opposed to a restart. Another Kyodo News poll carried out in the lead-up to Sendai's restart found that 60 percent were opposed to nuclear energy, whereas 31 percent were in favour. A further 12 percent had either no or minimal concerns regarding future accidents, as opposed to 50 percent and 36 percent who shared a fair or high degree of concern, with many of the opinion that phasing out nuclear power before 2030 is the best option.
The reasoning for the administration's resilience on this point boils down to Japan's energy deficiencies, in that the country has no fossil fuel reserves to call its own and little in the way of local capacity. Sources at the WNA say the country was having to shell out ¥3.6trn ($30bn) each year for imported fossil fuels over the period when all of Japan's reactors were shut down. "So the restart should reduce both the deficit caused by the direct cost of imported fuels, but also help Japanese industry through more competitive energy costs", said Cobb.
Without nuclear, so say proponents, the country will struggle to appease its population and uphold energy security – as is required for an economy of its size and stature. Prior to Fukushima, this was a power source that made up approximately 30 percent of the national energy mix, and the decision to shutter all 54 of its reactors has exerted undue pressure on what is essentially an energy-poor, energy hungry nation.
"The two largest challenges to the prospect for continued use of nuclear energy in Japan are the issue of public confidence in the nation's nuclear governance and nuclear safety, and the power sector liberalisation, which will very likely put the economics of building new reactors and maintaining the existing reactors under enormous pressure as many utilities become uncertain about their market competitiveness in the liberalised landscape", said Jane Nakano, Senior Fellow of the Energy and National Security programme at the Centre for Strategic and International Studies.
In the wake of Fukushima, plans for nuclear – not long ago on course to feed 40 percent of the country's consumption habits by 2017 – have unravelled and Japan's reliance on imports in the years since has shown itself to be a costly and unsustainable endeavour.
Righting the imbalance
Near on 90 percent of Japan's energy requirements are satisfied by imports, and a return to nuclear, according to supporters, would mean a more balanced energy strategy for a country with little in the way of home-grown reserves. Coal, oil and LNG account for approximately 90 percent of the country's energy mix, and the reintroduction of nuclear would not only hand Japan a dose of independence but a better shot at keeping to its emissions targets.
This dependency on imported energy has cost the country dear, irrespective of a climate wherein low oil and gas prices have spared the country billions of dollars in financial hurt. Japan's trade deficit last year swelled to its widest on record after the Ministry of Finance slapped a monumental price tag on the country's new energy strategy, reporting a $27.3bn shortfall, and many have been quick point out a strong correlation between the shutdown and a string of monthly deficits.
Fearing that the country's stagnant export model and depreciating yen could exacerbate the situation, the Ministry of Economy, Trade and Industry (METI) has set out a new outlook for Japan's energy market to arrest the situation.
Going by the recommendations, nuclear energy will account for 20 to 22 percent of the country's power generation by 2030, whereas 22 to 24 percent will stem from renewable sources, each handing a greater measure of independence to Japan and chipping away at the oil and gas market. Speaking to Kyodo news about the country's energy policy, Fatih Birol, Executive Director of the IEA, said, "I believe Japan without nuclear energy will face major challenges." He later added, "This plan provides a good prospect for nuclear power, and I believe nuclear power has an important role to play in Japan for the prosperity, cleanness and also the security of the country."
Going by the Ministry of Finance's data, Japan's trade deficit arrived shortly after the nuclear shutdown took hold, and has failed to return back into the black ever since. However, the assertion that Japan's trade balance has suffered solely because of this incident is far too simplistic an assumption, and there are larger, structural issues afoot here that have a far greater bearing on Japan's trade balance. Currency losses coupled with volatility in the oil market have contributed greatly to the rot, ahead of the nuclear shutdown, and those of the opinion that a return to nuclear will spell an end to the deficit are sadly mistaken.
"Returning to the same levels as prior to Fukushima would certainly address the trade deficit even if there is a recovery in commodity prices", said Ali Izadi, Head of Japan at Bloomberg New Energy Finance. "However our base-case scenario forecasts restarts peaking out at half the pre-Fukushima level, which would be barely sufficient to address the trade deficit even if commodity prices remain at current price levels."
Inevitable energy price increase
Factor in the additional costs imposed by the new regulatory framework and the influence of a nuclear restart may only be marginal at best. As many as 24 operators are pending approval from the NRA, which, even if it were to happen, would succeed only in taking the edge off rising energy prices and reducing the deficit by a modest amount.
"Nuclear energy only made up 30 percent of all electricity generation before the shutdown. With several reactors having been decommissioned since the 2011 disaster, no more than half of the capacity that existed then is set to come back online. All in all, we estimate that the reduction in the import bill would be no more than ¥0.7tn (0.1 percent of GDP) even if another 24 reactors resumed operations", confirmed Marcel Thieliant, Japan Economist at Capital Economics.
"What's more, the immediate reduction in the energy import bill due to the nuclear restart may well be offset by higher consumption as some of the electricity-savings measures adopted in recent years are unwound. After all, electricity consumption has fallen by nearly 15 percent relative to economic activity since 2011." Add to that the inevitable backlash to each and every restart in the pipeline, and it begs the question of why exactly Abe's administration would favour nuclear ahead of say doubling down on renewables.
Last year alone, Japan installed solar capacity equivalent to that of 10 nuclear reactors and contributed some to the continent's new status as the world's fastest growing market for solar power. And while it's true the targets for renewables – in terms of their percentage share of the overall – are greater than nuclear, there is disappointment still that the plans stop where they do. Taking into consideration Japan's formidable solar and wind sector, there is a note of disappointment that policymakers have opted not to take this further.
Missed opportunities aside, it's likely that a nuclear restart will reduce electricity bills and narrow the deficit, if only by a modest sum. What's not so certain, however, is whether the ends justify the means, and questions remain over whether an energy source opposed by the majority is the better option ahead of renewables. The opposition to nuclear is overblown perhaps, though so too is its credentials in righting Japan's economic imbalance.