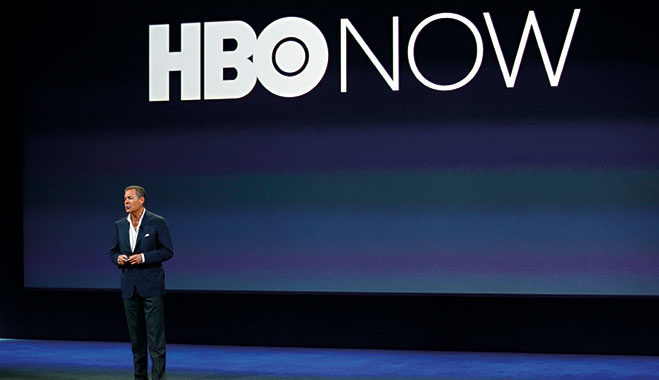 HBO CEO Richard Plepler speaks on stage in San Francisco. The company expanded its streaming offering earlier this year&nbsp
The breathtaking pace at which technology is advancing is causing massive changes within the global telecommunications industry. Whereas a few established providers dominated many markets, now new entrants, some of whom come from outside the industry itself, are challenging them. This is in turn forcing a wave of consolidation across the world's telecommunications markets, with many smaller firms being snapped up as a way of defending against these new entrants.
In recent months there have been a number of high-profile mergers between telecoms players. In January, Hutchison Whampoa, the Hong Kong-based telecom giant, bought the UK's leading mobile provider O2 for £10.25bn ($16.05bn), combining it with the Three network in the process.
Time Warner Cable's (TWC) proposed merger with rival Comcast rumbled on for the best part of a year before collapsing, only for rival Charter Communications to swoop in and acquire TWC for $55bn. Understandably for such a large deal, US regulators are scrutinising it in the same way it looked at the Comcast deal. However, Charter has made a number of big concessions to try and secure the deal, including promises over both existing jobs and new ones.
Elsewhere, Mexican telecoms mogul Carlos Slim has seen his monopoly of the industry in his home country hit regulatory troubles. He is now facing the prospect of his telecoms empire, including America Movil, being broken up. In order to cope with this new challenge in his domestic market, Slim is expanding his operations overseas, in particular looking to take holdings in European fixed-line telecom companies.
Other companies are looking at ways to broaden their service, capturing customers in the so-called 'triple play' deal where they have broadband, telephone and television products all from the same provider. In the UK, BT has expanded into its own cable television service, bidding huge amounts of money for the coveted Premier League and Champions League football matches to secure viewers. It is also in the process of confirming a deal to acquire Mobile Telecom firm EE for £12.5bn ($19.6bn), marking a return to the space 13 years after it sold its stake in Cellnet, which subsequently became O2.
Monthly streaming cost
$7.99
Hulu
$8.99
Netflix
$14.99
HBO NOW
New digital entrants
There are also a number of new entrants into the telecoms market from the tech industry. While the likes of Skype and Whatsapp have been slowly eating into the phone call and messaging business of traditional carriers, the likes of Apple and Google are now getting in on the action. Apple's FaceTime service has added Wi-Fi voice calls, while Google has launched its own wireless network to power voice calls and data use. Project Fi is Google's affordable, Wi-Fi service, which it has been testing in a number of US cities. Launched in July, it could present a credible challenge to existing carriers.
It's not just in broadband and mobile networks that bigger telecom firms are being challenged. In September, Apple unveiled a dramatically updated version of their Apple TV digital set-top box, which is seen as a precursor to a new online streaming television service to rival the likes of Netflix and Amazon. The existing Apple TV has not been updated in three years and has therefore been surpassed in capability by products from Amazon, Google and other new players in the market like Roku. However, the new service will likely harness the power of developers with its own app store, as well as boosting integration with other streaming services.
The company has faced considerable difficulty in persuading existing cable providers to sign up to its own television streaming platform, because these firms don't want to hand over valuable advertising and viewing data. It's expected that this service will eventually come in 2016.
HBO has recognised the changing way people are viewing television. For a long time, the popular cable television service refused to offer an online alternative to its cable package, insisting only traditional customers could get access to online versions of its show. Then, earlier this year, it unveiled an updated HBO NOW web app that non-cable subscribers could pay for, allowing them to watch popular shows like Game of Thrones and True Detective. Available on Apple TV, at first exclusively, the service is now being launched across many other digital platforms.
Speaking about the reasons for their change in stance, HBO's CEO Richard Plepler told reporters in April, "We're making HBO available in as many was as possible to our consumers. That's a win for the consumer, that's a win for our partners and that's a win for HBO."
Plepler described the new service as being aimed at a new generation of tech-savvy television viewers who aren't accustomed to paying for cable subscriptions, describing it as a "millennial missile". He added, "We think this is a terrific opportunity to earn 10 million broadband-only homes in the US, and that's largely a millennial audience."
Monthly costs
HBO will be charging customers of its new online platform a price of $14.99 per month, compared to the relatively cheaper Netflix and Hulu offerings, which are both around half that amount. Plepler believes, however, that customers would be willing to pay the higher price because of the high-quality content it offers. "We think we have a premium product. We have extraordinary content… and it's the price of a movie ticket and a bucket of popcorn. If you look at the value of that, we think it makes perfect sense and we think the consumer is going to agree with us."
Instead of cutting into HBO's existing cable subscriber base, Plepler believes that it will merely expand the number of consumers the company caters to. "We see this as an expansion of the pie, [it is] not cannibalistic at all of our current business. It is very additive to our business."
The topic of how much to charge for online streaming services is one being hotly debated. Netflix's monthly fee of $8.99 is widely seen as pretty cheap for the amount of content on offer, nevertheless, the company has struggled to make much money, even though it has steadily increased its user base. Earlier this year, the company announced it had beaten expectations by increasing its subscriber base to 59.6 million, which represented a significant increase on the 46.1 million users the year before. It saw total revenues jump by 24 percent to $1.6bn, reflecting the growing trend of people choosing to use streaming services for their entertainment.
However, while it has expanded its number of users, Netflix has also been heavily investing in original and exclusive content to attract those user figures. As a result, it has seen its profits tumble, to $24m for the first quarter of this year, compared to $53m for the same period in 2014. While this drop in profit can be explained away through international expansion and investment in original content, there has been speculation that the company will have to either raise the cost of its subscription or bring in advertising to help it continue.
Indeed, the company announced it would be testing adverts on the platform in June. Although these are just for their own original programmes – such as political drama House of Cards – the move has certainly worried fans of the platform. However, a spokesman attempted to reassure those users that plans for full-blown advertising across the platform was not going to happen and Netflix had "zero intention" of doing so in the future.
Future trends
Over the coming years there is likely to be further consolidation among the traditional players, as well as bigger moves by tech giants. There will also be considerable investment into new technologies, including 5G spectrums, cloud data infrastructure, and the rise of wearable technology demands on networks. For the traditional players to remain relevant, they will need to look at the tech giants entering their markets as inspiration to innovate themselves.
How the global telecoms market looks in the future will likely depend on how big players react to these new digital entrants, as well as how committed regulators are to ensuring there is enough competition in the market. At the same time, new technology is being invested in at a rapid rate, and all it takes is a dramatic breakthrough for the telecom industry to be shaken up once again.