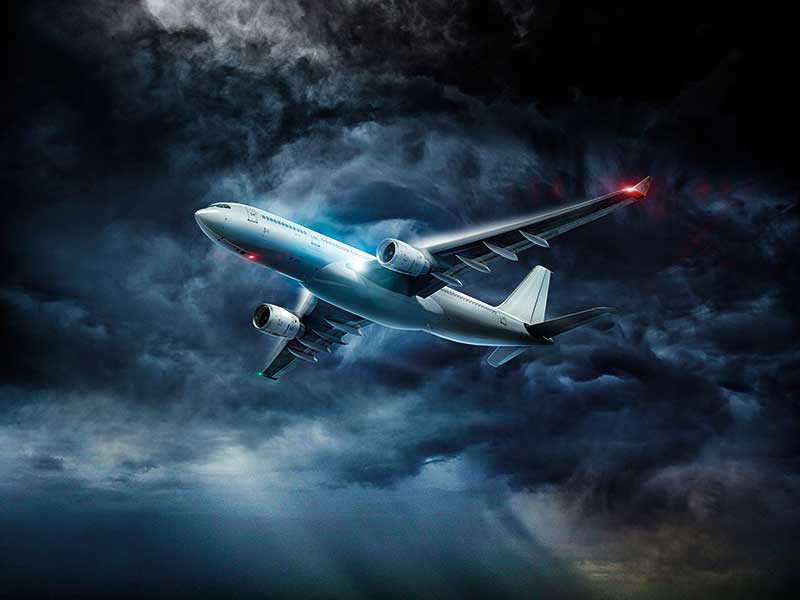 Nose dive: a race to the bottom has left airlines struggling to generate a profit from ticket sales &nbsp
In April, a video surfaced online of an incident aboard a United Airlines flight. In the video, a man, David Dao, gets asked to disembark the plane prior to take off at Chicago's O'Hare International Airport. When he refuses, airport officials violently drag him from the plane. He returns to the aircraft with a bloodied face, due to his head striking an armrest during the scuffle.
A 69-year-old grandfather, Dao reportedly suffered a concussion and lost two teeth in the ordeal, with his lawyer later claiming his injuries would require reconstructive surgery. The graphic video garnered international attention, with many questioning how such an incident had happened. Adding to the chaos, United Airlines CEO Oscar Munoz put out a tone-deaf statement lamenting the need to "re-accommodate" the passenger, while also claiming Dao fuelled the situation by being disruptive. The backlash was swift, and Munoz was forced to go on tour apologising again and again for the ordeal.
While an overreaction by airport officials and a bungled public relations response made the whole episode far worse than it needed to be, much of the public attention was drawn back to what initially caused the chaos: the need for someone to vacate a seat they had paid for.
Overbooking flights is a calculated risk many airlines take. In general, it pays off; the extra tickets sold cover the cost of re-accommodating any passengers when flights are full. This practice is not born out of pure greed: the airline industry is financially challenging, as costs are high and profit margins are often extremely tight (see Fig 1). Overbooking is not just a shrewd way to make extra money; for some, it's the only way to stay in the skies.
Only recently has the airline industry grown to, in sum, cover its own costs, though many carriers still face an uncertain future. In an industry where ticket prices have entered a race to the bottom and subsidised carriers operate on an uneven playing field, air travel is a difficult sector in which to make money. While the industry is currently entering a period of relative success, a multitude of challenges still remain.
The Airboat Express
The first scheduled commercial flight in history took place on January 1, 1914. Abram Pheil, then Mayor of St Petersburg, Florida, paid $400 (about $10,000 by today's standards) at auction to take Flying Boat No 43 on a 23-minute jaunt from St Petersburg to Tampa Bay. The plane, built by Thomas Benoist and flown by Tony Jannus, was made out of wood and muslin. "What was impossible yesterday is an accomplishment of today, while tomorrow heralds the unbelievable", said Percival Fansler, the owner of the plane and operator of the route, at the time.
Though the airline only received a contract to operate for three months, demand stayed high throughout its operation, with Fansler asserting that not once did the plane fly without a passenger. Local businesses also took advantage of flying some limited goods across the bay, if only for the opportunity to advertise the fact that they were transported by the 'Airboat Express'.
Still, the profitability of the airline industry was already dubious. Local historians recorded that, despite taking in $12,000 in fares over the route's operation, profits were low due to employee wages, gas, oil and the cost of getting the aeroplane to Florida in the first place. "We have not made much money, but I believe we have proved that the aeroplane can be successfully used as a regular means of transportation and commercial carrier", Benoist was reported to have said at the time. While passenger interest waned in the months after the initial three-month contract as people left Florida at the end of their holidays, the airline at least proved there was an appetite for air travel.
In the US, the airline industry properly took off in 1925 with the passing of the Air Mail Act. This legislation, which allowed the US postmaster to arrange a contract with private airlines for mail delivery, paved the way for the Air Commerce Act, which regulated the industry and gave the US Secretary of Commerce the power to establish airways, certify aircraft, license pilots and enforce air traffic regulations. In 1930, the Civil Aeronautics Board was established to regulate the industry, including setting routes and standardising passenger fares. In 1958, the Federal Aviation Agency was established to manage safety standards.
Amid these regulations, prices for fares stayed out of reach for many. The Civil Aeronautics Board only approved routes and fares that guaranteed a 12 percent financial return on flights that were 55 percent full. Air travel was largely seen as an industry in need of protection and support from the government; simply having the flights available was an economic driver and, particularly for international routes, a form of soft diplomatic power. Instead of price, airlines began competing with service, offering comically luxurious amenities on board like piano bars and cocktail lounges.
Airlines have scrambled to find other sources of income, such as through on-board food and additional luggage fees
In the mid-1970s, a simplification of the charter rules governing transatlantic flights resulted in the emergence of low-cost international airlines. Laker Airways, owned by British entrepreneur Freddie Laker, created the Skytrain service, offering extraordinarily cheap fares from London to New York. Keen to make air travel in the US more affordable as well, President Jimmy Carter tasked economist Alfred Kahn with devising a plan to bring down the price of a ticket.
Kahn drew up the Airline Deregulation Act of 1978, ushering in free market competition in the industry. Dozens of new players rushed into the market, creating the no-frills airlines that are common today. Many other countries followed suit as greater competition put air travel in reach of the average person.
Earn your wings
While deregulation was a tremendous success in terms of lowering airfares, in the short term, it caused immense pain for carriers. Among the low-cost carriers, competition was fierce. More established businesses, particularly international 'flag carriers' that were often state-owned and not concerned with profit, found themselves lowering prices to compete with these new upstarts. Overall, the airline industry has only recently managed to start making money. This reputation is well known – in 2013, Warren Buffett famously described the entire sector as a "death trap for investors".
Speaking to World Finance, Tim Coombs, Managing Director of Aviation Economics, said that, up until two years ago, the industry at large had not been able to cover its costs of capital. The recent accomplishment has largely been due to the success of US carriers. He explained: "It's the level of profitability [that] is patchy elsewhere, but the US airlines have been making record amounts of money, which is sort of dragging the overall number up."
The biggest change to the US airline industry in recent years has been significant consolidation. Since the turn of the millennium, 10 of the US' major carriers have merged into four: Southwest, Delta, American and United. "So the level of intense competition that we've got in other parts of the world isn't really the case in the US", Coombs said. "They've managed to bring some discipline in terms of pricing, they're quite disciplined in terms of amount of new capacity they're adding, and therefore the general oversupply of capacity which is driving down profitability elsewhere doesn't exist anymore in the US."
But despite this recent landmark instance of overall profitability, pressures still remain. Coombs said international carriers – particularly those still partially or fully state owned – put pressure on privatised competitors: "You've still got some of those carriers in various parts of the world. Arguably, some of the carriers in the Middle East – particularly Etihad and arguably Qatar Airways – are there as instruments of promoting the country. And given they're government owned, they don't have the same sort of financial discipline to be profitable. All those sorts of carriers who are operating in the marketplace [have] an impact on those carriers which are trying to be more commercially focused."
Adding to the challenge is how easy it has become for travellers to find the lowest available ticket price for their trip. With the rise of comparison websites like SkyScanner and TripAdvisor, the average customer rarely looks beyond the cheapest options. "Sadly, as much as I don't really want to say it, it's like going into a supermarket and choosing a can of baked beans; you end up buying the cheapest can", Coombs said. "You don't really care if you're flying on Monarch, easyJet, Ryanair, British Airways or Iberia, you just get the cheapest ticket."
Coombs said that, in this case, the airline with the lowest overhead costs is at a huge advantage. "If you are in the fortunate position of being Ryanair and have a cost base which is 20, 30, as much as 50 percent lower than your competition, then you can be price leader and still make money, whereas everybody else has to follow your prices."
All of this has had a tremendous impact on prices. After adjusting for inflation, the average price for a domestic US airfare has fallen 50 percent between 1978 and 2011. "If you look at what's happened to ticket prices in real terms, they've declined by about two percent per annum forever, or at least going back as far as the Second World War", Coombs said.
"The airlines have become more and more efficient, partly driven by technology, because the aircraft are more efficient these days. Lower fuel burn, better aerodynamics, the airlines become more efficient because of computerisation and every time the airline makes a gain in terms of productivity, or cost of production, that always gets passed on to the passenger."
He continued: "I'm an old guy. When I was growing up, an airfare to Rome was £500, and now you can get it for £50. Ryanair's average fare is €46 one way – that was absolutely unthinkable 20 years ago."
All this has meant airlines have scrambled to find other sources of income. On-board food and additional luggage fees add directly to incoming dollars per passenger, while many airlines bundle insurance, car hire and hotel package deals with tickets as well. These additional revenue streams are a necessity for many carriers.
According to Bloomberg, Cathay Pacific currently needs to sell 124 percent of its available tickets in order to turn a profit. While the airline is currently ranked third in the world for its load factor, calculated as passenger traffic as a percentage of available seats (see Fig 2), this is an obviously impossible task. Meanwhile, Australian carrier Qantas' air miles loyalty scheme is its division with the highest operating profit margin; it sells miles to credit card companies and supermarkets, which they then pass onto their customers.
In November 2016, Ryanair CEO Michael O'Leary speculated that his airline could potentially give away tickets for free, as it generated enough revenue from these additional services alone. While Coombs said this is not going to happen, it does underscore how much prices have fallen, and how important these extra services are to an airline's profitability.
What's in a name?
Since decades of data have taught airlines that certain percentages of passengers are not going to turn up for their flights, overbooking in order to secure that small amount of additional income is common. These predictions are as detailed as individual days and routes. It's a calculated risk, but the extra income generated from additional ticket sales more than makes up for the compensation given to those passengers unable to board.
$29.8bn
Forecasted industry profits for 2017
$35.6bn
The airline industry's profits in 2015
$124bn
The airline industry's estimated fuel bill in 2016
1958
The year the US Federal Aviation Agency was established
50%
The drop in price of an average domestic US flight between 1978 and 2011
While the negative press generated by United's recent overbooking incident may temporarily change buying habits, Coombs said it's unlikely to have a long-term effect based on how price sensitive travellers tend to be: "The remarkable thing is, and we've done a lot of analysis on this, [passengers] won't pay very much more to go and fly on another carrier. We're talking €10 more. If you're confronted with paying twice as much more to go on another carrier people will sort of say, 'alright, we don't like flying on Ryanair, but I'm not willing to go and pay twice as much to go and fly on someone else'."
Despite some stability in the market at the moment, airlines still face a multitude of challenges in areas well beyond their control: airports often hold local monopolies, making drafting a competitive contract hard, while Airbus and Boeing hold a duopoly on large aircraft sales and, due to international ownership regulations, many airlines are unable to merge with struggling rivals. Coombs said: "The price of oil, GDP, wars, disaster events, currency, Brexit – there's a list as long as your arm of things which potentially put a dent in your profit stability, which are outside of your control to some extent."
As has already happened in the US, the global airline industry can expect to see more consolidation in the future. As the effects of deregulation are still playing out, the sector is on a course to correction – albeit slowly. "In theory, we are ending up in an industry that should be behaving like a normal industry does and making returns for shareholders, but I think we're looking at something that's going to take decades rather than years, unfortunately", Coombs said.
In an industry under this much pressure, more bankruptcies may become the norm. With competition still fierce, practices like overbooking flights will continue to be a necessity. But things may be looking up: in February, Warren Buffett changed his tune on airlines, buying into American Airlines, United, Delta and Southwest. "It's true that the airlines had a bad 20th century", he said in an interview with CNBC. "They're like the Chicago Cubs. And they got that bad century out of the way, I hope."
---
Emergency exits:
History is littered with the relics of airlines, large and small, that have declared bankruptcy. As well as offering temporary respite from financial trouble, bankruptcies also give airlines the opportunity to renegotiate old and often very generous employee contracts. But while some recover, many are forced to shut down operations after being unable to save themselves.
Here, World Finance outlines some of the airlines experiencing the most turbulence:
Ansett Australia
Established in 1935, Ansett was once Australia's second-largest airline behind Qantas. It was extremely successful in the 1980s, but it struggled to compete with a number of new start-up airlines that emerged around 2000. It paid millions to become the official partner airline of the 2000 Sydney Olympic Games – a deal widely regarded as a poor decision. Maintenance irregularities later grounded its fleet of Boeing 767s, costing the company AUD 1.3m ($970,500) for every day they were out of action. It entered voluntary administration in 2001.
Alitalia 
In May 2017, for the second time in 10 years, Italian airline Alitalia entered administration. Its first bankruptcy filing saw it privatised and relaunched in 2008, but it has since struggled to compete with the many low cost carriers operating across Europe. Its market share has shrunk, and the recent threat of terrorism on the continent also appears to have reduced passenger counts. Its workers recently voted against a restructuring that would see wage cuts and job losses, and at the time of publication its future remains in doubt.
United Airlines
Then the world's number two airline, United filed for bankruptcy in 2002 after losing $4bn over the previous two years. Despite operating around 20 percent of all US flights, a slumping economy and falling passenger counts after the September 11 terrorist attacks took their toll. The airline emerged from bankruptcy in 2006 (a record amount of time) with 30 percent fewer employees, 20 percent fewer aeroplanes and 20 percent lower operating costs. In 2010, it underwent a $3bn merger with Continental.
Silverjet
Alongside MaxJet and Eos, Silverjet was part of a group of business-class-only carriers that emerged during the mid-2000s. The company boasted it would be the first carbon neutral airline in the world, and its first flight from London to New York took off in 2007. Despite some initial success, including the expansion of its service to include a Dubai route, by 2008 it had suspended all flights thanks to a doubling in air passenger duty, pressure from rivals and the collapse of a £12.7m ($16.5m) emergency funding deal.
Malaysia Airlines 
Malaysia Airlines suffered two tragedies in 2014: the disappearance of flight MH370, and the shooting down of flight MH17. While these two incidents prompted many customers to avoid the airline, the company had already been posting losses for some time due to strong competition. It was renationalised in August 2014 and Christoph Mueller, famous for orchestrating several airline turnarounds, was appointed CEO in May 2015. In June that year he announced 6,000 job cuts; "We are technically bankrupt", he said at the time.