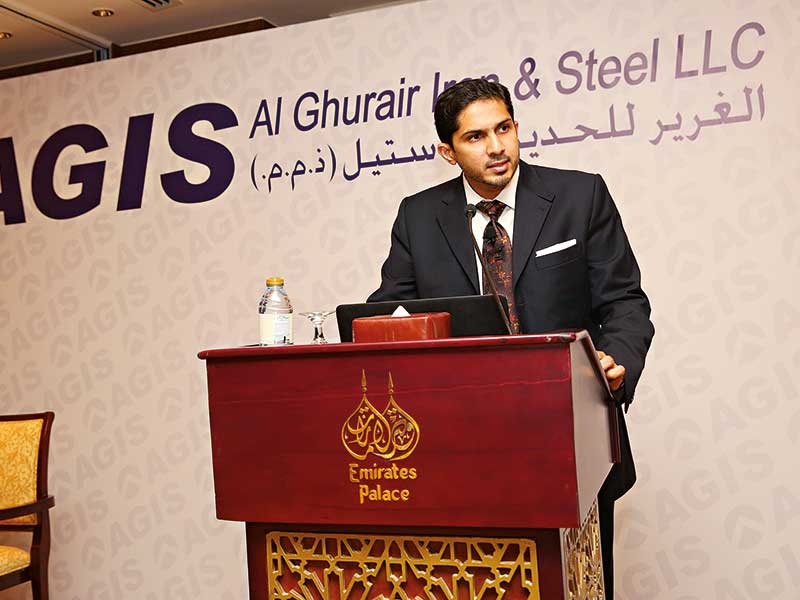 Abu Bucker Husain speaking at Emirates Palace &nbsp
Author:
Abu Bucker Husain, CEO of Al Ghurair Iron & Steel and World Finance's Man of the Year
As oil prices languished at near-historic lows, November 2016 saw OPEC agree to its first production cut in six years. In a curtailment that amounts to almost two percent of global output, members of the oil producers' council have pledged to remove an ambitious 1.2 million barrels a day from worldwide oil production, while non-OPEC member Russia has agreed to contribute by cutting a further 600,000 barrels a day.
Although the cut has had a somewhat positive effect on oil prices since coming into effect on January 1, the oil-dependent Gulf economies are still struggling to adjust to continued low oil revenues. Moreover, the International Energy Agency has predicted 2017 will prove to be another volatile year for the market, highlighting the pressing need among the Gulf States to reduce their reliance on oil.
Unlike its neighbours, the UAE has a more diversified economy, and has thus been less affected by the drop in oil prices. Despite an uncertain business climate in the region, the nation's construction market has enjoyed stable and significant growth. Over the past few years, the UAE's steel industry in particular has shown great potential, boasting an average annual growth between five and 15 percent.
With six major steel producers operating within the UAE, the nation has emerged as one of the region's largest steel markets, producing around 3.2 million tonnes of the alloy in 2016 alone. With the UAE's steel industry poised for further growth in 2017, one company in particular is now gearing up for expansion.
Making steel work
Beginning life as a start-up in 2008, Al Ghurair Iron & Steel (AGIS) has steadily grown its operations year on year, emerging as the largest galvaniser in the Middle East by 2016.
Undeterred by the worsening economic fallout from the global banking crisis, AGIS, rather optimistically, launched its operations in Abu Dhabi in the midst of the financial crash. Despite the lack of demand and a significant drop in prices in the sector, the firm set out to supply the local real estate and construction markets with a consistently good product.
There is a pressing need among the Gulf States to reduce their reliance on oil
Abu Bucker Husain, Chief Executive Officer at AGIS and World Finance's Man of the Year 2016, said: "It was a real uphill battle for us. Every sale we made was a challenge, but when the customers used our material and saw the value in it – not only in terms of quality but also the benefits of buying from a local mill and our superior service – they realised the benefits of buying from us."
While this uncertain business climate certainly proved challenging for the company, AGIS also faced another significant hurdle in the early years of its business. Upon launching, the UAE-based company soon realised it faced stiff competition from low-cost iron and steel mills in India and China. Using cheap labour and lower quality products, these foreign mills are able to sell to the Middle Eastern market at an attractive rate, thus undercutting local mills in the region.
With both Asian nations churning out record quantities of steel at remarkably low prices, iron and steel manufacturers in the Middle East are focusing on quality in order to compete with these cheaper, imported alternatives.
AGIS achieves this level of quality through its joint venture with Japan's Nippon Steel & Sumitomo Metal – one of the world's most prominent steel producers. Renowned for its top quality product, Nippon Steel supplies AGIS with the majority of its raw material, therefore ensuring the end product meets a high standard. "We have adopted many of our best practises from Nippon Steel", Bucker Husain told World Finance. "Our customers also take cognisance of our association with them and value the quality of our products."
Though AGIS has managed to overcome the challenges posed by cheap, foreign mills, the company has also faced the issue of setting up business in a region that lacks an established flat steel galvanising mill. As the largest flat steel galvanising mill in the Gulf region, AGIS has been forced to recruit almost the entirety of its workforce from overseas. In addition to sourcing these skilled workers, the cost of hiring remains high.
Nonetheless, despite the associated costs of hiring from abroad, the firm has now amassed a talent pool of highly skilled employees who work diligently to produce the top quality goods that AGIS is proud to put its name to.
Ahead of the competition
In the early years of its operations, AGIS successfully surmounted numerous difficulties, navigating a volatile economic environment to emerge as the region's largest galvaniser by 2016. Yet AGIS' ambitions do not stop there – the company is now looking to maintain a competitive edge on its main industrial rivals in the Gulf States.
The main way in which AGIS aims to set itself apart from its competitors is in terms of the quality it offers customers. The company's client base is mainly found in the GCC region, with up to 80 percent of its business concentrated in the UAE and neighbouring Saudi Arabia. While customers in the region have historically favoured importing cheaper goods from international mills, AGIS now offers a top quality alternative.
5-15%
Average annual growth of the UAE's steel industry
400,000 tonnes
Al Ghurair Iron & Steel's annual production capacity
80%
of the company's clients are repeat customers
"Our customers are aware of our association with Nippon Steel and the importance we give to ensuring quality", said Bucker Husain. "Over the past 10 years, they have witnessed first-hand how they consistently get a superior quality when they book with us over our competitors."
It's not just the company's guaranteed quality that is winning customers over. In addition to offering premium galvanised steel, the company prides itself on its service. When a customer has any specific or special requirements, these are efficiently taken care of by the AGIS team, along with any queries or issues that the customer may have. The firm places the client at the very heart of its business, ensuring that customer interactions are always positive and constructive. Due to this level of customer care, it may come as no surprise that around 80 percent of the company's clients are repeat customers.
Importing materials from cheap foreign mills might prove tempting to GCC-based construction companies, but the advantages of using a local mill are all too clear. When using a UAE-based company such as AGIS, customers in the Gulf region can receive their materials much faster than if they were ordering from abroad. With a local mill, there are no shipping delays, as deliveries can be swiftly made using trucks as opposed to large container ships.
Building on foundations
In September 2016, AGIS reached its long-term expansion goal through relentless research and development, with the introduction of a brand new galvanising complex. This move took the company's production capacity from 200,000 to 400,000 tonnes per annum.
With this achievement under its belt, AGIS is hoping to run the new plant at full capacity throughout 2017, and is optimistic about selling record quantities of galvanised iron and steel to a wide variety of local clients during this time. The next step for the company includes ramping up capacity at its cold rolling mill, enabling AGIS to further expand its operations. Regionally networked with a solid foundation, AGIS prides itself on building businesses that offer customers the best products in their sectors and therefore contribute to the overall prosperity of the region.
The UAE's construction industry is also set for a significant boost in the upcoming years as building work intensifies for Expo 2020, an international exhibition that will take place in Dubai in just three years. According to Bucker Husain: "Expo 2020 is definitely a big booster for the UAE and GCC economies. The UAE is expecting to receive 25 million visitors for this event, and that means that a lot of malls, shops and hotels need to be constructed."
In total, the central expo site will cover more than four kilometres of space at a midway point between the two urban capitals of the UAE. In choosing a previously underdeveloped site as the centre of the conference, the event requires a large-scale construction project, providing a significant boost to the UAE's local iron and steel mills. In order to boost transport links around the new site, an extension will be added to the Dubai metro system, while a new, world-class road network is also set for construction.
As plans get underway at the site, the expo expects to create an incredible 277,000 jobs in the UAE, mostly in the travel and tourism sectors. "There is a lot of construction that has already been undertaken for this project", said Bucker Husain. "All that means more business, not just for us at AGIS, but for everyone."