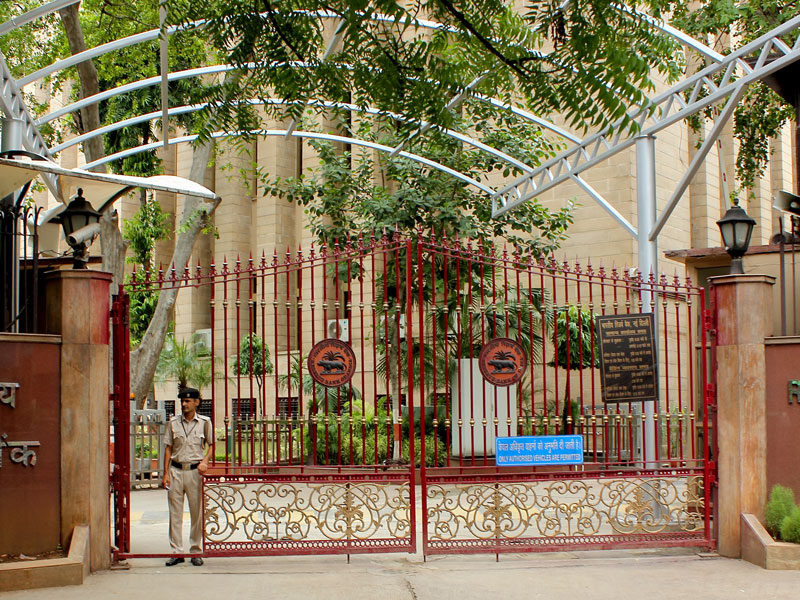 The front gate at RBI (Reserve Bank of India) in New Delhi, India&nbsp
India's central bank decided to keep interest rates on hold in its policy review meeting on 6 August, as a recent increase in retail prices caused inflation to rise past the 6 percent mark. The six-member monetary policy committee (MPC), which Reserve Bank of India (RBI) Governor Shaktikanta Das leads, kept the repo rate unchanged at 4 percent and the reverse repo rate unchanged at 3.35 percent.
"Given the uncertainty surrounding the inflation outlook and extremely weak state of the economy in the midst of an unprecedented shock from the ongoing pandemic, the MPC decided to keep the policy rate on hold," Governor Shaktikanta Das said.
The repo rate is the rate at which the RBI lends to banks, whereas the reverse repo rate is the rate at which is borrows from them. Since February, the RBI had reduced the repo rate by a total of 115 basis points.
The committee said it would maintain an accommodative policy stance for "as long as necessary to revive growth". Although economic activity in India has started to recover from the March to May period, growth for the year is expected to decline as a result of lockdown measures. The World Bank predicts that India's economy will contract 3.2 percent in the current fiscal year. This is a significant downgrade from its April projection of 1.5 percent to 2.8 percent.