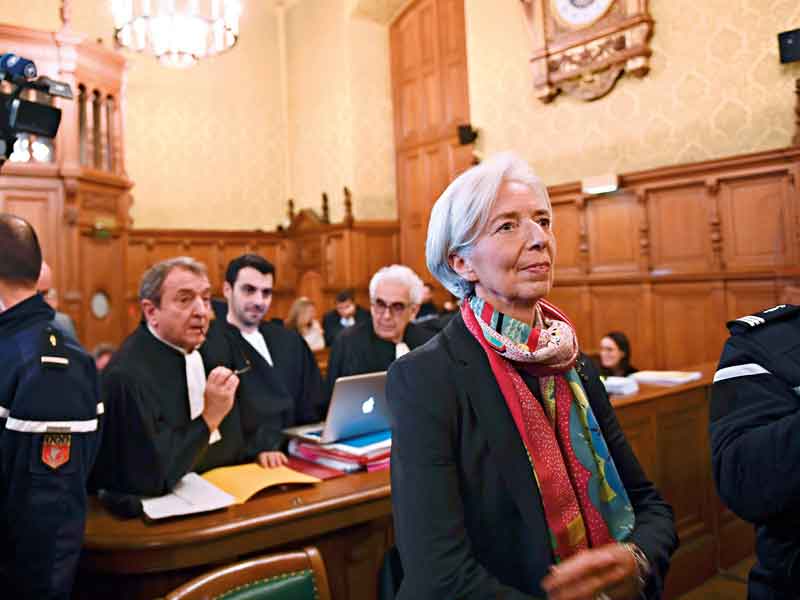 Lagarde in a Paris courtroom prior to the start of her fraud trial&nbsp
Author:
Luján Scarpinelli
November 14, 2017
"From day one at the IMF I've been visiting departments unannounced. It surprises people; they don't expect top management to just walk in"
Christine Lagarde
Never afraid of breaking with tradition, Christine Lagarde has been 'the first' many times in her life. Her position at the forefront began when she was born on New Year's Day 61 years ago in Paris, as the first daughter of two professors.
Whether due to destiny or coincidence, Christine Lallouette, now Lagarde, was a gender pioneer throughout her professional career.
With a sober but never unnoticed style, she brought Chanel and Hermès to a world of dark suits and briefcases, sitting at the head of negotiation tables in addition to covers from Vanity Fair to Time and Forbes.
The latter ranked her as the sixth most powerful woman in the world in 2016, five years after she took her current position as Managing Director of the International Monetary Fund (IMF), where she has since been re-elected for a second term.
With the discipline of resistance and endurance she learned in her teenage years as a member of the French synchronised swimming team, Lagarde grew as a global leader and gender activist.
"Let women shine, for goodness sake," she tweeted in June. She now shakes hands with the Pope and Donald Trump, with Xi Jinping or Nigerian President Muhammadu Buhari. And no one, not even her critics, denies her ability to negotiate.
The economic and financial cases are obvious. Let women shine, for goodness sake, and don't repress them pic.twitter.com/WTc2WUwtpo

— Christine Lagarde (@Lagarde) June 23, 2017
Skilled talker
Lagarde developed an impressive ability to negotiate during her 25 years with the international law firm Baker & McKenzie, where she was appointed in 1999 as the first female chairman in the company's history.
Before long, she disrupted the public sector in the same way: in 2007, she became the first woman to lead the French Ministry for the Economy and Finance, a position from which former President Nicolas Sarkozy and current President Emmanuel Macron also jumped into major roles.
For Lagarde, the next step was the IMF. By the time the former director, Dominique Strauss-Kahn, was forced to resign amid allegations of sexual assault, Lagarde had acquired the necessary experience to take over the position.
Following Jacques Chirac's invitation to his cabinet in 2005, the 2008 financial crisis brought an opportunity for Lagarde: during the turbulent times of the recession, she was, perhaps, in the right place at the right time.
The eyes of the world were focused on Europe's instability, threatened by huge national debts across the bloc, including France's. Lagarde, the only female minister across the G8 countries, performed well beyond domestic politics and earned an international reputation.
She was "treated practically like a rock star" at meetings, according to former IMF economist Kenneth Rogoff, speaking to The New York Times at the time.
Cyrille Lachèvre, co-writer of Lagarde's biography and journalist at the French newspaper L'Opinion, described a particular scene: "When France was holding the rotation presidency of the European Union. Sarkozy, president at the time, and Lagarde met [US President] George Bush at Camp David. She had an impressive key role discussing the responses to the financial crisis."
Lagarde's ability to speak English, her second language, almost without a French accent enhanced her ability to communicate with world leaders. However, it was not always so easy: at the age of 17, she struggled with assignments during her one-year scholarship as an American Field Service exchange student at Holton-Arms School, a preparatory school in Bethesda, where Jackie Kennedy also studied.
Christine Lagarde in numbers:
$551,700
Lagarde's annual wage, including additional allowances
2011
The year Lagarde was appointed Head of the IMF
6th
Lagarde's position on Forbes' 100 Most Powerful Women 2016
$476.3m
The fraudulent payout Lagarde failed to prevent in 2008
Despite those difficulties, the French language was what later gave her a role in US history. During the Watergate hearings, Lagarde assisted a congressman on the House Judiciary Committee, who was by that time gathering information to impeach President Richard Nixon.
Helping him with French, Lagarde took part in the process that concluded with the only resignation from the US presidency in history. The experience was meaningful. "It was in that moment that she discovered her passion for laws," said Lachèvre.
Lagarde remembers the time after her father's death as a life lesson. "During that year at Holton-Arms with my host family and interning in Washington, I learned more, and it mattered more to me, probably, than any other year in my life," she said in an interview with the Washington Post.
From 'no maths' to the IMF
Decades have passed since she begged, "please, no maths" in her yearbook testimonial, according to the Washington Post. Despite this, in her fifties, she became the head of the IMF.
She had also managed to maintain her earlier internationalist ambitions of becoming a cultural diplomat, according to her profile in a student newspaper, quoted by the Washington Post.
As she had done before, Lagarde interrupted the male-dominated system as a trailblazer, introducing a new title to the organisation: Madame Managing Director.
Jeffrey Sonnenfeld, Senior Associate Dean for Leadership Studies at Yale School of Management, underlined her strengths in the international landscape: "Lagarde is a remarkable leader in an unusual global portfolio; she can parachute and fit comfortably into different cultures whether it is in Asia, Europe or in the US."
Compared with previous IMF chiefs, Lagarde approaches her role differently. "Lagarde doesn't need the spotlight on her; she doesn't have a grandiose ego or an 'emperor arrogant' style, as she has proved to be open to criticism. However, she can have a commandant presence when she needs it," Sonnenfeld said.
Janet Yellen, US Federal Reserve Chair, described her French colleague in a column published in Time as one who has given the fund "a more human face by addressing issues like gender and income inequality and public health threats".
Speaking to the Guardian, Lagarde defined her mission as looking "under the skin of countries' economies [to] help them make better decisions and be stronger". But even though she is seen as a more charismatic leader than her predecessors, many outside the power spheres disagree, since IMF 'help' normally implies unpopular adjustment policies.
Indeed, the IMF's most controversial decisions under Lagarde's administration have been related to Greece. Many people in the country oppose the austerity policies implemented since 2010, following the financial support from the EU and the IMF.
The fund itself acknowledged the contracting impact of some of the measures recommended, although Lagarde told Bloomberg that creditors "overestimated the ability of Greece to actually endorse and take ownership of measures that were needed".
Sonnenfeld stressed that one of the main virtues of Lagarde's leadership style is that "she is not a flamethrower". However, some of her statements have sparked controversy.
For example, she experienced a backlash when she suggested Greeks were always trying to escape from taxes instead of paying back for the good times. But with a $467,940 wage, plus an additional allowance of $83,760 that is not subject to taxation, she became the object of harsh criticism.
That was in 2012, but Greece's folder has remained on her desk. With a softer but still firm attitude towards the country, the IMF approved a $1.8bn support package in July, after a long period of negotiations.
However, this will only be carried out if the EU ensures debt sustainability, which could mean new measures in Greece to achieve further relief from European partners.
Keeping the pace
This is not the only subject that has kept Lagarde busy in recent months. Another event wiped the smile off her face in December last year, when she was found guilty of negligence over a fraudulent €403m ($476.3m) payout to the French tycoon Bernard Tapie when she served as finance minister.
Despite the criminal charges, Lagarde wasn't given a prison sentence or a fine, nor was her position at the IMF threatened. On the contrary, she was supported by the IMF board and continued her second period, a rare feat in the fund's history. Directors said in a statement they had "full confidence in the managing director's ability to continue to effectively carry out her duties".
During the turbulent times of the recession, Lagarde was, perhaps, in the right place at the right time. She performed well beyond domestic politics and earned an international reputation
Sonnenfeld sees the positive side of the defeat: "The trial was a tremendous test of character and resilience. She did not let herself be rattled by that, and the problem made her even stronger. The support she had from the board says a lot," said the Yale professor.
Former IMF economist Peter Doyle takes a different view, arguing that Lagarde's re-appointment is strictly to do with politics rather than her success in the office: "The people that reappointed her are Europeans, the largest bloc in the IMF board. They know if they were not to reappoint her, they would very quickly lose a European in the manager position… because there are pressures, for good reasons, for the post to be given to someone who is not a European."
Doyle resigned from the IMF in 2012 after serving 20 years. In a letter to the board, he stated that appointments of managing directors over the previous decade had been "disastrous", including Lagarde, who he said was "tainted" by the illegitimacy of the selection process.
Despite believing Lagarde is a "good politician and a talented individual", he thought that "having her as the head of an organisation that does economics is like having an accountant as the leading surgeon in an operating room".
With Europe consolidating its recovery from the financial crisis, Lagarde has been working on other potential threats for global growth and balance. This is almost what she hoped for her second mandate; at the beginning of the new stage she told Bloomberg it would be a time "more focused on preventive measures than on curative actions".
Her intention, she added, was to be an "architect – assisting the policymakers to consolidate, strengthen and prevent crisis, rather than come in with a big hose and trying to extinguish fires".
With this knowledge-sharing approach, as she named it, in January this year she used the World Economic Forum's stage to call policymakers and business leaders to action as she described a "crisis of the middle classes in advanced economies", with inequality fuelling populism around the world.
Later in the year, she turned red lights on again, warning that "the sword of protectionism [is] hanging over global trade". Without naming US President Donald Trump or any politicians in Europe, she took a stand for the liberal tradition at the fund.
"Restricting trade would be a self-inflicted wound" to the global output, inflating prices and hurting the most low-income households, she said.
Along with these issues, Lagarde has been taking care of women's economic empowerment, just as she set out to do when she first disrupted the masculine finance world.
"In gender-dominated environments, men have a tendency to show how hairy chested they are… There should never be too much testosterone in one room," she told several media outlets.
Since then, she tried to push the subject further than words. For example, in a United Nations panel last year, Lagarde announced IMF actions aimed at closing the gender pay gap, including the strengthening of the fund's policy advice to support female labour force participation, and further research on legal restrictions.
However, the remaining four years Lagarde has at the IMF may be too short for her to tackle a long list of renewed challenges around the world – not to mention the stigma she still sees associated with the organisation.
---
Curriculum Vitae
Born: 1956 |  Education: Institut d'Etudes Politiques d'Aix-en-Provence
1981: Having completed her studies in France and failing to get into the French Civil Service, Lagarde joined law firm Baker & McKenzie, specialising in labour, anti-trust, and mergers and acquisitions.
1999: Lagarde became Chairman of the global executive committee of Baker & McKenzie. She was the first woman to hold the position. Five years later, Lagarde became Chairman of the global strategic committee.
2005: This year marked the beginning of her career in the public sector, as Minister for Foreign Trade in Dominique de Villepin's government. Just two years later she became France's first female Finance Minister.
2011: Lagarde took over from Dominique Strauss-Khan – who had been accused of sexual harassment – becoming the 11th Managing Director of the IMF. Again, she was the first woman to hold the position.
2016 (February): Lagarde was re-elected to serve as the IMF's Managing Director for a second five-year term, demonstrating her success in dealing with the global financial crisis at the front of the fund.
2016 (December): A French tribunal found Lagarde guilty of negligence in 2008, when she was serving as Finance Minister. The court said she failed to prevent a fraudulent payout. The IMF backed her despite the guilty verdict.