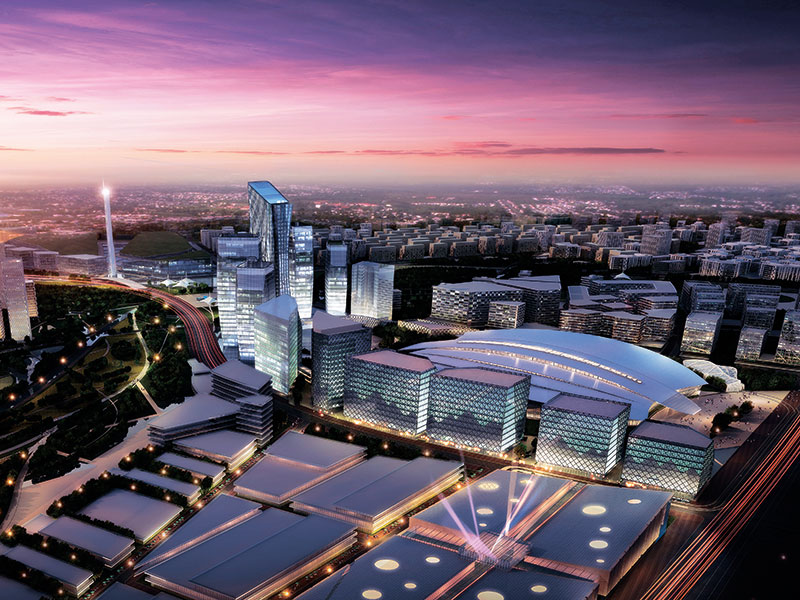 The residential areas of Minsk World will boast a highly developed and complex infrastructure composed of social, cultural and educational facilities&nbsp
Interview with:
Nebojsa Karic, President, Dana Holdings
Many of the major cities in Eastern Europe are blessed with picture-perfect spaces that have delighted residents and visitors for centuries. But while these cities have historic charm in abundance, they are sometimes found wanting in other areas. The modern global economy means that urban spaces are no longer just competing domestically to secure the best talent and the most investment – they are up against international rivals, too. For cities in Eastern Europe that possess outdated infrastructure and lack modern amenities, this can make it difficult to win the race.
In 1991, Belarus was the second-most developed post-Soviet country in terms of GDP per capita, after Russia. The country boasted well-developed infrastructure and substantial industrial capacities that enabled it to supply consumer goods to other former Soviet states. However, the economic growth that was experienced in the early 1990s proved difficult to sustain. Some of the country's struggles can be attributed to an overreliance on Russia; delays in expanding the private sector did little to help matters. In 2015, Belarus' economy contracted by 3.83 percent (see Fig 1).
Today, though, things are taking a turn for the better: Belarus is revamping its economy to focus on a more diverse range of industries, encompassing everything from IT to agriculture. Ambitious construction projects are creating modern business hubs that sit comfortably alongside the country's more traditional attractions. Similar developments are taking place in other Eastern European markets as well.
Although governments have played their role in the turnaround, several of the most impressive projects being launched in the region owe their existence to Dana Holdings. As one of Europe's leading investment and construction firms, Dana Holdings has plenty of experience when it comes to creating world-class business and residential complexes. Having emerged as one of the earliest examples of private enterprise in the former Socialist Federal Republic of Yugoslavia, the company has first-hand knowledge of what it takes to thrive as a new business in this part of the world.
A city for everyone
One of the approaches that Dana Holdings has pioneered is the 'city within a city' concept, which involves creating large multipurpose complexes that combine residential, business, cultural, educational and entertainment facilities. So far, the concept has been warmly received, attracting state-of-the-art businesses with premium infrastructure and first-rate amenities.
The developments are part of Dana Holdings' broader plan to use real estate and construction to support economic development in Eastern Europe. These markets possess huge growth potential, but often require a helping hand to make their voices heard in today's highly competitive global business climate. The developments being pioneered by Dana Holdings ensure that investors can no longer ignore this part of the world.
Dana Holdings' city within a city approach allows tradition to sit beside modernity. One of the places where Dana Holdings is planning to implement its new type of urban project is the Belarusian capital. Dubbed Minsk World, the development will have an international financial centre at its heart and will be fully integrated with the city of Minsk and its infrastructure.
Due to the sheer size of modern cities, the commute between home, work and other destinations has become a major obstacle to enjoying a good quality of life
"The financial centre of Minsk World has been modelled on the examples of Dubai, Singapore, Hong Kong and other world-class financial hubs," Dana Holdings President Nebojsa Karic told World Finance. "The ambitious project started with a vision to allow Belarus to take a leading role in the region's economic development. Though part of the country's existing economic zone, the international financial centre will enjoy a special system of benefits and incentives to attract capital and provide financial services. We believe that thanks to these incentives, Belarus can become the most competitive and interesting country for investments on the continent."
In addition to world-class financial services, Minsk World will also contain residential areas, shopping malls, entertainment centres, schools, hospitals and hotels. Nestled among parks and gardens, the site will be fully integrated into the urban environment of the dynamic city. The project's location in the centre of Minsk reflects the city's position in the very heart of Eastern Europe. Belarus' sustainable development and diverse investment options – from agriculture to IT – were also important factors in deciding the project's location. Minsk World is set to strengthen the role of Belarus as a bridge between Western Europe and the growing economies of Russia, Eastern Europe and Asia.
At three million square metres, Minsk World is one of the region's largest and most ambitious construction schemes to date – not to mention the biggest single development project in the whole of Europe. It is no coincidence that it has been compared to projects in Dubai and Abu Dhabi, the leaders of modern urbanism. Minsk World combines residential and business amenities to provide a new level of friendliness, comfort and quality of life to residents and guests.
Sustainable growth and increasing prosperity lie at the heart of Dana Holdings' vision for Minsk World – a complex that comprises 24 residential quarters named in honour of different countries, people and achievements. A new city park will be at the centre of the project to support a green way of life, while a system of pedestrian zones and vast green spaces will connect the park with the new urban, eco-friendly environment where contemporary and historic designs are fused into one.
Home sweet home
The residential areas of Minsk World will boast a highly developed and complex infrastructure composed of social, cultural and educational facilities, as well as robust transportation links, including a new metro line. With its modern boulevards running along the main residential areas – which comprise walkways and cycling tracks, as well as fully equipped playgrounds – Minsk World is set to become a great place for business and recreation for both residents and visitors.
"Multifunctional complexes, with their city within a city format, have swiftly become extremely popular across the world," Karic said. "The main reason is that time has become the most valuable commodity in modern life. There is only a limited supply, yet we still want to experience and accomplish as much as possible within any given 24-hour period."
Due to the sheer size of modern cities, the commute between home, work and other destinations has become a major obstacle to enjoying a good quality of life. The city within a city concept allows real estate developers to organise and plan each project to give the end-user everything they need on their doorstep. In Karic's words, it allows Dana Holdings to "fight the commute with the community".
Minsk World is a next-century city looking at a bright and confident future, but it is not alone. In fact, Dana Holdings' work in the Belarusian capital is not confined to Minsk World: the real estate developer also has plans to create a multifunctional complex called Mayak Minska. The complex was conceived in 2008 to operate as a separate neighbourhood unit, prioritising family values.
"Dana Holdings is an example of strong family relations being used successfully within the enterprise management system, and we put a similar idea into action with Mayak Minska," Karic said. "We have focused on creating an environment that caters for couples looking to build a bright future together, as well as people who prefer a quiet, measured life surrounded by beautiful European architecture. The indisputable advantage of our multifunctional complex is its unique location opposite the National Library of Belarus – one of the country's most enduring symbols – and along the main road connecting Minsk and Moscow."
Shopping opportunities are also provided nearby. The largest regional shopping and entertainment centre, Dana Mall, is located on the territory of the multifunctional complex, where there are schools, supermarkets, fitness clubs, spa centres and food outlets to enjoy as well. Covering an area of 200,000sq m, Mayak Minska is the first of Dana Holdings' residential projects to offer apartments with fully decorated interiors. These apartments, renovated in accordance with the highest principles of design and using the best materials and equipment, are ready for occupancy immediately. This allows individuals to move in as soon as possible, which should mean that a sense of community builds up rapidly in the area.
A safe investment
Situated near Minsk city centre and not far from the M1 highway, which leads to Minsk National Airport, is Dana Holdings' premium business hub, Dana Centre. The complex encompasses guest parking and several fitness centres, provides direct access to the Dana Mall and offers 24-hour security. It is also an ideal place to host small and medium-sized businesses, as well as already being the headquarters for large international companies.
One of the Belarusian capital's newest attractions is Picasso Boulevard, which links the entire architectural concept of the Mayak Minska projects together and forms a central meeting point for all residents. The nearby multimedia fountain, Dana's Dance, crowns the boulevard and is already a favoured location among photographers – especially during the summer months, when a host of beautiful events come to this part of the city.
"Picasso Boulevard, with its considered layout and magnificent architecture, is by far one of the most beautiful pedestrian streets in Minsk," Karic said. "Everything is provided for the comfort and pleasure of residents. Every day, new stores, cafes, travel agencies and other service establishments open."
In addition, Dana Holdings has launched a new wedding festival at Mayak Minska to support the institutions of marriage and family – two social values that are very important to the company. "We are building apartments in Minsk that offer everything required for a happy family life," Karic told World Finance. "And thanks to advantageous price conditions, our apartments are available to everyone. We are sure that our wedding festival will become a much-loved tradition and that over the coming years, there will be even more couples in love."
Every Saturday, visitors to Dana Mall – including residents and guests of the Mayak Minska residential complex – can be seen enjoying social events. On weekends, when the Summer in Mayak Minska initiative is running, Picasso Boulevard turns into a vacation spot for families, offering activities such as drawing, checkers, backgammon, inflatable rafting and a mechanical bull.
"Over the past 10 years, we have witnessed constant, stable growth, improved the wellbeing of Belarusian citizens and created an environment where new investments can flourish," Karic said. "We believe that this was facilitated by the implementation of new government policies, which were aimed at creating a safe state. This not only created the right conditions for doing business and seeking investment, but also shaped an environment where the safety of citizens and visitors was prioritised. Today, we can confidently proclaim Belarus to be the safest country in Europe."
Undoubtedly, the construction of new projects like those pioneered by Dana Holdings has been a major step forward in the development of Belarus. The creation of bespoke technology hubs in urban areas, for example, has greatly supported the Belarusian digital economy. As a result, the country can attract the attention of investors from around the world. The national government is aware of the importance of these new builds and recently signed an investment agreement with Dana Holdings for several large construction projects. Partnerships like these help to ensure that new projects are developed with a long-term view in mind and continue to deliver benefits to local people for years to come.
The right environment
Many factors must be considered when a business is deciding where to locate its headquarters, with the physical building being chief among them. This can have a huge bearing on a company's costs, revenues and ability to attract talented members of staff. It's something that Dana Holdings always keeps in mind when starting a project.
This attention to detail is perhaps best shown in the BK Capital Palace business centre. Situated in the heart of Minsk, the venue boasts eight storeys of business space, a luxurious designer lobby lounge with panoramic views and a ceiling height of more than eight metres. Businesses that choose to place themselves in these glamorous surrounds will gain access to multifunctional offices with areas of between 50sq m and 2,635sq m. They will also enjoy centralised air conditioning, high-speed silent elevators and high-quality energy-saving windows. To ensure the highest security standards are maintained at all times, CCTV will be in operation 24 hours a day.
"The BK Capital Palace boasts an ideal location in the heart of Minsk, as well as amazing views across Independence Avenue and the stunning October Square," Karic said. "It takes visitors only 30 minutes to get to BK Capital Palace from Minsk National Airport by car. There are also two metro stations and major road networks in the immediate vicinity."
Recreationally, the BK Capital Palace has plenty to offer. There is a food court, multifunctional trading floor, cocktail bar, restaurant and lounge area. For added convenience, the complex offers two-level underground parking for 190 cars, while the palace's favourable central location means that public transport options are plentiful. Covering a total area of 100,000sq m, the BK Capital Palace stands out even in a city with no shortage of picturesque locations. To have an office here sends a powerful message to partners, investors, clients and employees that the business is moving in the right direction.
Steppe-ing up
Dana Holdings is not focusing all of its energy on Belarus, though. Set in the heart of the Eurasian Steppe, the expansive nation of Kazakhstan has one of the fastest-growing capital cities in the world; Dana Holdings is keen to play its part in its development. The city of Nur-Sultan (previously Astana) became the capital of Kazakhstan in 1997 and has not looked back since. Futuristic buildings and towering skyscrapers now dominate the skyline, while the population has more than doubled since 2005 (see Fig 2).
With such an impressive rate of growth and a forward-thinking vision firmly in place, Nur-Sultan has proven itself to be the ideal location for Dana Holdings' latest development project: the innovative Tesla Park. Set in one of the most dynamic areas of the city, Tesla Park will cover 1.5 million square metres and feature all of the crucial elements of a modern, liveable city, including comfortable residential areas, shops, schools and plenty of green space.
"As the project continues to advance steadily, our vision for Tesla Park is beginning to take shape, creating a vibrant hub within the rapidly expanding city of Nur-Sultan," Karic noted. "The city's significance within the region is only set to grow in the years to come, as it continues on its modernisation drive and capitalises further on its strategic location at the centre of the Silk Road. With Dana Holdings helping to drive innovative development in the area, the future certainly looks bright for Kazakhstan's thriving capital."
The main goal of Tesla Park is to conquer a segment of the market that is currently underserved – namely, property functionality and apartment design. Nowadays, dynamic lifestyles demand functional apartments at prices that are affordable for businesspeople. This is where Dana Holdings comes in: contemporary planning is the company's main focus, as it directly impacts local economies and can help attract a young, talented workforce, supporting urban growth and development.
"Nur-Sultan was chosen as the location of Tesla Park largely because of the vast scope of the capital's potential," Karic added. "Over the past 20 years, Astana, as it was known until March 2019, has grown from a town of some 300,000 inhabitants to a city in which more than one million people live. Its population is expected to reach 1.5 million people in the next 10 years. Situated halfway between China and Europe, Nur-Sultan is like a mini Dubai and has great prospects both geopolitically and macroeconomically."
The city is also extremely interesting from an investor's standpoint: Nur-Sultan harbours ambitions of becoming one of the world's foremost financial centres, and the national government has launched several initiatives to attract new business to the city. Its position at the centre of the Eurasian landmass is another factor in the city's favour. Dana Holdings' Tesla Park project, meanwhile, provides vital support to the city's growth plans.
Global recognition
Dana Holdings has also attracted interest from outside of Eastern Europe. In September 2019, the company participated in the Cityscape Global exhibition in Dubai, becoming the first Belarusian company to exhibit at the event for many years. As one of the most significant forums in the fields of architecture, construction and investment, it is hoped that the firm's participation at the exhibition will show investors that Belarus is a country worth doing business in.
"I believe that the Cityscape Global exhibition provides the most suitable platform for finding those people who are interested in investing in Belarus," Karic told World Finance. "Here, we were able to promote Belarus as a country that is open for business, that is a safe place for capital, and that is in possession of clear work regulations and a safe environment."
The real estate market is constantly evolving – buildings rise and fall with the changing needs of the people who inhabit them
Karic is right to put so much significance on the exhibition: the event showcased the Belarusian economy to potential investors from all over the world and provided an opportunity to publicise the country's favourable geographical position and attractive investment conditions. Boasting a visa-free regime with 74 countries, Belarus presents a fantastic opportunity for businesses hoping to enter the European market. In particular, its relatively cool climes may provide some welcome relief from the Gulf's summer temperatures, which regularly touch 40 degrees Celsius.
"On the first day of the Cityscape Global event, a number of negotiations were held with interested parties," Karic said. "This is unsurprising given that we have received numerous accolades in recent years. For example, Dana Holdings is one of the few European investment and construction companies to be awarded a place on the World Finance 100 list on multiple occasions. This list traditionally includes the largest companies in the world that have shown the highest results in their field, while contributing to the global economy."
Dana Holdings' Minsk World development was singled out for particular praise at the Cityscape Global event, with Europaproperty.com presenting Dana Holdings Vice President Boyan Karic with an award for the successful implementation of the project. More specifically, Minsk World was recognised as the largest multifunctional complex in Europe for 2018 – a rare honour only granted to the most innovative projects in the real estate market.
"The Minsk World complex will strengthen the growing role of Belarus as a bridge between Europe and the dynamically developing economies of Russia and Asian countries," Europaproperty.com founder Craig Smith said as he presented the award to Karic. "It acts as a catalyst for sustainable development in Belarus, Russia and the Eurasian Economic Union zones."
Building momentum
As the residents of Belarus and other post-Soviet states are discovering, a thriving construction sector can prove a boon to economic growth. In particular, completing new projects within strategically important parts of the economy can provide indirect benefits to the wider populace.
"Dana Holdings has completed many strategically important projects throughout Russia," Karic said. "Some of the main developments include the head office of the Bank of Russia, the Meyerhold Theatre and Cultural Centre, the Gagarin tunnel and Yakutsk State University's Institute of Finance and Economics. These developments have enriched the social, cultural and economic lives of countless Russian citizens."
Although Dana Holdings has delivered a host of successful projects to date, the Belarusian firm is not intent on stopping any time soon, and currently possesses a pipeline of new developments spanning more than five million square metres. Among them is the Chelyuskintsev Park residential complex, located at the intersection of Independence Avenue and Makayonka Street in Minsk.
Spanning 250,000sq m, the project is due for completion later this year and is already generating much excitement as a result of its elegant and stylish design. The facilities, which include a fully equipped concierge service, a modern interphone system, a fitness centre and underground parking, ensure that every possible detail has been accounted for. Its location near the Chelyuskintsev Park of Culture and Rest, the Minsk Botanical Garden and several other famous attractions is a bonus.
The real estate market is constantly evolving – buildings rise and fall with the changing needs of the people who inhabit them. Dana Holdings understands this better than most: across numerous projects, the company has crafted new residential and business premises that are both aesthetically pleasing and practical. As investors weigh the pros and cons of entering the still-developing markets of Eastern Europe, the glittering constructions being delivered by Dana Holdings – and the economic growth that they foster – should help them make up their minds.