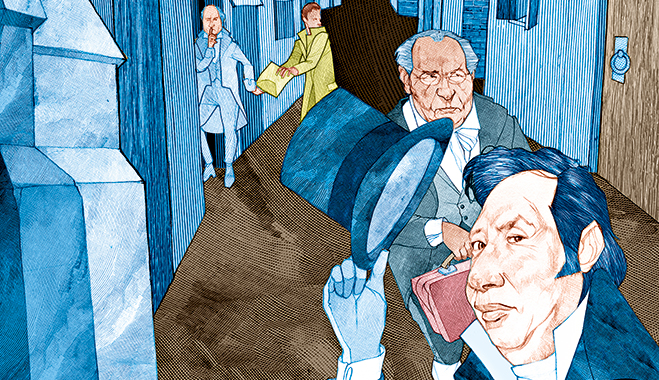 &nbsp
In December 2014, former Chief Secretary for Administration of Hong Kong Rafael Hui and Hong Kong property developer Thomas Kwok – one of Asia's richest moguls – were jailed for bribery. Kwok had made payments totalling more than $4.3m in return for confidential information about construction contracts.
That's just the latest high-profile case in a string of corruption scandals. It's a phenomenon that dates back several decades, and one that continues to be apparent across the globe despite action taken to prevent it. Such action includes the Foreign Corrupt Practices Act (FCPA), implemented in 1977 in the US to prohibit bribery, and the OECD Anti-Bribery Convention, implemented in 1999 and since signed by 41 countries.
In spite of those laws, a report by the OECD discovered more than 400 foreign bribery cases closed between 1999 and 2014, over half of which occurred in just four industries: construction, extraction, transportation and IT/communication (see Fig 1). Most were among larger companies – SMEs accounted for just four percent of cases analysed (see Fig 2). A glance at some of the biggest scandals provides further proof of that.
Foreign bribery cases 1999-2014
53%
of cases involved corporate management or CEOs
1 in 3
cases were instigated by self-reporting
2%
of cases were instigated by whistleblowers
75%
of cases involved payments through intermediaries
261
fines were imposed on individuals and companies
69%
of cases were settled with sanctions
15 years
was the longest time taken to reach a sentence in a foreign bribery case
$149m
was the highest amount forfeited by an individual in a foreign bribery case
These bribery scandals have caused reputational damage to the companies involved, but their impact can be much more far-reaching, affecting the economy at large, damaging competition and skewing market dynamics, according to Patrick Moulette, Head of the OECD Anti-Corruption Division. He said: "It distorts investment and the normal way companies do business… There are big economic arguments to fight bribery."
As the OECD continues to push for governments to fight against the crime on a statewide level, it's hoped bribery will gradually be combated. For now, however, it continues to be rife. Here are some of the most notable scandals that have ruptured the world of business over the past few decades.
Siemens
German conglomerate Siemens AG – Europe's biggest engineering firm – was embroiled in the largest foreign bribery case seen in history a few years ago. In 2008, the company – whose services span healthcare, infrastructure, energy and industry – pleaded guilty to breaching the FCPA by bribing officials across four continents to secure government contracts. Bribery payments between 2001 and 2007, the majority of which were made via external consultants, totalled a staggering $1.4bn.
"Bribery was Siemens' business model," said German investigator Uwe Dolata, The New York Times reported. According to prosecutors, it's a model that the company had used ever since shifting its focus to emerging economies shortly after the Second World War ravaged the firm.
Among the biggest examples was a $40m bribe payout to the president of Argentina to obtain a billion-dollar contract for producing national identity cards. Other payouts included $20m to construct power plants in Israel, $16m to build rail lines in Venezuela and $14m for medical equipment in China.
The company's telecommunications division alone made payouts of over $800m between 2001 and 2007, according to court documents. Executive Reinhard Siekaczek, who worked in the sector, admitted to looking after a yearly bribery budget of around $40m to $50m. "We thought we had to do it," Siekaczek told The New York Times. "Otherwise, we'd ruin the company." The division bribed Nigerian officials with $12.7m and gave Bangladeshi officials (including the prime minister's son) $5m in order to obtain a mobile phone contract.
Prosecutors claimed the numerous cases of bribery had given Siemens an unfair advantage over rival companies, who were unable to secure the contracts for themselves as a result. They added that local consumers in the countries bribed had to suffer the consequences of rising costs for hospitals, roads and other basic services.
As a result of the investigation into the bribery charges, the firm ended up paying a total of $1.6bn in fines in Germany and the US, in addition to a further $1bn in charges for lawyers and accountants carrying out the investigation. A number of executives involved were charged in both the US and Argentina – the highest-ranking of whom was Uriel Sharef, former officer and member of the company board. Siekaczek, meanwhile, was given a $170,000 fine and sentenced to two years' probation. Unsurprisingly, issuing civil and/or criminal fines has proved the most popular punishment for bribery (see Fig 3), with monetary sanctions peaking in 2013 at $1.2bn (see Fig 4).
Following the case, CEO Peter Löscher hauled in lawyer Peter Solmssen to help salvage the company's tattered reputation. Solmssen set about replacing the majority of high-level executives and transformed the company culture from top to bottom. According to Moulette, the scandal has – somewhat ironically – allowed Siemens to become one of the most transparent companies globally: "They have a corporate compliance programme which is now recognised as one of the best in the world, so it's an interesting example."
Kellogg Brown and Root
In 2009, Texas-based engineering and construction company Kellogg Brown and Root (KBR), along with parent company Halliburton, pleaded guilty to paying government officials in Nigeria in order to win engineering, procurement and construction contracts worth more than $6bn for a liquefied natural gas plant in the Niger Delta. The payments, made to Nigerian National Petroleum Corporation and Nigeria LNG officials, as well as members of the government, went on for a decade and totalled $180m.
Former president Albert 'Jack' Stanley and other employees hired two agents as intermediaries to make the payouts. KBR and three other companies involved in the joint venture gave around $132m to a Gibraltar-based consulting company and over $50m to a Tokyo-based global trading firm, according to court documents.
Stanley was sentenced to seven years in jail after pleading guilty to violating the FCPA. KBR and Halliburton were meanwhile forced to pay a total of $579m in fines ($402m, plus a further $177m in disgorgement of profits) – then marking the second-biggest fine in the history of the FCPA, according to FBI agent Andrew R Bland in a statement. In the UK, subsidiary group M W Kellogg meanwhile agreed on a £7m ($10.5m) settlement with the Serious Fraud Office (SFO) over the case.
After the prosecution, KBR made special efforts to bolster its transparency, agreeing to monitor and report back on the implementation of its compliance programme over a three-year period.
BAE Systems
One of the world's biggest defence companies, BAE Systems was the subject of a high-profile probe over claims the company had bribed foreign officials with payments worth hundreds of millions of pounds to obtain defence contracts in Saudi Arabia, Hungary and a number of other countries in the 1980s and 1990s. The case was believed to have been linked to the £40bn ($61.5m) al-Yamamah UK-Saudi Arabia arms deal – the UK's largest ever export contract – but the SFO halted that investigation in 2006 out of concerns for national security.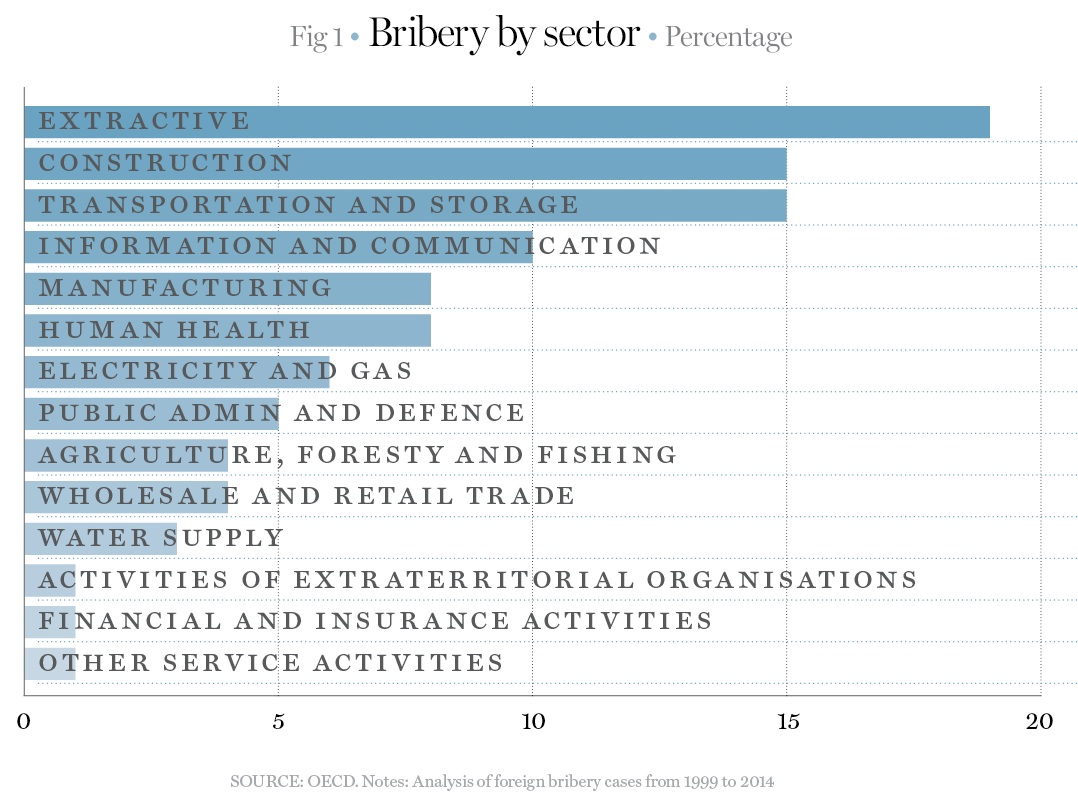 In 2007, BAE found itself subject to six investigations in the UK with regard to deals in Chile, the Czech Republic, Qatar, Romania, South Africa and Tanzania, and the US launched its own probe with regard to the company's adherence to FCPA regulations.
Some three years later, the firm admitted to having made false statements regarding FCPA compliance, confessing to "intentionally failing to put appropriate anti-bribery preventative measures in place, despite telling the US Government that these steps had been taken", according to the US Department of Justice (DoJ). It paid $400m in US penalties to settle the case. The company also pleaded guilty to failing to keep accurate accounting records regarding the sale of a radar system in Tanzania in 1999, paying a further £30m ($50m) in a settlement with the SFO in the UK – the largest corporate criminal fine ever seen in the country, according to The Independent.
Since the case, BAE has gone to extensive lengths to turn its damaged reputation around, introducing ethical and compliance plans following an agreement with the DoJ. SFO Director Richard Alderman recognised the progress made: "I am very pleased with the global outcome achieved collaboratively with the DoJ… I'd also like to acknowledge the efforts made by BAE to conclude this matter and I welcome its declared commitment to high ethical standards."
Moulette believes the case had a resounding impact on the wider sphere, adding that it may well have been a contributing factor to the creation of the Bribery Act 2010. He told World Finance: "It's interesting how cases can have consequences not only for the companies and for the actors themselves, but also beyond that."
Lucent Technologies
According to the DoJ, American telecommunications equipment company Lucent Technologies paid for around 1,000 Chinese officials (employed by government-owned telecoms firms) to go to Las Vegas and other destinations in a bid to win contracts on behalf of the company. Lucent confessed in 2007 and forked out $2.5m in penalties, according to The Wall Street Journal.
Then in 2010, after joining up with Alcatel to form Alcatel-Lucent, the company admitted to further allegations, confessing it had bribed foreign officials in a number of firms in countries including Costa Rica, Honduras, Malaysia and Taiwan between 2001 and 2006.
The firm – the largest supplier of landline phone networks in the world – paid $137m in fines after being charged with violating the FCPA. "Alcatel and its subsidiaries failed to detect or investigate numerous red flags suggesting their employees were directing sham consultants to provide gifts and payments to foreign government officials to illegally win business," SEC Enforcement Director Robert Khuzami said in a statement.
The DoJ agreed to end the case after a three-year period, on the condition that Alcatel-Lucent step up its compliance programme. In response, the company paid an external monitor to keep a check on its anti-bribery compliance and banned the hiring of consultants and sales agents – the intermediaries through which bribery payments had been made. "We take responsibility for and regret what happened and have implemented policies and procedures to prevent these violations from happening again," Alcatel-Lucent General Counsel Steve Reynolds said in a statement.
GlaxoSmithKline
In September 2014, UK-based pharmaceuticals giant GlaxoSmithKline (GSK) was fined $490m by the Chinese Government after it was found guilty of bribing doctors and hospitals in China – reportedly with cash and sexual favours – to promote the company's products. GSK made an estimated $150m in illegal profits, the BBC reported, and the fine marked the biggest ever seen in the country's history. Mark Reilly, former head of GSK's Chinese division, received a suspended three-year jail sentence and was deported from the country.
GSK released a statement apologising to the Chinese Government, saying: "GSK sincerely apologises to the Chinese patients, doctors and hospitals, and to the Chinese Government and the Chinese people. GSK deeply regrets the damage caused."
The firm took several other steps in an attempt to save its damaged reputation. That included removing its incentive scheme for sales staff (whereby employees had been paid in alignment with meeting sales targets) and developing a better payment monitoring system. CEO Sir Andrew Witty reduced his bonus by £245,000 ($368,140) in response to the scandal.
According to Mick Cooper, an analyst at Edison, the implications for GSK were significant and the company still has a way to go before its reputation is back to being squeaky clean. "GSK is still in the process of recovering," he said. "It has tightened up its operating procedures in China to minimise the likelihood of bribery occurring again in China, but the whole case led to a large drop in sales in the country and it will take a long time for GSK to recover its lost market share." Cooper added that the company has reviewed its operations across the world, particularly in emerging markets, to safeguard it from similar cases in the future.
Titan
San Diego-based defence corporation Titan received what were at the time the biggest fines seen under the FCPA, when it coughed up a total of $28.5m in 2004. The fines comprised a $13m penalty for committing foreign bribery, assisting with a false tax return and falsifying invoices, and a $15.5m settlement with the SEC.
Titan pleaded guilty to bribing government officials in Benin, with the aim of pursuing a telecoms venture in the country and making management fees for it more expensive. The company reportedly funnelled more than $2m in bribes into the 2001 re-election campaign for the president of Benin, Mathieu Kerekou – some of which were reportedly spent on buying t-shirts depicting the president and campaigns slogans. According to court papers, Titan also provided the president's wife with earrings worth $1,850, The Washington Post reported. The documents added that the money, the majority of which was paid in cash, was invoiced as "consulting services", with two of the payments sent electronically to an offshore account based in Monaco.
Government officials quadrupled the company's management fee not long after President Kerekou was re-elected, according to the BBC. The president himself was not alleged to have been aware of the bribes, however.
Titan agreed to be supervised for three years and to follow FCPA compliance rules following the scandal. "We are relieved that this chapter in the company's history is drawing to a close," Titan's Vice-President for Compliance and Ethics, David W Danjczek, said in a statement. "Titan will not tolerate ethical breaches or violations of the law."
By the time it was resolved, however, the case had already caused significant damage to the company's reputation and stock. Plans of a $2.2bn buyout by aerospace firm Lockheed Martin had fallen through in June 2004 as a result of the then-ongoing investigation, and share prices plummeted in anticipation of the collapse.
Daimler
In 2010, the German car giant Daimler was charged with bribing foreign officials across 22 different countries. It eventually paid a fine of $185m after two of the company's divisions pleaded guilty, and forked out a further $500m in accountant and lawyer charges as part of an investigation that went on for five years. The case marked the seventh-largest seen in the history of the FCPA.
The bribery payments, worth "tens of millions of dollars" according to the DoJ, were allegedly made over the course of a decade and had the goal of winning contracts to sell its vehicles in North Korea, China, Vietnam, Nigeria and numerous other countries. As a consequence, the company received over $50m in illegal profits.
This kind of public procurement proved to be the most popular purpose for bribes in the OECD study (see Fig 5). Among the alleged bribes was a €300,000 ($342,669) S-class Mercedes, given to a Turkmenistan official, and $41,000 worth of presents for employees of a government-owned bus company in Indonesia, The Guardian reported when the investigation was still underway.
It wasn't the first time Daimler had found itself in reputational distress: former employee David Bazzetta, previously an accountant at the firm, had already won a settlement after he claimed he'd been sacked when he questioned the company's use of bank accounts.
"Using offshore bank accounts, third-party agents and deceptive pricing practices, these companies saw foreign bribery as a way of doing business," Principal Deputy Assistant Attorney General Mythili Raman of the Criminal Division said, adding that the prosecution "should serve as a message to other companies subject to the FCPA and conducting business around the world that corrupt business is bad business".
In 2013, seven Latvian officials, including the former transport advisor to the mayor of Riga, were prosecuted for accepting Daimler bribes – totalling €4.3m ($4.8m) – linked to contracts for supplying buses, the FCPA reported.
Kerry Khan and Michael Alexander
These two former US Army Corps of Engineers officials faced hefty prison sentences – 19 and six years respectively – after being at the receiving end of what Emmet Sullivan, US District Judge, deemed bribery on a "staggering" scale. For four years the pair, along with other officials in the group, accepted bribes from contractors who were looking to skew business toward them. Six companies were implemented in the scandal. In addition, the group stole over $30m from the Army Corps via made-up invoices and overstated bills. Kerry Khan, then head of the group and programme manager, received more than $12m in bribes, according to government evidence and reported in an FBI statement. He reportedly used the money to buy everything from real estate to flat-screen TVs and Rolex watches.
Judge Sullivan increased Khan's recommended 15-year sentence by an additional four years, partly on the grounds of a disturbing SMS conversation where Khan spoke of meeting up with a prostitute aged 15, the Federal Times reported. Sullivan deemed Khan's behaviour to be "shocking, vicious and cruel".
"You made history for the wrong reasons," he told Khan. According to US Attorney Ronald C Machen Jr, the case constituted the biggest bid-rigging and domestic bribery scandal seen in the history of federal contracting.