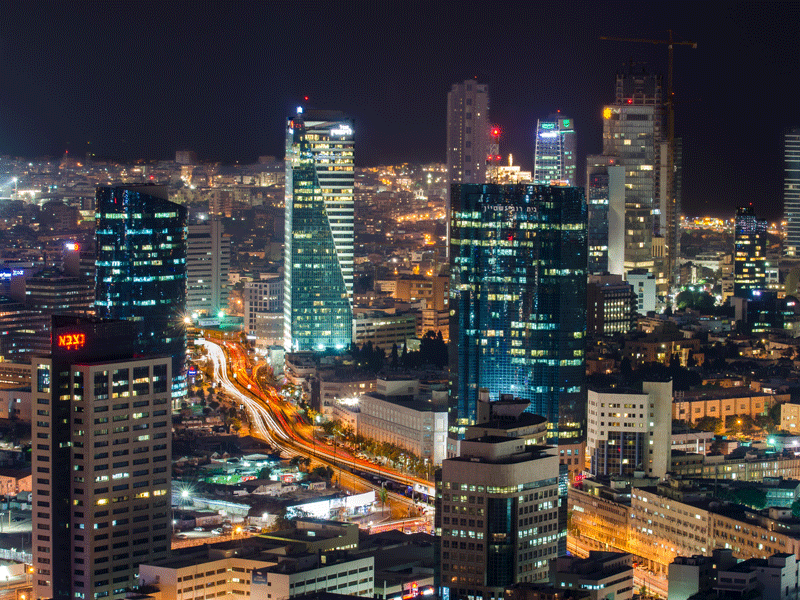 Hundreds of multinational corporations have invested in Israel's start-up engine and government initiatives continue to make Israel an ideal milieu for developing new technology&nbsp
Author:
Eyal Eliezer, Head of Invest in Israel
Situated in a complex region with almost no natural resources, the young nation of Israel has had to be innovative from day one. Early on, the Israeli Weizmann Institute's Automatic Computer (WEIZAC) made history as one of the first large-scale stored-program computers in the world. The desert landscape also helped inspire drip irrigation and desalination, which are credited with feeding tens of millions around the world.
One of Israel's most significant competitive advantages is the proximity of R&D innovation to advanced manufacturing sites
But it was Intel's leap into the Israeli market in 1974, when it set up its first of several R&D facilities, which propelled the Israeli tech industry forward. Since then, hundreds of other multinational corporations have followed Intel's lead and invested heavily in Israel's start-up engine, while billions of computer chips have been designed and produced in Israel. Professor Avi Simhon, Israel's National Economic Council head, recently noted that Israel's initial technological success was due to the accidental combination of a hi-tech revolution and government policies. Yet, today, strategic government plans are making Israel an ideal environment in which to develop new technologies, encourage advanced manufacturing and attract foreign direct investment (FDI).
Over the past decade, FDI stock in Israel has almost tripled, with growth expected to continue. Memorandums of understanding, and investment and trade deals between Israel and some of the world's biggest economies are solidifying Israel's leadership in technological advancement.
The impact of Israeli innovation is extensive, but two sectors in particular stand out for their unique potential to improve lives around the world: advanced automotive technology and medical technology.
Vote of confidence
Israel's first foray into auto production, in the shape of Autocars Co's Sussita and Sabra models, was unsuccessful. When the company shut down in 1980, it didn't come as much of a surprise. Despite this setback, Israel has developed a growing manufacturing sector that supplies parts to global manufacturers and suppliers. Today, Israel is attracting nearly every major carmaker in the world – from Renault-Nissan to General Motors – to invest billions in the burgeoning autonomous vehicle sector. In the last four years alone, foreign sources have invested more than $4bn into Israeli smart transportation technology. This doesn't even include the acquisition of Mobileye by Intel for $15bn in January 2017 – the biggest ever acquisition of an Israeli tech company.
The price of the Mobileye acquisition is not the most important part of the deal. Instead, the structure of the deal indicates the value that Intel places not just on the technology, but also on investing in Israel and its workforce. As Ziv Aviram, CEO of Mobileye at the time, noted in his letter to employees after the announcement: "The transaction is unique in the sense that instead of Mobileye being integrated into Intel, Intel's Automated Driving Group (ADG) will be integrated into Mobileye."
The fact that Mobileye is set to manage Intel's entire ADG speaks volumes about the confidence Intel places in Mobileye and its Israeli staff. With Intel's share of a $7trn industry at stake, and half its cash on hand poured into the Mobileye acquisition, it is not only clear that Intel is putting skin in the game, but also that it wants Israel to lead the whole operation.
Titans of the auto industry, such as Daimler, which recently led a significant funding round for Israeli quick-charging company StoreDot, are betting on Israeli technology across a range of smart transportation technologies. They see this as not just an investment into technologies and manufacturing, but as the keystone of their total efforts moving forward. As Avi Hasson, Chairman of the Israel Innovation Authority, noted recently: "When a system is highly technological, we can excel in the entire value chain, because it requires solutions that are outside the box and non-linear innovation."
Innovation nation
Israel a leader not only in the auto industry, but in the medical technology sector as well, which is particularly valuable considering the rise in healthcare costs in Israel over the last decade. This overall figure has now reached close to $10trn annually.
Advanced medical technology is not just saving lives – it is also helping to cut costs amid rising prices. With more medical technology patents per capita than any other country in the world, it should come as no surprise that world-leading medical technology companies have R&D facilities and advanced manufacturing sites in Israel.
General Electric (GE) was one of the first multinational corporations to invest in Israel, just a few years after the country was founded. Over the past 15 years, it has steadily grown its GE Healthcare operation through further Israeli investment, including the groundbreaking Check-Cap imaging capsule that makes colorectal cancer detection easier and more accurate. Other investments have focused on imaging and cardiovascular technology. GE is joined by medical technology giants such as Johnson & Johnson and Philips, which are also growing their investments in Israeli R&D and manufacturing, including through nurturing start-ups in incubators. In fact, over the past 50 years, the number of multinational companies choosing to open an office in Israel has grown rapidly, reaching a grand total of 285 firms in 2016 (see Fig 1).
Jeroen Tas, Executive Vice President for Philips, recently stated: "[Philips has] innovation hubs in other countries, but Israel plays a special place in our success." Furthermore, Tas understands that "innovation only happens when all of the talent is together in one place, and Israel is ideal hub [for that]". One of Israel's most significant competitive advantages is the proximity of R&D innovation to advanced manufacturing sites. This is especially important for the complex, low-volume production that characterises medical technology.
Competitive edge
Despite its technological success, Israel isn't resting on its laurels. The country continues to pursue policies and nurture an ecosystem that will promote further FDI. With nearly $12bn invested in 2016 alone, foreign investors are taking advantage of the talent and innovation of Israeli human capital, in addition to its increasingly pro-business environment.
In the World Economic Forum's recent Global Competitiveness Report 2017-2018, Israel was ranked 16th in the world, up eight positions from the previous year. These gains were led by improved ratings in the business sophistication and technological readiness categories, something that companies and investors are starting to notice. Adi Ofek, CEO of Mercedes-Benz R&D in Israel, made it clear that the Israeli Government, spearheaded by the Ministry of Economy and Industry, is working hard to ensure that business in Israel runs smoothly: "We get all the support we need from the Ministry of Economy, especially with visas."
The Innovation Box programme, which has been in place since January 2017, is part of Israel's efforts to attract greater intellectual property registration and advanced manufacturing, while making it easier for multinational corporations to take advantage of Israeli talent. Tax benefits include a six percent corporate income tax rate and four percent withholding tax on dividends for companies with over $2.5bn in revenues.
Further subsidies and grants are available to foreign companies that qualify, including capital grants of up to 30 percent that cover fixed assets, such as equipment, buildings and furniture, over a period of five years. In addition, R&D grants are available that can cover 20 to 50 percent of a company's total eligible R&D expenditure. The Innovation Box is continuing to attract foreign investment with its considerable incentives.
The Ministry of Economy and Industry's Invest in Israel Authority is further helping to ease bureaucracy challenges related to taxes, wages and regulations, while also providing businesses with support systems for investors. Moreover, the authority is actively helping multinational corporations, private investors, investment funds and foreign suppliers identify key investment opportunities and take advantage of Israel's pro-business environment and attractive tax models. They provide expert guidance throughout the relationship development process.
Some of the biggest global companies have been investing in Israel for decades, and are now further expanding their investments. New corporations are also exploring their options, safe in the knowledge that Israel's unique business climate will accelerate their success. It's clear that there is a strong case for investing in both R&D and advanced manufacturing in Israel, and it will be fascinating to see how the small yet powerful country supports the next generation of global technologies.