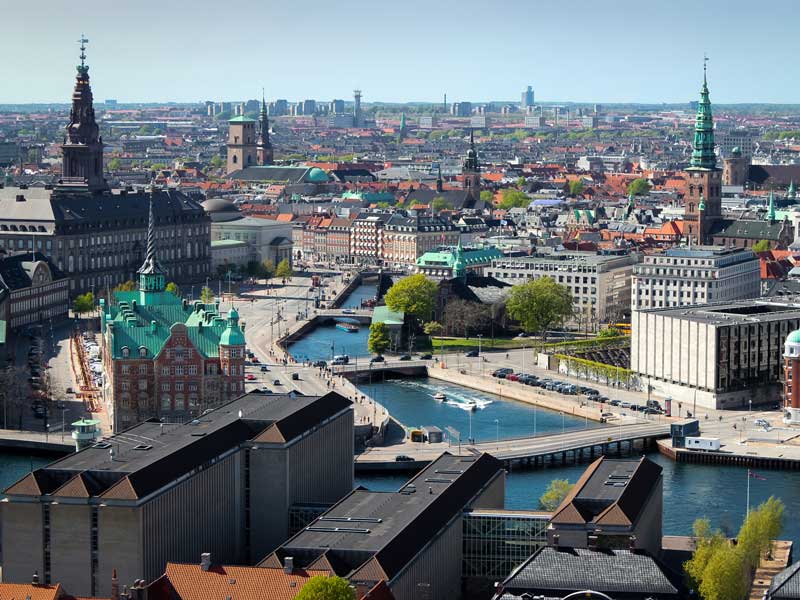 © Thomas Rousing - Copenhagen has a vision of becoming the first CO2-neutral capital by 2025. This vision signals to businesses that the government is committed to taking bold actions to build a sustainable city&nbsp
Author:
Claus Lønborg, CEO at Copenhagen Capacity
Copenhagen's green roots can be traced back to the European energy crisis of the 1970s. At this time, Denmark took the first dramatic steps of becoming fossil-fuel-independent, and the Danish state started investing heavily in wind technology, which has since made Denmark one of the leading countries in wind energy production.
Today, Copenhagen has a vision of becoming the first CO2-neutral capital by 2025. This is a political vision that signals to businesses all over the world that the government is committed to taking bold actions to build and invest in a sustainable city.
Consequently, Copenhagen has become the perfect playground for companies that wish to be at the forefront of green technological developments. This is where Copenhagen Capacity plays a crucial role.
Our overarching goal is to present international companies and talents with opportunities that will make them thrive in Greater Copenhagen. For instance, we help foreign companies become a part of Copenhagen's green hub so they can test and develop new solutions that will grow their businesses and ultimately bring Copenhagen closer to its goal.
The people matter
Besides being a leading green city, Copenhagen has also taken major steps to drive the entire population forward in becoming more tech-savvy. This enables companies to test innovative solutions as it is relatively easy to get consumers in Copenhagen tuned in to new developments.
This is especially relevant to innovation in healthcare technology. As for the rest of the world, Copenhagen is faced with an ageing population that brings with it more chronic conditions, making medicine expenses jump through the roof. To tackle this challenge, Copenhagen Capacity facilitates a healthcare cluster of municipalities, hospitals, universities, patients and companies that all work together to test and develop new solutions. This alliance between public and private institutions makes Greater Copenhagen a uniquely qualified place to develop new healthcare technologies. This is a message we want businesses all over the world to hear.
Furthermore, the Greater Copenhagen region has a highly developed, well-educated population. In fact, it is the most research-intensive area in Northern Europe, boasting 17 universities, 14,000 researchers and 190,000 students. Indeed, if there is one thing that shapes the future of a city, it is talent. Just 10 years ago, typically, the talent would go where the best companies were, but this is changing. It is now increasingly the case that companies locate themselves where the talent lives. As a result, more so than ever, there is a focus on cities being liveable areas.
This has not always been the case for Copenhagen. During the 1980s and 1990s, people would move out of the city and into the suburbs as soon as they started having children, as urban spaces were considered congested, polluted, busy and noisy. But, after a series of bold political decisions, this perception has flipped upside-down.
Copenhagen has now become a clean place to live. For instance, the city has gone to great efforts to clean entire harbours to the extent that you can actually swim in downtown Copenhagen. What's more, 41 percent of people in Copenhagen are biking to work every day, not because they can't afford a car, but because it is easier, healthier and has become part of the culture.
Digital expertise
At Copenhagen Capacity, we help companies that are interested in expanding their businesses to a green and tech-savvy region like Greater Copenhagen. Such firms may come from China, India, the US or elsewhere. To reach this audience, we have created a digital universe that provides companies and talents with just the information they need. In particular, we develop targeted campaigns that reach specific industries through social media. For example, a digital campaign that introduces IT developers and tech companies to the many opportunities of Greater Copenhagen's tech industry, or a food campaign where relevant stakeholders are introduces to the Danish food cluster.
If these companies then consider moving here, we help them build their business case by providing them with data and introducing them to the contacts they will need to become a success. Thereafter, we assist the companies with all the practical matters, including helping them get registered and advising on how to find office space and contacts.
Essentially, we help companies get started as smoothly as possible, which helps Copenhagen become all the more innovative and all the more green.