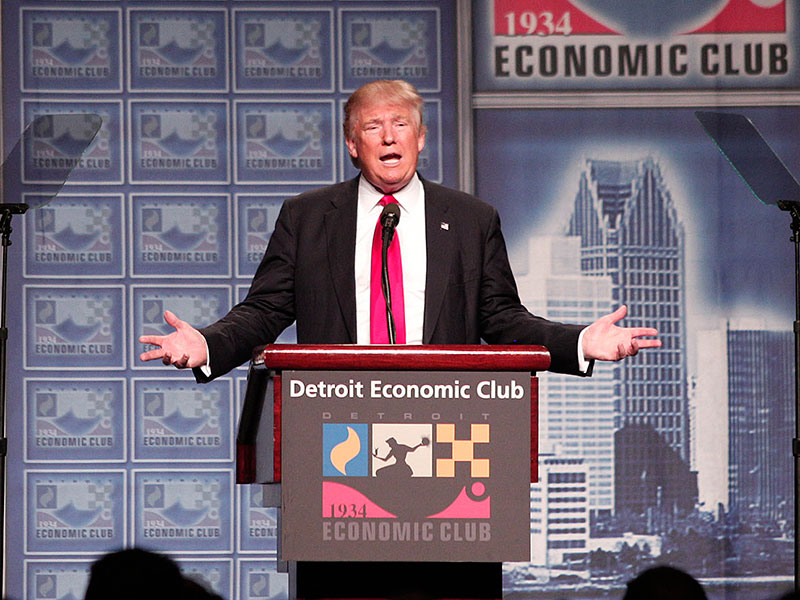 US presidential candidate Donald Trump speaking about his economic vision at Detroit Economic Club on August 8&nbsp
Speaking at the Detroit Economic Club, Republican Presidential nominee Donald Trump unveiled his economic vision for the US on Monday. The nearly hour-long speech included a number of traditional Republican economic policies, such as promising lower taxes and regulations on businesses, as well as his own core policies, such as opposing free trade deals.
Chiefly, Trump proposed reducing the number of income tax brackets in the US from seven to three. This new plan, he told the audience in Detroit, will "dramatically streamline the process". To achieve this, he said that he will "work with House Republicans on this plan, using the same brackets they have proposed: 12, 25 and 33 percent".
Trump proposed reducing the number of income tax brackets in the US from
seven to three
These new tax brackets are slight reverse on Trump's previous tax proposals: while Trump had previously proposed reducing tax brackets from seven to three, his earlier proposal was for the top tax bracket to be capped at 25 percent, down from the present 39.6 percent for those earning over $413,000. His latest proposal brings the top band closer to the present figure, at 33 percent for the highest bracket of earners. "These reforms will offer the biggest tax revolution since the Reagan Tax Reform", he claimed.
Trump also attempted to poach voters from his rival Hillary Clinton, promising future big spending on infrastructure projects. "We will build the next generation of roads, bridges, railways, tunnels, sea ports and airports that our country deserves", he promised. "American cars will travel the roads, American planes will connect our cities, and American ships will patrol the seas."
It is increasingly accepted that the US needs a major programme to renew its aged and creaking infrastructure – and Democratic voters are among the most supportive of such a plan.
The negative impact of globalisation and trade was also key on Trump's agenda, with the candidate blaming NAFTA for both the loss of jobs in America and the decline of the city in which he was speaking – Detroit.
He claimed that his presidential rival would support further free trade policies such as the Trans-Pacific Partnership (TPP), which would only further hurt US manufacturing and jobs. This claim came in spite of the fact that Clinton is officially opposed to the TPP, owing to the general anti-trade sentiment that has characterised the 2016 presidential race.