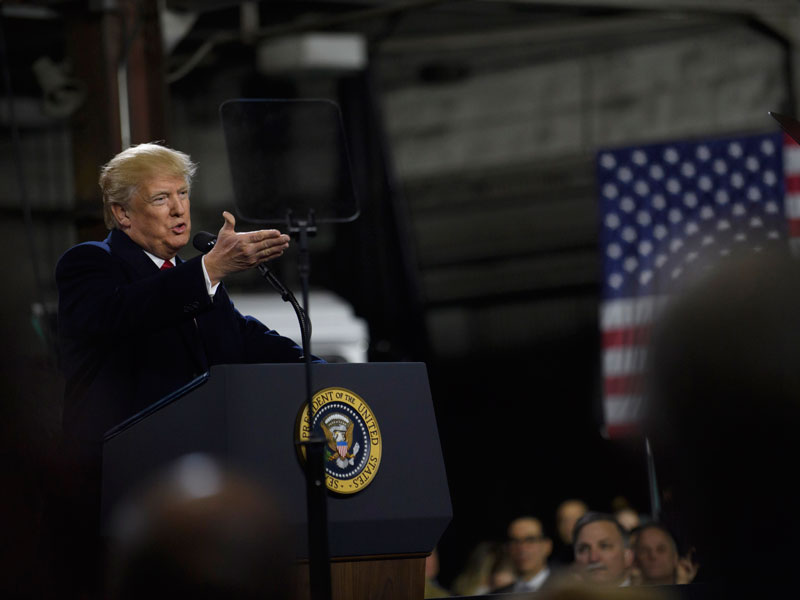 Experts warn that, rather than protecting domestic industries, Trump's proposed tariffs could increase costs for manufacturing and construction sectors&nbsp
Donald Trump's campaign promise to deliver tariffs on steel and aluminium imports came to fruition on March 1, causing markets to dwindle and igniting widespread international criticism.
The US President has threatened to impose a 25 percent tariff on steel and 10 percent on aluminium imports, which he claims will protect domestic industries against unfair competition from China and other countries. "This wave of globalisation has wiped out totally, totally our middle class," Trump told voters in the Rust Belt town of Monessen, Pennsylvania.
An own goal
The IMF hit back following the tariff announcements, stating that the Trump administration's intentions to protect domestic markets could do quite the opposite, raising costs of steel and aluminium. The negative impact could extend to the US manufacturing and construction sectors, major users of the materials.
Stephen Woolcock, Associate Professor at the London School of Economics agreed, adding: "Most job loss in older industries such as steel is due to productivity increases. This may in part be in response to increased international competition, but the current Trump administration's position on trade appears to be driven more by domestic politics than any considered assessment of the impact on employment in US industry. As a number of commentators have pointed out, there will be increased costs for US steel and aluminium users that are likely to further undermine US competitiveness."
The EU is considering responding with a 25 percent tariff on $3.5bn of imports from the US
In terms of domestic employment, the move would not significantly benefit the working class, a group that has supported Trump's criticisms of trade agreements.
"The overall consequences would be a slight rise in employment in the US steel sector, but a larger loss of employment in other sectors," argued Julius Sen from the Department of International Trade Policy Unit at the London School of Economics. A study published on March 5 outlined that the net impact on US jobs would negatively affect the services industry the most, including construction and trade and distribution.
Repeating history
This is not the first time steel trade has been threatened, however. During his second year in office, George Bush implemented foreign steel tariffs of eight to 30 percent. The move backfired, raising costs for steel users and drawing retaliatory tariffs from the EU, Japan, South Korea and others. This, along with a ruling of violation by the World Trade Organisation (WTO), drove Bush to withdraw the tariffs in late-2003.
The current administration doesn't appear to have taken note of the WTO's previous stance, a move that could cause significant problems. "If all WTO members did the same, the rules-based trading system would revert back to a power-based order. Trump seems to welcome this, but if each major WTO [member] determines what is fair it will mean reduced trade and a loss of world welfare. Small countries and developing economies will be especially vulnerable," added Woolcock.
Retaliatory tariffs
According to Bloomberg, the EU is considering responding with a 25 percent tariff on $3.5bn of imports from the US. European Commission President Jean-Claude Juncker cautioned Trump with consequential tariffs on American products such as Harley-Davidsons, Levi's jeans and Kentucky bourbon.
He called Trump's tariffs "a blatant intervention to protect US domestic industry and not to be based on any national security justification". German manufactures, which are the biggest EU-based exporters of steel to the US, annually exporting approximately 951,000 metric tonnes, could take a significant hit.
Canada and Brazil, which own the largest shares of steel imports to the US (16 percent and 13 percent respectively), are set to be hit hardest by the change.
Michael Plouffe, Lecturer in International Political Economy at the University of Central London, addressed the potential response from Canada and Mexico, which are involved in NAFTA talks with the US: "Both the unplanned announcement and unilateral nature of these potential tariffs are likely to lead to doubts on the part of the Canadian and Mexican teams that the US is negotiating NAFTA reforms in good faith."
The global trading system could face challenges if the EU and China retaliate. "[They] would be hard-pressed to justify retaliation under WTO rules, so would either need to break these rules or step out of the system using national security prerogatives. Both would be extremely bad for the wider trading and political system," Sen said.
The tariff could see the global trading system performing under tense conditions if Trump goes ahead. Given the immediate international and domestic backlash, plus lessons learnt from his predecessors, Trump may rethink the tariff, particularly if he deems it not worth the duties that could be imposed on American goods. This may be the case if a 'fair' NAFTA agreement is signed. Otherwise, 'America First' may leave the US in last place.