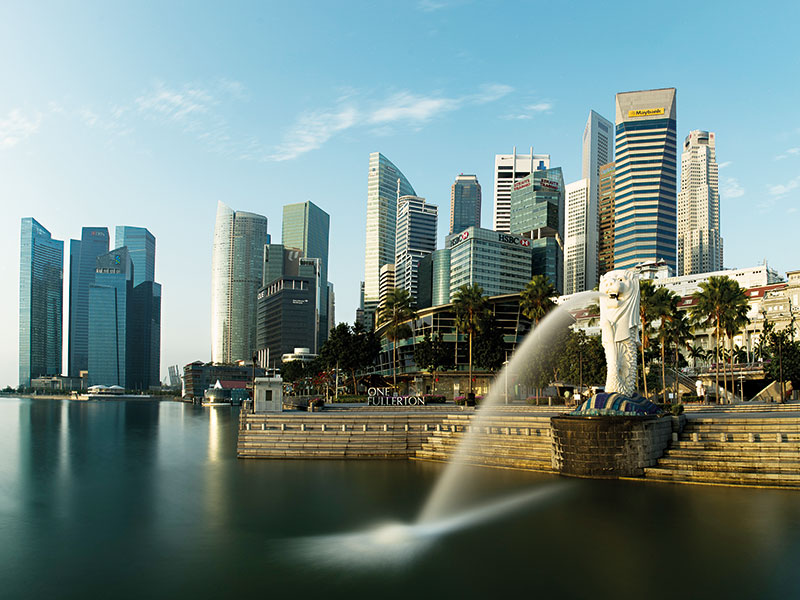 Many SMEs in Singapore fail to carry adequate insurance. QBE Singapore has committed itself to addressing this issue&nbsp
Author:
Karl Hamann, CEO of QBE Singapore
October 20, 2016
Southeast Asia has seen rapid development and strong economic growth for several years. At the heart of this growth story has been the rise of Singapore. The city-state – despite being faced with a small domestic market, limited natural resources and high poverty levels when it became independent in 1965 – has managed to build itself a first-world economy.
An underappreciated element of this economic journey has been the integral role small- and medium-sized enterprises (SMEs) have played in both driving Singapore's continued growth and creating new jobs. SMEs comprise 99 percent of all businesses in Singapore and provide employment for 70 percent of its growing workforce. Together, they contribute nearly half of Singapore's GDP. These figures show the fundamental importance of SMEs to the national business context and Singapore's ongoing prosperity, but also emphasise the need to ensure SMEs remain robust and insulated against the kinds of risks inherent in any modern operating environment.
Despite this, however, it seems many SMEs remain dangerously underprepared for dealing with common business problems – risks that, if continually ignored or underestimated, could threaten their long-term survival. This is compounded by the increasing macroeconomic uncertainty confronting Singapore, including factors such as slowing growth in China, fluctuating oil prices and, closer to home, local firms having to operate with evolving manpower challenges due to an ageing workforce.
Necessity, not commodity
Even in the face of this uncertainty, comprehensive research conducted recently by QBE Singapore, based on the results of a survey conducted on local SMEs, showed that as many as one in seven smaller Singaporean SMEs – that is, firms with between five and 20 staff members or revenue of less than SGD 1m ($740,000) – have no business insurance at all. Across Singapore's wider SME landscape, this suggests 21,000 firms are potentially taking unnecessary risks.
Ignoring inherent dangers by approaching insurance as a one-size-fits-all commodity is not an option
Some might suggest indifference is to blame, or that perhaps smaller companies feel their risk exposure is too insignificant to warrant more comprehensive insurance. These ideas may be partly true, but the results showed a more worrying reality about perceptions of insurance itself. It emerged SMEs view insurance products (beyond the minimum, mandatory coverage) as mere commodities, rather than necessities for their business. As many as 53 percent of respondents suggested insurance was low on their priority list, while 56 percent believe that minimum cover for their business was sufficient and additional insurance was not essential.
We know, however, that this is not the case. Taking out a minor, additional policy to further protect a business can reap huge dividends and ensure longer-term survival. For example, a client of QBE in Singapore, paying a premium of SGD 1,240 ($922) per month, saw its storage facility burned down in a local factory building. The fire destroyed all stock, furniture, fixtures, office equipment, office contents, factory improvements and machinery. Simply for being prepared and protected against this risk, the company received a claim of SGD 20.6m ($15.33m).
As illustrated by this example, the value of the insurance process in identifying and financially protecting against risks cannot be underestimated. Agents and brokers can play an important role within this context, providing bespoke reviews of SMEs' vulnerabilities and guiding them through the process of dealing with an accident or issue.
This approach is strongly valued by our customers, with our research highlighting the factors SMEs most appreciate when working with agents. Specifically, they seek out agents that can help save them time by fully answering and dealing with questions, while prioritising a pain-free and efficient process that does not take them away from running their business. These are extremely important considerations, given the leaner operating structures and time constraints of many smaller companies.
We also found SMEs value the knowledge possessed by the respective entity, agent or broker they are dealing with and the professional recommendations they make. That is to say, they do not just want a policy with bottom-dollar implications, but they also want a provider who can help them deal with a problem when it arises.
Of the companies surveyed, however, 64 percent of smaller SMEs and 51 percent of larger SMEs – that is, SMEs with between 21 and 200 employees or revenues of up to SGD 100m ($74.4m) – admitted the policies provided by different insurers all look the same to them. These statistics are significant because they highlight the lack of awareness concerning the different insurance products on the market, thus illustrating that companies are failing to take into account how more specific offerings best fit their individual needs.
Work to be done
Given the strong ecosystem of agents and brokers and their ability to distil and explain important insurance considerations, why are so many SMEs still underinsured and failing to understand what is available on the market? Part of the reason may be the prevailing and harmful view that cost is the most important factor in purchasing insurance, with almost two-thirds of all SMEs we surveyed expressing this view.
It might also have something to do with the different operating realities companies of varying sizes work with. Smaller SMEs have less concern for business risk than larger ones, and therefore less appreciation for insurance decisions or greater protection. This also stems from the fact smaller SMEs are often more focused on immediate-term considerations, such as retaining customers and reducing costs, compared to the forward-looking and strategic considerations often made by the bigger players.
Nevertheless, failing to make informed insurance decisions has the potential to hinder business continuity and future success. Every company must understand not only its obligation to itself and its employees, but also to Singapore at large – whether it be a small hi-tech parts manufacturer better protecting its equipment against damage or theft, a consultancy insuring itself against the loss incurred due to acting on poor advice, or a retail-focused company guarding against liability from customers who purchase their products. Ignoring inherent dangers by approaching insurance as a one-size-fits-all commodity is not an option.
Our advice in response to this dynamic is simple: first, all SMEs need to undertake a proper assessment of their businesses, making their brokers or agent – and even their insurers – work on behalf of their interests. From there, they must seriously consider whether adequate protection is in place – and whether 'adequate' protection alone is really enough to ensure their long-term survival.
While these findings are specific to Singapore, it is possible other markets may face similar issues as well. Of course, every country has its own regulations surrounding insurance and minimum cover, but the true value of preparation may not be widely comprehended among the SMEs vital to any modern financial ecosystem. While these organisations remain inwardly focused on their own profitability, financial survival through difficult economic times remains an ongoing concern that can only be mitigated through comprehensive risk management.
Ensuring future prosperity
Looking more broadly to the general business context in Singapore and beyond insurance-specific considerations, our research also uncovered the specific business issues that concern most local SMEs. Chief among them were talent-related issues in the form of staff acquisition, training and retention, which are vital issues, as SMEs employ over two-thirds of working Singaporeans. This is also an understandable concern given how employee turnover typically leads to increased training expenses, recruitment costs and the loss of company-specific knowledge.
The new ASEAN Economic Community will have further ramifications for local SMEs, particularly from a talent standpoint. SMEs are not only integral to the economic development and growth of Singapore, but also to the other ASEAN member states, accounting for between 88.8 and 99.9 percent of all companies in these countries. We expect sharing of talent and greater cooperation across borders to occur in the future.
However, a positive financial outlook moving forwards countered these concerns. Of the firms surveyed, 72 percent said they either expected sales to grow by the end of 2016 or to at least hold their financial position (that is, 28 percent expect growth and 44 percent expect to remain the same), while 40 percent expected Singapore's general economic outlook to improve.
Overall, Singapore clearly remains an opportunity-rich environment in which SMEs can and will thrive – but with these opportunities also come significant threats. We see a need for increased awareness among local companies of the consequences of being underinsured and the benefits of protection – specifically, customised protection that supports specific needs. Education as to the operational freedom a comprehensive insurance plan offers, and better engagement by SMEs with these plans, will improve their prospects and allow business insurance to be the glue that helps hold the economy together.