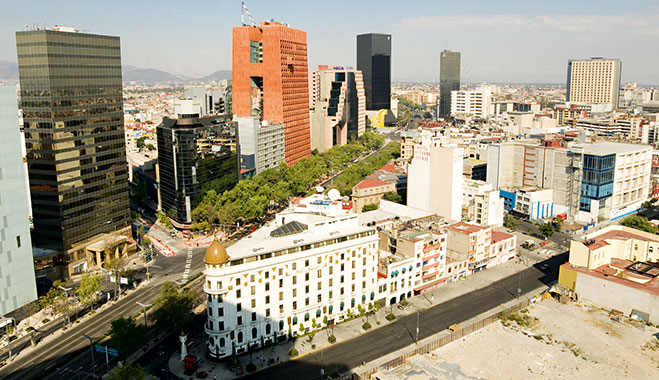 Mexico City's financial district. Latin America, especially Mexico, is fast emerging as a financial centre for private banking&nbsp
Interview with:
Javier Diez, Head of Affluent and Private Banking, BBVA Bancomer
November 27, 2014
Latin America is fast emerging as a financial centre for private banking, in light of a new generation of high-net-worth individuals who have taken to the sector as a means of protecting and, ultimately, expanding their wealth. The overwhelming majority of assets under management in the region can be found in either Brazil or Mexico, and while the former is renowned for its size, the latter is arguably the greater of the two for private banking.
Last year's Private Banking Survey, put together by McKinsey, showed that approximately 67 percent of Latin American assets under management were confined to Brazil and Mexico, with half of the assets invested offshore (see Fig. 1). This geographical trend, coupled with a rising demand for financial advice, means that both Brazil and Mexico have made a name for themselves as fertile grounds for growth in the private banking space.
"The three or four markets that we trade in most are Brazil, Colombia, Peru and Mexico," says Javier Diez, Head of Affluent and Private Banking for BBVA Bancomer. "Many are of the opinion that Mexico is going to be bigger than Brazil in the ultra-high-net-worth individual sector. You can't help but think that the size of the Mexican market, compared to others around us, is growing a little bit faster."
Open for business
Only 10 years on from its beginnings in the private banking space, BBVA Bancomer has cemented its status as the sector's leading name and as an industry pioneer in Latin American banking. Prior to the bank's private endeavour, almost all of Bancomer's efforts were focused on commercial and retail banking, although it soon became apparent that the firm's high-end clients needed to be attended to in a very different way.
Now, with a 30 percent share in the private banking market and thousands of high-net-worth individuals to its name, the bank is well equipped to capitalise on what opportunities exist in the country's burgeoning private banking space.
With a fourfold commitment to leadership, customers, risk management and corporate governance, Bancomer "works for a better future for people", according to the bank's annual report. As of the end of 2013, the bank had an employee base of more than 37,000, total assets of MXN1.37m, and 1,700 plus branches, which, together, amounts to a controlling share in Mexico's emerging financial services sector.
"The market has been changing a lot, because Mexico as an economy was a very closed one until recently. In the Mexico of 10 or 15 years ago, you couldn't invest in any more than three, four or five year-long investments, whereas today you can invest in 30, 40 and 50-year bonds," says Diez.
At the same time, Mexico's business climate has changed almost beyond compare, and asset classes that previously were only available offshore are now just as easily available – if not more so – on home soil. "From around 10 years ago, Mexico started to open up in these areas, and Bancomer's private banking component started to take advantage of a new open Mexico, and to extend a more appropriate financial solution to our clients."
For the past decade now, Bancomer has been doing all it can to accommodate for those in the private banking space, and has since become an active – and even path breaking – regional name in hedge funds, mutual funds, fixed-income funds, etc. After making headway in these areas, Bancomer's private banking division has posted in and around 20-22 percent growth every 12 months for the past six years and is expected to do so again in the years to come.
Overcoming obstacles
Speaking on the biggest challenges for private banking in Mexico, Diez says: "First of all, we had to wait for the Mexican market to open up and grow." However, once the market was deemed ripe for expansion, the bank was then forced to contend with all manner of related obstacles, not least attracting talent, training, and keeping pace with the latest technological and economic developments from around the world.
Another obvious, though frequently overlooked challenge for banks is the need to demonstrate that the business of the bank is in good shape before clients jump on board. "For that, you must offer good returns for your shareholders," says Diez. And the bank has succeeded in doing just that, having expanded its balance sheet in the last three years by 100 percent and its base of employees by 35 percent.
"After that, the biggest challenge is to be near to your clients and to be very humble, and that, in itself, is a big challenge for us: to be humble, to hear your clients, to be near them, and really to offer exactly what you're telling them they're going to get," says Diez. By demonstrating to clients time and again that the bank follows through with its ambitious claims, Bancomer has earned a respectable reputation in and beyond Mexico.
You can't help but think that the size of the Mexican market, compared to others around us, is growing a little bit faster – Javier Diez
Aside from a sound reputation among Mexican consumers, it's equally important that the bank has an extensive degree of local knowledge if it is to be trusted with client assets and negotiate the always-complex investment market of today. "It is very important to have local knowledge," says Diez, "and it's also it's important to be part of a group that can offer you advice on so many fronts."
Central to Bancomer's success in the private banking market is its unique business model, which has really strengthened positive brand associations for the bank. "I think that our model, that we created 10 years ago now, is unique in Mexico and is a very holistic model," says Diez.
"We are of the opinion that in the long-term we will not only have to deal with financial issues but deal with the families, the individuals, the big operations; and we have developed a model that accommodates for financial and non-financial issues."
The non-financial component of Bancomer's model sees the firm deal in areas of health, education, travel and leisure, along with a range of others. The underlying philosophy of the model is that by demonstrating a commitment to clients in non-financial matters, the bank can build loyalty and trust between either party. The strategy brings a competitive advantage for Bancomer over its rival players, in that its contribution to the society at large can more clearly be seen. By focusing more so on local opportunities from a non-financial perspective, Bancomer reinforces to its clients that its roots and its commitments are planted firmly in Mexico.
Regional force
The bank's success is not due entirely to its client-centric philosophy, however, but also to its comprehensive range of products. The bank ensures that each of its client segments are catered for with the appropriate product, and that it continues to match the rapid rate at which the investment market is evolving in the region and beyond.
Also, as part of Bancomer's efforts to cater for an increasingly sophisticated client base and a growing international offshore business, the bank has partnered with global names such as Blackrock, Pioneer Investment and Franklin Templeton. The bank's partnerships and global influence also bring additional advantages for Bancomer when attracting the best managers, traders and most important names in the market in better serving its clients.
"We have so many things to do in Mexico, but we have to take care, first of all, of our clients, to be near each client, to have all the products they need, and that, I think, means we will continue to grow at a rate of between 15-20 percent for the next five years," says Diez. With a focus on what is fast becoming a key strategic market for those keeping an eye on the latest developments in the private banking market, Bancomer is sure to become an increasingly regional local force.
"The year 2014 will again be one of major transformation, of changing the way we do things, of searching for simplicity in processes, of teamwork and maintaining the commitment to offer a better quality service for our customers," wrote Vicente Rodero, CEO of Bancomer, in the company's latest annual report. "Without doubt, it will be a year of many changes for BBVA Bancomer and also for the country, once the scope of the structural reforms approved is more clearly defined; and it will be a year when the country should grow at a faster pace that fosters more vigorous banking activity."