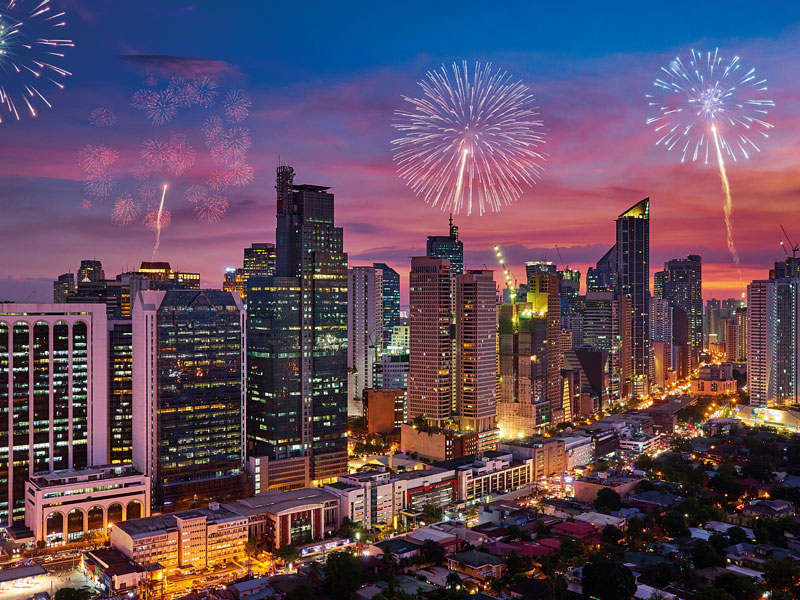 Fireworks on the Manila skyline, Philippines&nbsp
Interview with:
Surendra Menon, CEO, BPI AIA
BPI-Philam, the strategic alliance that allowed AIA Philippines (formerly AIA Philam Life) to offer life insurance through the Bank of the Philippine Islands (BPI), now has a new identity as BPI AIA. The redesigned brand will use its global heritage to fulfil its commitment to provide accessible, affordable, and personalised insurance for Filipinos.
The rebrand is another step in the company's commitment to forward thinking and continual innovation and evolution. It wants to be a world-leading insurtech that stands out for its advanced technology that allows customers to 'experience the future.' The firm was founded in 2009 and is among the top insurance companies in the country recognised by the Insurance Commission. Its bank partner, BPI, is the leading bank in the Philippines and Southeast Asia, with a heritage of financial strength and innovation over the past 170 years.
Meanwhile, AIA Philippines has been a market-leading insurance company for over 70 years under the AIA Group – the largest independent publicly listed pan-Asian life insurance group, with a presence in 18 markets across Asia Pacific.
Strength and commitment
"As BPI AIA, this rebrand further communicates our company's stability and commitment to our customers," Surendra Menon, BPI AIA's CEO, told World Finance. "The challenges we all experienced in the past years brought extraordinary changes to our customers' lives, and as their life protection partner, we also evolve to deliver the support they need and deserve."
Menon says the rebranding will entail an overall boost in BPI AIA's standards of doing business. There will be significant improvements in processes and the technology it uses to service its customers. Specifically, it will be utilising data and digital tools even more efficiently to craft not simply products but solutions that will help improve the lives of Filipinos.
"Meanwhile, our people will also be more involved in every step along the customer journey. We are constantly evolving and innovating to give our customers, partners, and people the best experience whenever they engage with our brand," he adds.
As expected, there will be an ever-increasing range and standard of services geared to how customers' lifestyles are changing at the speed that is comfortable for them. "What we bring to our customers are the same high standards in terms of product and service quality that AIA is known for," he continued to explain.
Alignment
Menon believes there are a number of advantages to aligning with the bigger umbrella that is the AIA Group. He says: "AIA has always been the North Star for us, we've always known we'll adopt the AIA name one way or another." AIA is a global brand that has had a positive association with the insurance industry for over a century now, so carrying the AIA name solidifies the company's identity as a stable insurance company capable of delivering on its promises.
The mission at BPI AIA is to make sure that insurance is easy to get and easy to have for every Filipino, no matter what class they belong to
In addition, the global reinforcement of the AIA Group allows the company to tap into the industry's best practices gained in the 17 other markets that AIA services in the Asia-Pacific region.
This will bring about continuous improvement in systems and processes, all aimed at the end goal of improving customers' experience with insurance. BPI AIA already shares values, expertise, and levels of commitment with BPI and AIA Philippines. Customer centricity is at the heart of what they do collectively. "We are all working towards providing our countrymen with the appropriate financial solutions they need as they go through different life stages," says Menon.
Post-pandemic
During the pandemic, BPI AIA prioritised ensuring the welfare of its own people so that they would be in a good position to help customers as soon as they needed it. Suddenly working full-time from home, teams rallied and continued business as quickly and as efficiently as they could.
The Philippine Insurance Commission approved digital selling and the company continues this practice today. Menon believes it is up to its customers to know whether they are comfortable with meeting with salespeople face to face; and if they aren't, it's absolutely understandable: "There are secure digital tools in place to provide them the services they require, without sacrificing their safety and peace of mind."
Menon continued; "As the situation improves in the Philippines, we are looking forward to seeing more and more people come back into BPI's branches and engage with our people again. But nonetheless, we have onboarded some of the latest technology that will allow for a more seamless, faster experience for our customers – and they work for both face-to-face and virtual."
Service innovations
Aligning with the AIA brand in the time of a pandemic pushed for service and product innovations already scheduled to be developed and launched much earlier than planned. Systems and processes were streamlined and brought to life to improve the client service experience.
Many more innovations are expected from the entire AIA Philippines Group. These will include improving their self-management of policies via My AIA, a comprehensive health and wellness app with BPI AIA's Total Health Solution and AIA Vitality, more payment options, and more customer touchpoints/communication channels. On top of all the digital developments on BPI AIA's side, integration with their bank partner's digital developments are at an all-time high – customers can expect a faster, more seamless interaction with BPI AIA through BPI's mobile banking app.
Through one click of a button, a customer can use their own data to determine the best life insurance product the company has for them. Payments facilities through BPI are constantly evolving to include the latest and most secure payment channels customers prefer for their own convenience.
All these efforts together provide the fastest, most seamless customer experience. "We want our customers to feel the insurance experience of the future today – by having everything they need from BPI and BPI AIA just a few clicks away, on their mobile banking app or on our own platforms.
They can get insured virtually, manage their policy digitally, and even file their claims online – everything is there at their fingertips," added Menon.
Protection gap
At present, insurance penetration in the Philippines is still very low. It is this huge protection gap that the combined companies are committing to address together. The geography of the Philippines makes it vulnerable to natural calamities such as earthquakes, volcanic eruptions, and typhoons. When there's low insurance penetration in an economy, losses resulting from unforeseen events like these significantly limit economic and social development. There is an estimated PHP2.7trn ($54bn) protection gap in the country.
BPI AIA plans to help close it using its life, health, and income protection plans. It is making it its mission to come up with products that cater to various needs and different market segments to make a difference in the lives of its customers, and in the long run, help bridge that huge gap.
Community support
BPI AIA is committed to its ongoing initiatives. Financial literacy has always been central to the entire AIA Group. The mission at BPI AIA is to make sure that insurance is easy to get and easy to have for every Filipino, no matter what class they belong to. "We continuously work towards educating our countrymen on the importance of becoming financially literate and providing them with the skills and tools to do so," says Menon. "Solutions such as microinsurance, for instance, have consistently been part of our offered products and services, and we continue to work with more partners nationwide to expand the reach of our microinsurance products and related solutions," he continued.
Peace of mind
This all feeds into the company's long-held desire to encourage its customers to live healthier (both physically and financially), longer, and better lives. "We share our philosophy that when you live healthily, you live well. And when you have peace of mind because you know your insurance will take care of everything when the unthinkable happens, you have more courage to live your life to the fullest," said Menon.