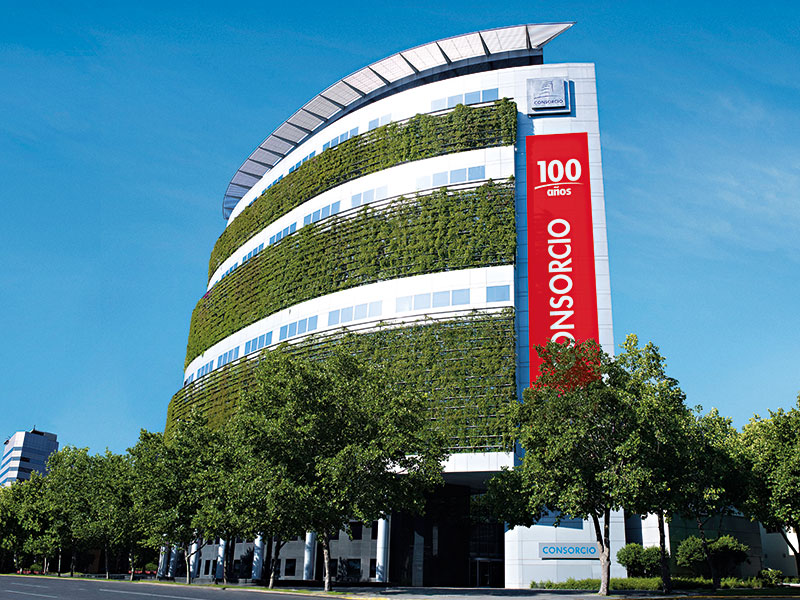 Consorcio Seguros' headquarters. Chile's insurance sector is competitive, but Consorcio Seguros has pulled away from the pack&nbsp
Author:
Francisco Javier García, CEO of Consorcio Seguros
November 8, 2016
Chile's insurance market is one of the most competitive in the region. However, Consorcio Seguros, with a century of history behind it, has pulled ahead of the pack. Like any market immersed in the global economy, Chile's economic outlook has encountered its share of adversities over the past year. Maintaining leadership in any industry in this country entails a set of challenges for companies involved. With an economy with a GDP per capita that has surpassed $23,000 – historically among the highest in Latin America – Chile's insurance industry is highly developed and continues to offer ample growth potential.
In Latin America, Chile is ranked first in terms of the number of insurance policies taken out per capita – a clear sign of the sustained economic development seen in recent years, as well as rising income levels. In the life insurance industry alone, Chile is home to 36 companies, with 28 insurance companies in the general insurance industry. Among these, major multinational companies are present in the Chilean insurance market, including MetLife, Principal, Liberty, AIG, Mapfre, RSA and HDI (part of Grupo Talanx).
In Chile, between 1985 and 2015, insurance penetration rose from 1.98 percent to 4.71 percent of GDP in total premiums, and from 1.03 percent to 3.23 percent in the life insurance market alone. As such, according to figures from 2015, there are an estimated 60 million insurance policies in Chile, with an average of 3.36 insurance policies per person and a direct premium per capita of $582.
Chile's insurance industry is highly developed and continues to offer ample growth potential
Although these figures point to significant growth over the past decade, there is still a serious gap between Chile and developed countries, where average insurance penetration is 8.7 percent of GDP. With this in mind, the insurance sector is on track to continue growing in Chile at a faster rate than GDP, essentially due to one very logical reason: if we compare insurance consumption in Chile with that of developed countries, the gap is still wide and there is much space to grow.
Central challenges
Healthy competition, increasingly informed customers and access to a broader range of products, as well as new regulations related to oversight and capital requirements, are all factors contributing to the creation of fresh challenges for stakeholders involved in the insurance market. We in the insurance industry must strive to stay up to speed with regulatory changes, constantly improve corporate governance and, of course, develop better strategies, products and services to meet customer needs.
In the medium term, insurance companies in the Chilean market will have to adjust to the new 'risk-based capital' requirement, currently being debated in Congress and a path already taken by various other countries around the world. In this sense, the objective of Consorcio Seguros is to be the company with the most robust balance sheet in the insurance industry, and to be ready to respond smoothly to changing regulations, continuing our focus on growth and relationships with customers and brokers.
Chile's Congress is also discussing the creation of a Securities and Insurance Commission, which would open the door to a new set of challenges that may have an impact on profits, by enhancing current oversight practices and granting stronger guarantees to all stakeholders, to the benefit of consumers. According to industry forecasts, the insurance sector will grow at a rate of around five percent this year. For life insurance specifically, growth will be led by savings insurance, health insurance and life annuities, while general insurance will be led by guarantee policies.
In these circumstances, and in light of the fact that Chile continues to be a market with broad growth potential, the region undoubtedly enjoys conditions that will favour international growth for those involved in the market. This will also require addressing development with a new approach. Essentially, we stand before a competitive and challenging scenario, in which Consorcio Seguros has managed to solidify its position on the occasion of its 100th anniversary of success and leadership.
Regional expansion
Chile is privileged to have a mature, developed and varied insurance industry, able to provide diverse coverage alternatives at competitive prices, with high levels of commitment and solvency. The industry plays a very important role in society and, throughout the past 100 years of our history, Consorcio Seguros has reaffirmed its leadership position, becoming top-ranked in equity, total assets and premium income. Moreover, we achieved a milestone for insurance groups, exceeding $1bn in premium income in 2015, through the three insurance companies that comprise Consorcio Financiero: Consorcio Seguros Vida, CN Life Seguros Vida and Consorcio Seguros Generales.
The parent company, Consorcio Financiero, has secured its position as a leading financial services provision group, with interests in a wide range of businesses related to insurance, social security, savings and banking. Through its affiliates, it manages a total asset volume of over $13bn. In the insurance business, Consorcio Financiero conducts activities in Chile through three companies: Consorcio Seguros Vida, CN Life Seguros Vida and Consorcio Seguros Generales, and is also active in Peru through the insurance company La Positiva Vida.
Looking to the future, Consorcio Financiero is expecting to further consolidate its leadership. To this end, the International Finance Corporation (IFC), a member of the World Bank Group, has signed a capital increase for the amount of $140m, representing an 8.3 percent stake in the ownership of Consorcio Financiero. With these funds, the company will be able to bolster its development plans and strengthen its banking and life insurance business lines.
4.71% of GDP
Chile insurance penetration
$13bn
Consorcio Financiero total asset volume
$1.14bn
Consorcio Financiero equity
Alongside this, the IFC's role will be to help reinforce the company's corporate governance. In this realm, it is worthwhile to note that responsible management with an eye to the future is the way we do business, working proactively to advocate for the best interests of our customers, associates and shareholders. Thanks to a robust structure, we are constantly working to ensure the development of our various businesses, as well as compliance with both internal and external rules and regulations, based on the best global practices.
One of the major accomplishments of the past 12 months was when Consorcio Seguros joined the life insurance market in Peru with the acquisition of 40.1 percent of insurance company La Positiva Vida. It is the fourth largest insurer in Peru, with a 10.8 percent market share, almost one million policyholders, and assets and equity equivalent to $900m and $94m respectively.
Consorcio's entry into the Peruvian insurance market was a strategic decision and marks a great opportunity to help take the company global, while also boosting our knowledge and experience in one of the most dynamic markets in the region, with major growth potential for the insurance industry.
Domestic leader
Besides the inroads made in Peru, the company has reached other major milestones in the local market, including the launch of a new life insurance policy with savings. It is the most flexible on the local market in terms of capital, coverage and savings methods, aiming to tailor insurance policies to our customers pursuant to their evolving needs over time.
In the life insurance industry, once again, Consorcio is a market leader, with premium income accounting for 13.8 percent share of total industry income, thanks to our successful strategy, effective risk management and administration of operations. The life annuities business was the most dynamic, with record growth for the industry of 55.2 percent in 2015 for Consorcio's life insurance companies.
These achievements have turned us into a renowned brand in the industry, backed by a history of resiliency, experience and the firm support of our customers. Today, in an increasingly complex economic scenario, Consorcio Seguros remains firmly committed to its customer-centric approach, which gives us an edge as we tackle the uncertainties of a rapidly evolving market.
Key to the progress made and the accomplishments of the past year was the development and implementation of concrete initiatives to strengthen corporate governance and the launch of a comprehensive risk management system. Our company management is grounded in a clear, customer-orientated strategy, with a motivated and committed team, as well as prudent risk management. All of these are essential to the activities in which we engage. Also of note, for the third year in a row, Consorcio was awarded 'Top Employer' certification, in recognition of our excellent working conditions. We are the first Chilean company to receive this honour.
In the current context, the biggest challenge before us will be to preserve our growth and leadership in a market that is in full swing. Reaching our 100-year anniversary in such a competitive market as the life insurance industry fills us with pride and energy for the future, as one of the top-ranked companies in terms of market share. Our goal, looking ahead, is to consolidate our presence and strengthen our brand positioning, continuing to earn the trust of our customers and partners.