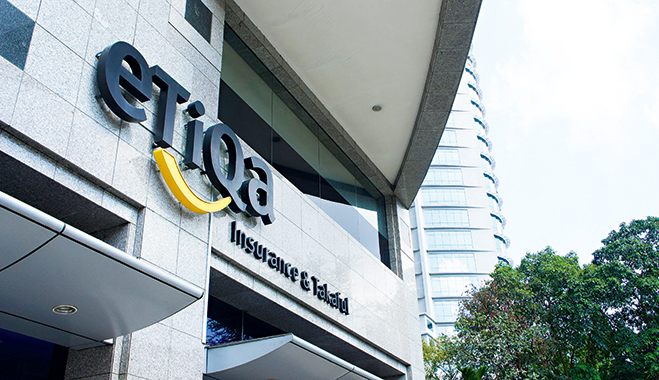 Etiqa headquarters in Dataran Maybank at Bangsar, Kuala Lumpur. Those looking to capitalise on Malaysia's insurance sector must take time to understand its regulatory climate&nbsp
Author:
Zaharudin Daud, CEO, Etiqa Insurance
February 20, 2015
The Malaysian insurance market is characterised by competition above all else, as local players look to improve upon their core competencies and compete with increased interest from abroad. An influx of international names has brought with it a need to boost productivity, as those in the insurance business seek to cash in on the market.
The opportunities here are not without their own set of challenges, however, and those in the insurance sector must take pains to acclimatise to new regulatory requirements and keep pace with the rapid rate at which the sector is developing. Without a commitment to the customer and something to differentiate solutions from rival insurance firms, providers will struggle to make the most of opportunities in the Malaysian market. We spoke to Zaharudin Daud, CEO of Etiqa Insurance, about his firm's place in the market.
Small print in the terms and conditions is not always well understood and can lead to a number
of problems
What does the Malaysian insurance market look like and where does Etiqa sit within it?
The insurance market for 2014 remained stable throughout the year, due to domestic demand, improved risk management and the introduction of new or enhanced innovative products. Insurance companies are expected to utilise multiple distribution options and develop alternative channels, while strengthening their agency force to establish a solid foothold in the industry.
As a true multi-channel distributor, Etiqa features a strong agency force, comprising 14,000 agents, more than 30 Etiqa branches, 400 Maybank branches, ATMs and third-party banks, and provides full accessibility and total convenience to customers. The firm is also one of the pioneers for direct sales through the internet, with its online offerings spanning both Motortakaful.com and Maybank2U.
You are established in the Malaysian insurance market, but do you have ambitions to expand elsewhere?
At this juncture, we are exploring opportunities to venture out into countries with high growth potential where Maybank is present. Our aim is to primarily focus on the ASEAN region and support the aspirations of the Maybank group.
What development plans do you have for expanding the business?
Besides supporting Maybank's aspirations to be a leading regional player, the expansion will also provide Etiqa with attractive opportunities to develop a significant presence in high growth markets, leveraging on two main drivers: Maybank's overseas operations and Etiqa's expertise in bancassurance.
What is unique about your selling proposition?
Etiqa is about people. We place our customers over our policies, and caring about people is vital for our sustainability. In doing this, we're breaking down boundaries and aim to change the face of the industry, making life easier yet tangibly richer for everyone by offering products and services that creatively answer individual specifications and are yet simple to understand.
We work together with our partners and customers to 'humanise' insurance; something that is also in line with Maybank's ambition to humanise financial services across Asia. Our passion is backed by the strength, expertise and rock solid foundation of the nation's top financial institution, and driven by the professionalism, empathy, courage and the integrity of our people. Maybank and Etiqa are two exciting organisations: born and grown in Malaysia, the group embarked on a massive transformation to become a customer centric organisation, able to face a new competitive environment. At Etiqa, we deliver quality services and go the extra mile for our customers. For our motor insurance, personal accident and home insurance, for instance, all it takes is just one phone call to receive coverage for claims below MYR 2,000 ($596), and we also send a medical officer to customers for their medical check-up if they sign up for life insurance.
Your retention rate for 2013 was 60.3 percent. What step are you taking to improve upon this impressive number?
To minimise the drop out, we send reminders to customers to renew their policies via letters, emails and SMS. From time to time, our customer care workers will also make courtesy calls to our clients, primarily to re-educate them about their policy coverage and the benefits of renewing their policies with Etiqa.
Have you developed your selling proposition and business practices as a result of customer feedback?
We have set ourselves a benchmark in the industry and our vision is to change the way things are done. This decision stems from a survey that was carried out by Etiqa some years back, which found that Malaysians had a grim perception of insurance.
The survey revealed that insurance companies were seen as low on customer focus – keen to collect premiums but reluctant to pay claims and make profits in between. They also had a reputation for inefficient administrative services, such as long waiting lines, slow policy delivery and unanswered phone calls. What's more, small print in the terms and conditions is not always well understood and can lead to a number of problems.
In answer to these issues, we've done away with automated voice response, and our registration systems recognise a customer by their name and not by a mere number. We also aim to humanise our customer experience through social media, where customers can pose enquiries.
At Etiqa, we believe that we can do things differently, and our aim is to make the process easier for our clients by being both clear and transparent. We also work hand-in-hand with our customers and don't see them as mere assets or objects to insure. We strongly believe our core competency is in helping people to protect their assets, maintain their lifestyle and build a better future. What is more, in everything we do, we keep things as simple as possible and always deliver on our promises, I am always happy to see that our employees make a difference by doing business the Etiqa way.
Looking back at 2014, what were some of the greatest achievements for Etiqa?
In 2014, Etiqa was rated 'A' for insurer financial strength by Fitch Ratings, which reflects Etiqa's strong business profile in the domestic life and general insurance market, extensive distribution capacity, consistent operating performance, sound underwriting quality and prudent investment approach. The rating also acknowledges Etiqa's solid capital position and strong shareholder support.
The acknowledgement from Fitch reflects the consistent performance of Etiqa, backed by sound underwriting and a prudent investment approach. Though what's more impressive is the fact that the Etiqa brand has only been in the market since November 2007.
The rating will also reinforce customer confidence in Etiqa, especially with our corporate clients, and further strengthen Etiqa's competitive position in this segment, and in covering large risks ranging from national landmarks and buildings to airplanes and oilrigs.
I believe there are many companies out there with large risk exposures, who would prefer to deal with a company with an 'A' rating, given that it reflects the stability of the company, the capacity of the company to cover the risk, and our ability to provide the best reinsurance covers to our clients. Being a member of the Maybank Group has also benefited us tremendously, as we can leverage Maybank's corporate client base to better introduce our risk solutions.
The 'A' rating by Fitch will also bolster our image in the retail market and boost confidence among our agents. This will be an extra advantage in times where more and more foreign insurance groups are reviewing their presence in Malaysia, due largely to economic uncertainty at home. Etiqa, however, is a homegrown Malaysian leader, backed by solid shareholders and we are a safe haven for our agents to develop their business.
With the new year upon us, what does the future hold for Etiqa and the insurance industry in 2015?
The insurance industry in 2015 will face diverse changes, due to the enactment of new regulations and the risk-based capital (RBC) regime for takaful. The implementation of the Financial Services Act 2013 (FSA) and Islamic Financial Services Act (IFSA) 2013 will see composite insurers and takaful operators relinquish their composite licenses, hence splitting the life/family and general businesses into different entities, as operators are given five years to comply with the requirements.
The requirement for composite insurers to segregate their operations into separate licences for life and general businesses could lead to another round of market consolidation. Composite insurers are likely to dispose of parts of their insurance operations if the cost of additional capital becomes a burden, as a result of regulatory compliance costs outweighing the return that can be generated.
Moving forward, Etiqa is poised to face the regulatory changes and new developments in the insurance industry.