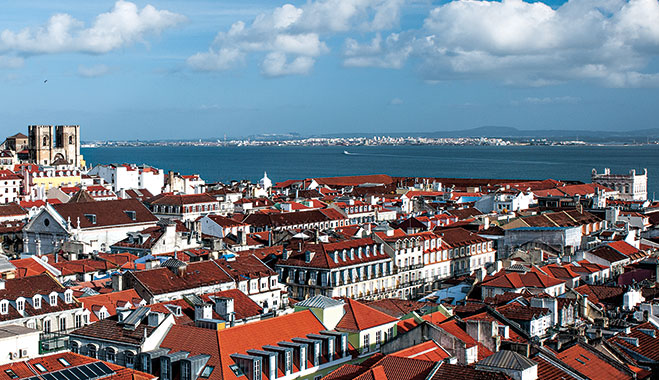 Portugal's property market is currently booming, and an innovative new visa programme means that investment is flooding in from overseas &nbsp
Author:
David Machado, Co-Founder and Real Estate Advisor, PTGoldenVisa.com
The Golden Visa programme launched by the Portuguese Authorities in October 2012 is a fast track for investors to obtain a fully valid residency permit in Portugal. Consequently, it allows investors to gain residency and free access to the vast majority of European countries in the Schengen area. The programme is targeted at high-profile non-European Union citizens, allowing direct access to citizenship after only six years.
So far the programme has proven a success. Since October 2012, when the measure was first introduced, a total of 3,165 permits have been issued. Citizens of China have made up the largest proportion of permit recipients, at 2,457 so far. From January 2013 until March this year, according to the country's Immigration Service, a further 4,841 residence permit authorisations have been issued under rules relating to family reunification.
Property has by far been the most attractive investment prospect to users of the Golden Visa programme. Of the total 3,165 permits issued, 2,991 were on the basis of investment in property, 169 related to the transfer of capital and just five concerned business activity that created 10 or more new jobs. The cumulative total of investment entering the country as a result is €1.92bn, of which €1.73bn is for investment in property. However, outside the many benefits Portuguese citizenship brings, there are also many benefits to investing in Portugal itself.
Real estate investment funds are now finding the opportunity to join one of the most exciting real estate markets in Europe, with prices increasing 10 percent a year and with projections that this growth will continue for at least the next five years, investment funds are now finding the opportunity either to develop, refurbish or do property trading. When choosing to invest in properties that can easily generate high return on investment with rentals, investors have also to benefit from limited exposure to market and capitalise their investments with an entry-exit strategy that pays at least 10 percent in every move. These days it is possible to target returns on investments in real estate of over 30 percent a year.
In Portugal there is currently a low supply and high demand for new construction, creating the perfect conditions for investment in the industry
Real estate boom
In Portugal there is currently low supply and high demand for new construction, creating the perfect conditions for investment in the industry. Since 2013, due to the Investment Benefits scheme launched by the Portuguese Government to non-residents and the exponential growth of tourism in the country, there has been increasing demand for real estate in Portugal.
The Golden Visa programme has been a key-determining factor for the recent boom in real estate in Portugal, together with the Non-Usual Tax Programme directed to European Union citizens alongside a recent boom in the short-term rental industry.
Commercial real estate transactions in Portugal hit an all-time high in 2015 – totalling €1.9bn – and the level of activity is set to continue. Investment has been fuelled by Portugal's economic recovery and the restoration of investor confidence, in addition to the Golden Visa programme, under which Portugal granted more than 760 visas in 2015 alone. This strong investment demand is expected to continue throughout 2016, possibly reaching another all-time high investment volume.
However, with this level of demand, Portugal has begun to see supply problems. As a result, construction has restarted, alongside growth in renovations. In particular, investors have sought to take advantage of tax benefits for the conversion of old buildings into hotels, with more than 20 new hotels opening in central Lisbon in the last two years. This was in response to the country's lack of supply amid a tourism boom, in which visitor numbers have increased by 10 percent.
Portuguese real estate is a safe haven for domestic and foreign investment, and none of the data available suggests the existence of a property bubble in Portugal; the real estate sector should be considered a very safe investment. The Portuguese real estate market did not suffer the exaggerated growth seen in other European countries, and there was no excessive construction in Portugal.
In economic terms, over a seven-year period, the country experienced a nominal variation in prices in the order of 18 percent, which is small when compared to other countries, and corresponds to a percentage much lower than recorded inflation. Portuguese real estate average prices are still a quarter of what is practised in Spain, and eight times less than in France.
The boom of short-term rentals is bringing new life to the more historical neighbourhoods, where more and more property owners are refurbishing their old properties to rent to tourists through sites like Airbnb or warmrental.com. Investors who are candidates to programmes like Golden Visa and non-habitual residents normally look for this kind of refurbished apartment since they most probably will not invest to live there. Generally, a property in a historical area, completely refurbished, can generate an income of around eight to 12 percent a year, through a daily rental basis.
All these aspects are bringing property investors in Portugal high yearly capital gains. Due to the country's low supply and high demand, especially in major places such as Lisbon and the Algarve, the main centres are generating returns on real estate investments of up to 15 percent. At the same time, Portugal also offers a safe harbour for investors. A small real estate investment in Portugal – in an increasingly unstable world – is a sound spot for international investors to use their money safely. Furthermore, the current political stability is a great advantage for overseas investors.
Finding the golden ticket
So far, 97 percent of the candidates for the Golden Visa programme are applying through investment in Portuguese real estate, primarily due to the great returns investors are getting on the properties in Portugal. To apply for a Golden Visa through real estate investment, foreign nationals, either personally or through a company, are required to make an investment that conforms to one of the following conditions: investment in real estate valued at least €500,000; real estate with more than 30 years construction time with a value of at least €350,000; real estate with a value of at least €400,000 in areas with fewer than 100 citizens per square kilometre; and real estate with more than 30 years construction time, in areas with less than 100 citizens per square kilometre, with a value of at least €280,000. Alternatively, Golden Visa applicants can obtain access to the scheme through investment in the non-real estate sector, that includes: completing a capital transfer of €1m to a bank operating in Portugal; committing €500,000 to invest in Portuguese funds; venture capital or leverage capital funds; investment that creates 10 permanent jobs in a new company located in Portugal; or donating €250,000 for culture, heritage or arts to a Portuguese institute.
Aimed at attracting foreign investment to Portugal, the Golden Visa is a very straightforward and flexible programme, with simple and clear legal requirements. If the investment is made, the residency cards are delivered. There are no grey areas in this programme.
With extremely reduced minimum stay requirements, the Golden Visa is one of the most attractive residency programmes for investors in the world. The country allows access to the Schengen Residence Permit immediately, and citizenship after six years. It also has a special regime for non-habitual residents, aimed at attracting foreign investors through very favourable income tax rates, such as the tax exemption programme for foreign senior citizens.
The advantages of the Portuguese Golden Visa programme are unique, when compared to other programmes. By investing in Portugal, non-European Union citizens can travel, work and live in all Schengen Countries. With the residency cards supplied by the Portuguese authorities, investors are able to apply for citizenship and get a Portuguese passport after six years. Many other advantages also arise from holding residency through the Golden Visa programme. Investors interested in opening offices or companies in Europe also have the possibility of opening business in all Schengen countries.
The Golden Visa Programme also allows the investor to extend the application to family members who are dependants, such as children, spouses and parents, with no further investment requirements. Investors' families interested in relocating are able to enjoy all benefits of Portugal's social welfare if enrolled in employment, or through a contribution of €150 per month. This includes free access to the public health system, enrolment of children in public schools and access to the country's retirement pension.
However, if there is no intention of relocation, the programme also has an extremely low minimum stay requirement of only seven days in the first year and 14 days following periods of two years.
Investment is not a price for citizenship, but rather part of a double opportunity, with both citizenship and the chance to invest in Portugal being highly attractive prospects, particularly when it comes to real estate.
For more information visit ptgoldenvisa.com