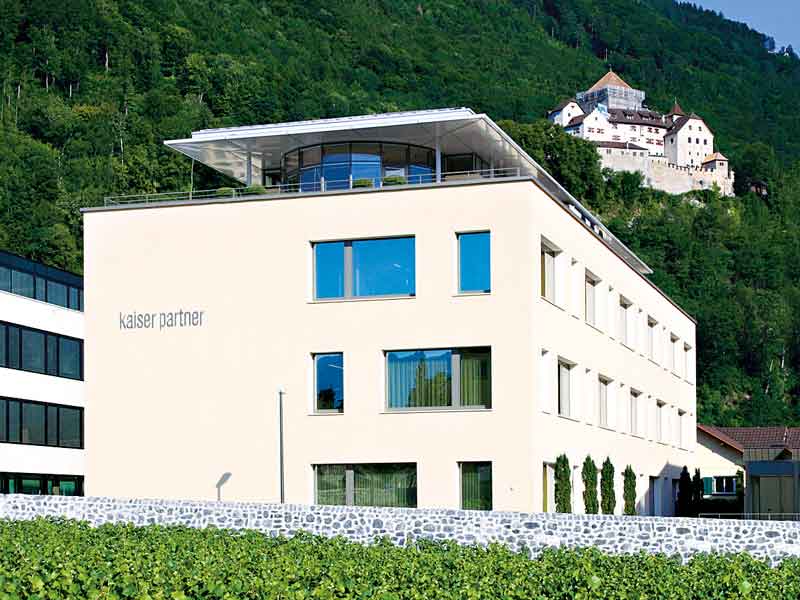 Kaiser Partner's office in Vaduz, the capital of Liechtenstein&nbsp
Interview with:
Marcel Spalinger, Senior Advisor at Kaiser Partner
Together, innovative technology and growing client expectations continue to disrupt the financial industry. Such disruptions require a reaction from industry players – a complete rethinking of how they communicate with clients and the services they provide to them.
Some institutions are reluctant to implement such sweeping changes to their operations, but by considering the bigger picture it is possible to thrive in times of disruption. As a result, change is no longer a threat, but a door to a new world of possibilities.
This is the message that can be gleaned from the strong results achieved at Kaiser Partner Privatbank over the past year. The bank's sustainable long-term approach – known as Responsible Investing – is carefully designed to protect and nurture its clients' wealth, even during periods of turbulence.
Notably, despite uncertain conditions over the past 12 months, the bank has not made any fundamental changes to its wealth management strategy. Instead, change is seen as the norm: while certain elements of strategy are adjusted, the basic approach remains the same. Results over the past year have acted to confirm the effectiveness of this strategy, now and for future generations.
World Finance spoke with Marcel Spalinger, Senior Advisor at Kaiser Partner, about the firm's approach to Responsible Investing, and how technology has been incorporated into it.
How do you ensure a personalised service for all your high-net-worth clients?
Wealth is manifold – and so are our clients' personalities. As advisors, we have to build an understanding of each client from the start. We have to know about their family situation, their professional background, the source of their wealth and, in a more general way, the questions that matter most to them – regardless of whether these aspects have an obvious link to their finances or not.
We try to form a truly holistic view, so we absolutely rely on the client's openness. We appreciate that it takes a huge amount of trust for them to disclose such information, and we certainly don't take their trust for granted. Rather, we believe we are obliged to use this information to develop individual solutions that really set us apart from other providers.
Such solutions are the best foundation for a thriving partnership between client and bank. The personalised service and ongoing communication we aim for makes it easier for us to respond to a client's personal situation, as well as to changes in external circumstances.
Technology is rapidly transforming banking practices worldwide. How is Kaiser Partner responding to this digital revolution?
Sometimes, I think our industry is too obsessed with the threats arising from digital technologies. There's no doubt that aspects of security and regulation have to be addressed, but we have to remember that everybody, old and young, is now using these digital technologies more and more naturally; this trend is not going to be reversed.
The bank's sustainable long-term approach is carefully designed to protect and nurture its clients' wealth, even during periods of turbulence
If we treat these technologies as an opportunity to strengthen relations with our clients, we can find solutions that are beneficial for both the clients and our company.
Personal contact is appreciated by most of our customers, and we certainly don't want to change this. But new means of communication and smart new solutions will always come along. These won't replace our personal contact with clients, but will simply enrich the service we provide.
We're also strengthening our technological backbone. Migrating to a new banking system was a fundamental step forward. The system gives us the foundation for providing new digital services for our clients, the most obvious being online banking. We are currently working on additional products and services that will enhance the digital experience for our clients.
How does innovative new technology improve flexibility for your clients?
Our clients will benefit from digital technology in different ways. We already provide them with an electronic archive of bank statements for a particular period. This speeds up their access to the relevant data and removes the need for physical filing.
Clients can access information about their personal wealth in other ways as well, and they can contact us more easily. All of this provides greater flexibility.
That said, flexibility is just one way in which our clients will benefit from technological advancements. New technology should also be used to help our clients gain a deeper understanding of their wealth.
Our goal is to present data in ways that help them better understand what their wealth consists of and how it is developing. Everybody feels much more confident about making important decisions with the assurance that they have all the relevant information. We want to use technology to make every client better informed.
Can you tell me more about your 'Wealth Table' and how it simplifies private banking for your clients?
We believe that navigating our clients' wealth through today's complex world doesn't need just one specialist, but a few. And to ensure all of these experts are working in the client's best interests, they need to come together at what we at Kaiser Partner call the 'Wealth Table'.
To give you an example, I work for Privatbank, but depending on my client's specific needs I might bring in experts from other parts of our wealth management group. We might also invite our client's existing advisors to the Wealth Table, as well as advisors selected from our network of external experts.
No matter how complex it gets, Kaiser Partner will coordinate these experts in consultation with the client so they have just one point of contact for all their questions.
How do you help clients diversify their investments across different asset classes, and why is it important to do so?
There's often a certain passion involved in investing in non-financial assets, whether you're a long-time collector or just want an investment that provides some fun along the way.
Thanks to the economic environment of recent years, passion and performance go hand in hand with lots of these investments – for example, if you have bought a classic car, you will hopefully have had some fun with it, but also seen its value increase.
At Kaiser Partner, we're in a very privileged position. Owner and Executive Chairman of the group, Fritz Kaiser, is a long-time collector of modern art, and more recently he has built up a serious collection of classic sports cars from the 1950s and 1960s.
He has realised that lots of collectors have a strong emotional attachment to their collectables, leading them to shy away from managing them in the same way as other assets.
Based on this experience, Kaiser Partner has built up a set of tools and services to help collectors protect and manage their collections. Fritz Kaiser has also founded The Classic Car Trust, a sister company of Kaiser Partner.
This firm describes its services as "aspirin and champagne for the classic car collector"; they take away the headaches, leaving classic car owners to enjoy their treasures.
How are customer demands changing? How are private banks evolving to meet these needs?
We've already talked about the digital revolution and the fact that our clients are adapting to these new technologies. As advisors and service providers, we have to continuously adjust, evolve and innovate.
Kaiser Partner has built up long-term relations with lots of its clients, and we have to take into account that these clients' needs change over time: marriages are celebrated, families are started, professional careers move into a new phase. And then, of course, there's always the next generation to consider.
Our clients expect us to accompany them and their families, and provide suitable solutions for current and future requirements. We have to ensure that our clients' financial plans, whether private or professional, can be realised without taking unreasonable risks.
These plans and dreams can be very personal and include fundamental decisions about how people live their lives. This puts a great deal of responsibility on us, so we regard our clients' trust as both a profound obligation and an incentive.
What sets Kaiser Partner apart from its competitors in the private banking market?
The mutual relationship of trust with our clients and their families makes Kaiser Partner really special. Many of our clients regard our advisors not just as bank employees, but as partners. And we have to live up to this trust every day.
What is your outlook for the private banking market in 2017 and beyond?
The private banking market will face further regulatory changes. Political events will remain a topic of discussion. But change also provides us with new opportunities.
More and more factors are having an impact on the way we structure our clients' wealth, and in an increasingly complex environment, it is even more important for our clients to have the right experts at the table. In other words, our Wealth Table philosophy is more vital than ever.