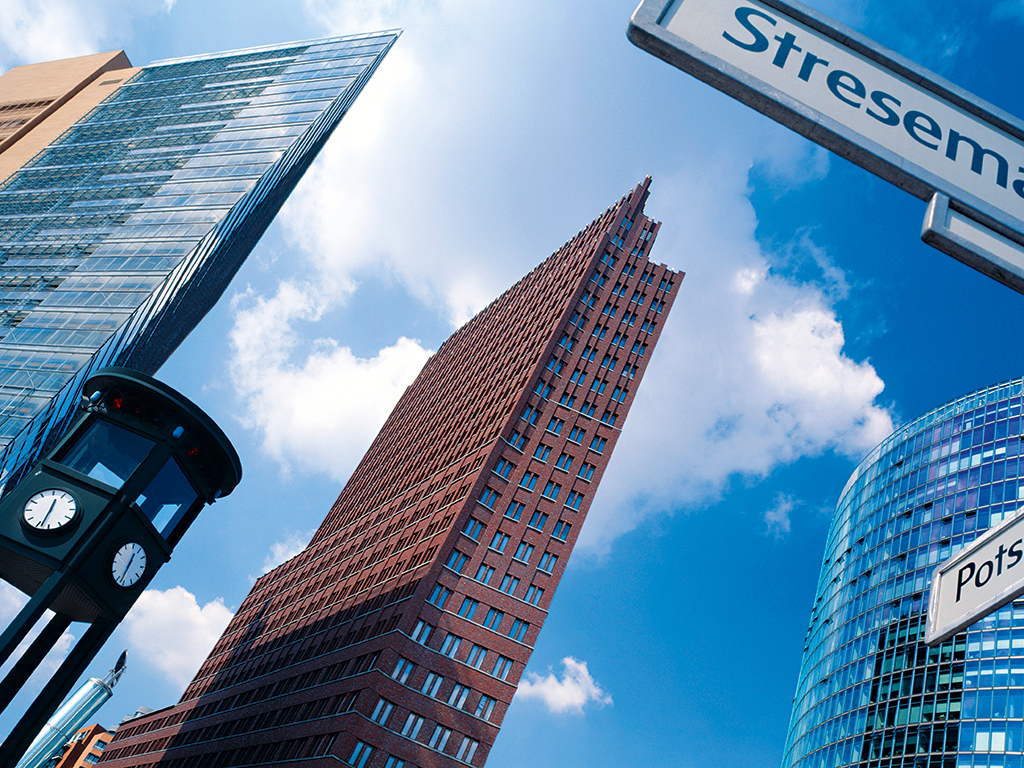 Skyscrapers in Berlin. Patrizia offers real estate investors in Germany a 'toolkit' to suit their requirements&nbsp
Interview with:
Wolfgang Speckhahn, Head of Strategy and Corporate Developments, Patrizia Immobilien
The gradual introduction of regulatory changes since 2013 has sent seismic reverberations through the European real estate industry and forced many institutions to drastically alter their operations in order to comply. The new requirements have tightened national authorities' grip on these institutions and demanded a greater degree of transparency, and while some have struggled, many have demonstrated their resilience by turning these obstacles into opportunities.
It's important to remember, however, the regulators aren't finished yet – Solvency II, expected to be one of the most revolutionary directives, doesn't come into effect until early 2016, and it's possible there's even more to come. In a fast-paced, rapidly evolving business environment, businesses must be doing all they can to anticipate and adapt to changes or risk being pushed out by competitors.
In a fast-paced, rapidly evolving business environment, businesses must be doing all they can to anticipate and adapt to changes or risk being pushed out by competitors
One firm that has managed this is Patrizia Immobilien. For more than 30 years, the German-born company has had an active presence in 10 countries in the residential real estate and commercial property fields, providing services to a variety of private investors and institutions. Despite the various challenges it has faced, most significantly the global financial crisis, Patrizia has committed to its important role within its sector, delivering world-class expertise to its vast clientele across the globe.
World Finance spoke to Wolfgang Speckhahn, Group Head of Strategy and Corporate Developments, about the impact of the changes on the European market as a whole, how Patrizia has adapted to these challenges, and what can be expected from the firm in the future.
How is the European residential and commercial property field performing?
Generally speaking, we are experiencing growth in all markets and sectors, with European markets providing a particularly facilitating environment for the residential sector to flourish. Whether this is fuelled by investors and/or general market conditions is unclear at this point, but we are certainly witnessing increased interest from investors. In this regard, optimised regulation – such as the Spanish SOCIMI regime, which focuses on urban real estate – plays a role, as do market changes from ownership to private rental, as we've seen in the UK, Spain and the US in recent years. This could be due to a variety of factors, from changes to national policies to the general state of each country's economy, but fundamentally, all contribute towards improving the state of the markets.
To what extent has regulation played a part in the way the sector has changed?
Changes to regulations, such as the introduction of AIFMD in 2013, have considerably changed certain areas of the business. For example, we've seen an increase in both the supervision received, and the reporting demands from national authorities. This has caused investors to call for IT systems to be updated and for a greater degree of transparency, both of which will cost. It's unclear as of yet how these developments will be funded.
On the other hand, the positive changes brought about by these changes to regulation will fuel the industry and the opportunities it presents. Consolidation on the side of the managers will increase professionalism and lead to a higher level of transparency, as well as strengthening the relationship between manager and client. An example of this is the closed-ended business in Germany, previously deemed a grey area of the market, which now, under new regulation, has joined the white market. Furthermore, interest in internationally recognised investment vehicles such as the Investment KG is picking up among foreign investors. It's important to bear in mind that there are further new regulations to come, and at present, the impact they will have on the industry simply cannot be known.
What are the key regulatory considerations to consider for those in your field?
The key for Patrizia has been AIFMD. While seen as a challenge in the first instance, the directive has in fact presented an opportunity for further business development. The so-called EU passport for managers (AIFMs) and products (AIFs) has created a more level playing field not previously seen in the European market and opened doors which were formerly closed to the company. In order to be best-equipped to provide services and products to investors, regardless of their domicile, European coverage combined with local presence and expertise is required. Thus, catering to local operations and investment platforms where investors are active is central to success, which Patrizia takes advantage of by basing operations in the core European markets.
What are the biggest regulatory changes to have hit the property investment sector in recent times?
Besides AIFMD, which was undoubtedly the biggest so far, Solvency II is predicted to hit the industry hard when it comes into effect in 2016. This is particularly true for core investments as they are pursued by institutions, and as yet, a solution is yet to be found by neither investors nor managers. There will of course be a change in products, as the equity requirements will make some of todays too expensive, particularly for smaller institutions. The move from direct to indirect is expected, but it's likely to favour the equities universe as opposed to real properties, and the same will be the case for BEPS, which will render offshore investment structures useless and unattractive. Those that don't sufficiently prepare for the arrival of BEPS will suffer, to the point that it could provoke a new crisis among capital markets – this applies not only to Channel Island structures, but Cyprus, Malta, Lichtenstein, Luxemburg, and even further afield, reaching the Bahamas and Cayman Islands too.
In what key ways do European regulations differ to those in the rest of the world?
The gap, if there even is one anymore, is certainly closing. National governments' fears of tax revenue losses has prompted a race to the bottom in tax rate terms, but the big economies, such as the US and EU, have recognised the need to jointly act in this field when disciplining their members. Ensuring there is a common understanding of what defines tax abuse, and setting the standards to prevent it, is sought with BEPS by the OECD. Eventually, European regulations will not differ from the rest of the world, and Patrizia takes this into account when structuring investment profiles for clients.
How have regulatory hurdles forced you into changing investment strategy, if at all?
Rather than bringing about a forced change, one should say regulation has opened the door to new opportunities, which have then changed investment strategy. For example, Patrizia has been involved in the institutional investment business for over 30 years now. The AIFMD has put the closed-end business, best known among retail clients, on equal footing with the regulated Spezialfonds-Business, which is better known among institutional clients. This situation has presented Patrizia with the opportunity to expand its business, widening the capital base from solely institutional, to retail too. As a result, Patrizia is able to provide investors in Germany with what we call a 'toolkit' of sorts, which consists of all investment vehicles available under German regulation to suit their individual requirements.
What key steps has Patrizia taken to accommodate for changes in regulations?
As well as expanding the variety of investment vehicles offered, the decision was made to further expand our European footprint. This was achieved by establishing AIFMs in all the markets we currently have a presence in, which has in turn put us in a better position to answer demands from investors in the same way that we adapt to regulation changes on a national level.
What are Patrizia's ambitions for the future?
Patrizia aims to become Europe's leading fully integrated real estate investment manager. In order to achieve this, we are developing the group vertically on a country-by-country basis, and horizontally through both organic and inorganic growth. A part of this development will be further growth in European markets, such as Spain, Italy and Poland, with more to be considered in the future. We are always looking for opportunities to expand our expertise, as well as the products and services we offer.