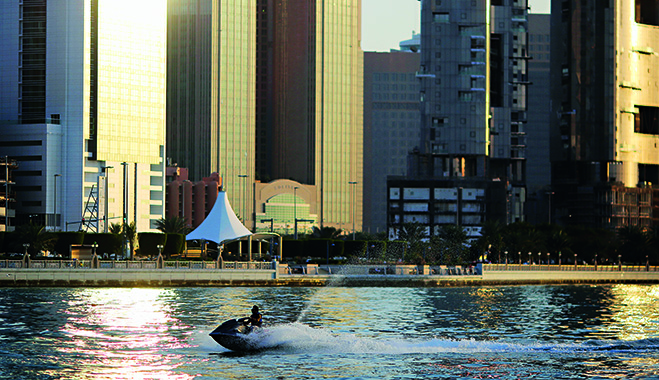 Dhow Harbour, Abu Dhabi, United Arab Emirates. The UAE – with other Middle East and North Africa (MENA) region countries – has been performing well economically&nbsp
With a number of markets still at nascent stages, rapid growth can be seen across the Middle East and North Africa in numerous industries. As such, the region has started attracting the attention of international investors from around the globe. The growing potential of various countries is enhanced further by a big governmental push to diversify their respective economies and invest heavily in infrastructure. Having recognised the area's vast opportunities, some key players in investment and asset management are rapidly growing their networks and scope, capturing increasing foreign investment along the way. One such group that is currently sending ripples across the pond is Al Masah Capital.
A leading investment management company in the MENA region, Al Masah Capital provides a range of alternative and tailored solutions for asset management, private equity, real estate consultancy and market research. By specialising in education, healthcare and food and beverages, the company is able to offer its clients a wealth of expertise, which has enabled it to grow rapidly in the space and outdo many of its peers. Having an ethos of constant development, the firm is now extending its focus into the energy and logistics markets, which is opening up new doors and industries for both Al Masah Capital and its partners.
Innovative business design
Established in 2010, Al Masah Capital has quickly become the fastest growing alternative investment company in the region. Within five years, the group has raised more than $1bn in funds, of which $350m is directed towards private equity businesses. With offices now in Abu Dhabi and Singapore, as well as its headquarters in Dubai, the company is able to spread its reach across the whole of the GCC, and now Southeast Asia too.
Founder and CEO Shailesh Dash puts the group's success down to offering something both specialised and unique: "From the very beginning, we've always tried to innovate and be different than other equity players", Dash recently said in an interview with Gulf News, CEO REPORT – Gulf 2020. "Because we were a new company, despite the fact that the members of the team have extensive background in the industry, it was hard to convince the institutional investors to support us. This is where innovation and strategy becomes important."
Despite the numerous challenges facing the company, it quickly overcame them and surpassed all expectations through its prudent understanding of the markets it operates in. "Many opportunities still exist, this region remains one of the most exciting places in the world, and regional investors are becoming smarter and more sophisticated – meaning they are looking for investment managers that are dynamic, focused, result orientated and deeply in tune with investor needs", wrote Dash in Al Masah Capital's 2014 annual report.
Rapid growth can be seen across the Middle East and North Africa in numerous industries
The group's healthcare investment arm Avivo Group, formerly known as Healthcare MENA, was established in 2011 with the aim of creating a new and innovative platform for primary care and diagnosis centres across the region. "Our healthcare platform has grown rapidly and now we are looking at a 2016 trade sale or IPO that will further crystallise shareholder gain", commented Dash in the company's most recent annual report.The focus of Avivo Group's investment strategy entails carefully assessing both the location and the profitability of each new healthcare asset in order to ensure that it has significant growth potential. At present, Healthcare MENA's assets include 14 medical centres, eight premium dental centres, six pharmacies, two diagnostic centres and two hospitals, which collectively see and treat more than 1.3 million patients a year.
This number is set to grow considerably over the course of 2016. Last November, Al Masah Capital announced its plans to invest around $300m over the next two years in the expansion of the Avivo Group throughout Oman and the entire region. This surge of capital will enable the group to open up a new string of healthcare facilities, as well as create more than 1,000 jobs.
"The opportunities are immense", said Amitava Ghosal, CEO of the Avivo Group in an interview with Thomson Reuters Zawya. "Healthcare spending in Oman is expected to increase. The private sector is already playing a key role in providing healthcare to Omani citizens and residents. This is a market that is expected to grow 8.9 percent between 2015 and 2018 to hit $3.1bn by 2018." By investing heavily in the Oman's medical sector, Al Masah Capital is tapping into one of the biggest economic drivers of the Sultanate, and one of the biggest medical networks in the region. Being undersupplied at present, the company is capturing a market at the precipice of rapid expansion, thereby making the healthcare industry in the GCC extremely promising for investors.
Education is key
Since it was established in 2012, Al Najah Education has expanded at an exceptional pace, which can be largely attributed to its steadfast focus on addressing today's social and economic challenges through education. The objective of this segment is to enhance the platforms for pre-primary, primary and further education across the entire MENA and Southeast Asian region. In 2014 it was a year of particular success for Al Najah Education, having successfully acquired nurseries in Abu Dhabi, Singapore and Oman, in addition to the Drama Scene, a professional acting academy in the UAE. Then in 2015, it broadened its network further with the purchase of My Little Campus in Singapore and the Horizon's Kids Nursery in Al Safa, Dubai.
The company's education platform also forms an important aspect of the group's corporate and social responsibility values. Its altruistic initiatives include its partnership with Dubai Cares, a philanthropic organisation that strives to improve children's access to primary education in developing countries. In support of the charity, Al Masah Capital has placed donation boxes across many of its restaurants and healthcare facilities.
Another widely successful division of Al Masah's investment portfolio is Diamond Lifestyle, a hospitality company that was founded in 2013 to focus on food and beverage markets. Although the company is still young, the Diamond Lifestyle team has a shared experience of 200 years in the luxury hospitality sector, thereby ensuring an excellent experience for customers together with high returns for investors.
In 2013, the subsidiary secured the franchise rights of the restaurant chains La Porte des Indes in Dubai and Abu Dhabi, in addition to Café Rouge in the UAE. Then last year, Diamond Lifestyle hit another milestone through its acquisition of 14 Johnny Rockets restaurants across the UAE, as well as the rights to develop the chain in Oman. The decision to takeover the American style premium burger franchise has already begun paying off, with the restaurant generating 86 percent of net sales in the first half of 2015 alone.
The latest addition to the Al Masah Capital vision is Gulf Pinnacle Logistics (GPL), a transportation and logistics private equity initiative that was established in May 2014. In its very first year, GPL acquired a 75 percent stake in the Abdul Muhsen Shipping Company and an 87.5 percent stake in the So-Safe Logistics Company – both profitable and experienced firms in their own right. With a scalable business model based on basic logistics services, the group is confident that it will mirror the success of its other segments in its latest venture.
Al Masah Capital's rate of expansion and success illustrates the power of the right people working together with a visionary strategy for a region that is ripe for investment. "Our private equity verticals target specific sectors because each sector carries inherent opportunity based on unique regional demographics and disposable income. Healthcare, education, food, beverage and logistics, historically, form the bedrock of any emerging or growing economy.
"They are not only defensive sectors in developed economies but in a growing economy they offer higher rates of returns and greater dividend income", Dash wrote. "Each of our platforms reflects this trend". With a string of acquisitions and growth returns under its belt for 2015, only time will tell what Al Masah Capital can achieve for this coming year also.