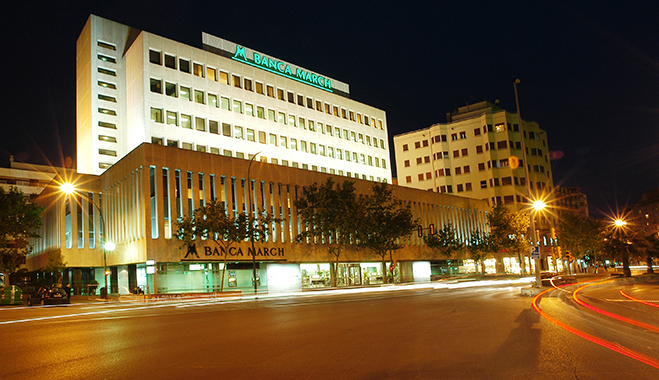 Banca March's Head Office, Palma de Mallorca. The bank's CEO believes the fact it is 100 percent family-owned means the institution is more prudent in its approach to asset management&nbsp
Author:
José Nieto de la Cierva, CEO, Banco March
September 13, 2014
Banca March, founded in 1926 in Spain's Balearic Isles, is the only completely family-owned Spanish bank and the only one that specialises in asset management. It is also the most solvent bank in Europe (see Fig. 1) as shown by the stress tests carried out by the European Banking Authority.
These qualities and the idiosyncrasy, history and experience of Banca March make it the perfect bank specialising in private banking. Being a 100 percent family-owned bank means it adopts a prudent approach to asset management – a feature of only those who risk and manage their own money. This conservative management policy has been particularly notable during the years of the financial crisis, steering clear of risks and adventures, and allowing the bank to emerge significantly strengthened – as shown by the growth ratios in the strategic business areas.
Maintaining and strengthening
Our goal is to become leaders and references in three financial activity sectors: wealth and asset management, where we already occupy a prominent position; private banking, where we are already implementing a very ambitious growth project; and corporate consultancy, where we are starting to see the first results of establishing the bases, staff and resources.
Group strength
The Banca March Group has two main activities:
Banking, through Banca March and its associated companies: March Gestión de Fondos, March Gestión de Pensiones, March Vida de Seguros y Reaseguros and March JLT Correduría de Seguros.
Investment, through Corporación Financiera Alba, a stock market listed company of which Banca March is the major shareholder. Through this company, the Banca March Group participates in ACS, Spain's leading services and construction company and one of the top such companies in Europe. ACS is in turn the largest shareholder in the German company Hochtief and Australian outfit Leighton, Acerinox (one of the world's leading manufacturers of stainless steel with plants in Spain, the US, South Africa and Malaysia), Indra, Ebro Foods, Clínica Baviera and Antevenio. Corporación Financiera Alba is also the leading shareholder of the venture capital company Deyá Capital, focusing on investment in non-listed companies such as Ocibar, Ros Roca, Mecalux, Pepe Jeans, Panasa and Flex.
What's more, rather than abandoning commercial banking, we are maintaining and strengthening it in our traditional area for four reasons: because it is profitable, because it adds value to our company, because we know our customers and because we hardly have any delinquency. We know we are very competitive in private banking. We can offer services the major Spanish and foreign banks cannot adequately provide. The reorganisation of the finance sector in Spain is enabling us to consolidate that unique model.
Being a bank specialised in private banking is a plus that other banks in the sector cannot offer. In Spain, there are major global, general and international financial institutions offering specialist asset management as one of their services to customers. At Banca March, asset management is not just another one of the company's services but rather its core business. In its almost 100 years of existence, Banca March has specialised in managing the assets of family business owners, and providing services and financing to family businesses, covering a twofold objective that is the basis for the company's success.
Finally, only one family bank can offer and implement a true co-investment proposal with its customers: the possibility of participating in the same opportunities and businesses as the family that own Banca March. A clear philosophy: same risks, same profit opportunities.
Consolidation in times of crisis
Banca March has been perfectly placed to take full advantage of the economic turbulence of recent years, attracting customers who are seeking peace of mind and security for their investments. Our bank has known how to continue to grow and consolidate its position. In this respect, the bank's new project is focused on increasing the specialisation of its own offices to transform them into advisory and business centres that can serve the customer as appropriately and conveniently as possible. The daily financial transactions of customers will become collateral services that will be offered through all the channels provided by new technologies.
We are proud to have received the Best Private Bank Spain 2014 award from World Finance for the fifth year running. The strength of the bank has also been shown in the investment funds and SICAV sector, through the March Gestión de Fondos subsidiary. Torrenova, one of Banca March's three institutional SICAVs, has become the leading Spanish SICAV in terms of managed asset volume. There is an identical product in Luxembourg, with more than €1bn assets under management.
In addition, March Gestión is now ranked third in SICAV management behind two major Spanish banks: a sign of Banca March's recognition and the guarantee it can give its customers. March Gestión stands out for the originality and uniqueness of its investment funds, looking for profitable and safe alternatives for its customers. One of the elements that sets Banca March apart is its commitment to family businesses. The Family Businesses Fund is a global equities markets investment fund that invests in a selection of the leading listed family-owned companies. More than 25 percent of the shareholders belong to a single family, at least one member of the family is involved in its management and there is an interest in transferring ownership to the next generation.
Banca March is also particularly active in the corporate banking business, helping to finance companies and providing general advice, as well as helping customers with their long-term needs and projects. Furthermore, Banca March is very active in the parabanking financing business in order to take advantage of the growing opportunities of corporate debt.
Another of Banca March's strengths is the development of its insurance business through March JLT, the group's insurance broker and the first mainly Spanish-owned brokerage. March JLT offers its brokerage services to large multinational companies and medium-sized businesses in key sectors such as finance, tourism, distribution, civil construction, shipbuilding and social welfare, as well as to public administrations both in Spain and abroad. With over 100 employees throughout Spain, March JLT offers its services, through Jardine Lloyd Thompson (JLT), to companies in over 130 countries. About to celebrate its centenary, Banca March is today a successful project that helps family businesses and business families: always with the objective of being a great, but family-orientated, bank.