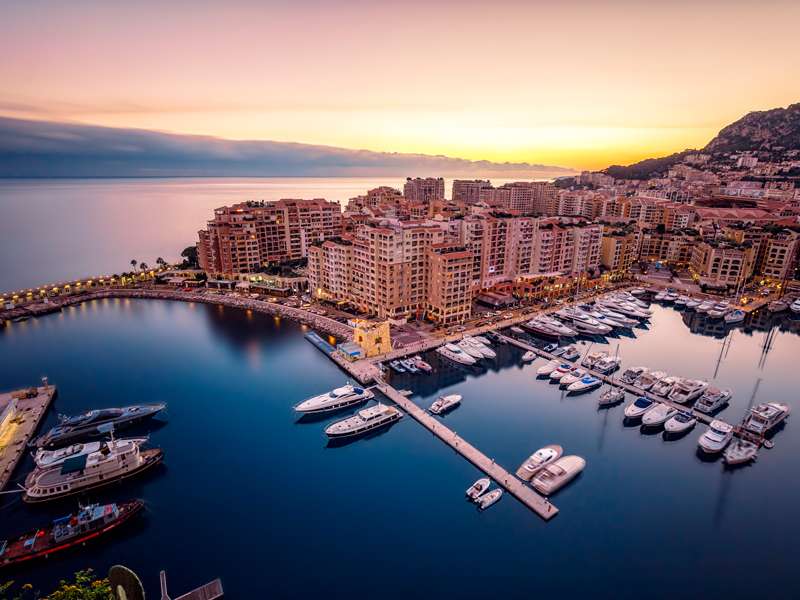 Monte Carlo, in the Principality of Monaco. The country is home to a well established and impressively diverse financial services sector&nbsp
Interview with:
Werner Peyer, CEO, Compagnie Monégasque de Banque
The Principality of Monaco is one of the world's most iconic destinations, renowned for its opulent style and unparalleled glamour. Events like the Monte-Carlo Television Festival and the Monaco Grand Prix capture the world's attention every year, and the image of Port Hercules packed with superyachts is instantly recognisable.
Monaco authorities' decision to adhere to new international regulations could encourage clients with multiple bank accounts to bring offshore assets to the principality
Amid all the mystique and grandeur, it is easy to forget that the country is also home to an exciting business and financial sector. One such operator in the sector is Compagnie Monégasque de Banque (CMB). Originally founded in 1976, CMB specialises in wealth management and a range of tailor-made products and services, including financing and investment advice. As a subsidiary of Mediobanca, the institution benefits from the visibility provided by an international stakeholder. Today, the bank's guiding figure is CEO Werner Peyer, whose position was recently renewed for another three years in April 2018.
World Finance spoke to Peyer about Monaco's various strengths, both in terms of the country's institutions and its people. He said: "It is a fact that whenever you mention Monaco abroad, one of the first words to come up is 'security' – security for the wellbeing of all, whether it be that of Monaco nationals themselves, residents of the principality or tourists. Indeed, it goes without saying that the particular attention given to security is also applied to the banking sector."
This emphasis on security for both people and property has ensured that the country's regulatory bodies are of an exceptionally high standard. Thanks to the many different agreements between Monaco and France, all banking activities are supervised by the French Prudential and Resolution Authority, placing Monégasque banks under the same supervisory rules as their French counterparts. Banks' management activities are monitored by the country's Commission for the Control of Financial Activities, which benefits from the participation of leading members of the Financial Markets Regulator. In the same way, every financial management company in the principality must be a member of the Association Monégasque des Activités Financières (AMAF).
The changing landscape
Peyer explained how the evolution of these organisations has prompted major changes in Monaco's financial sector: "The AMAF now has almost 100 members, made up of around 30 banks and 70 wealth management companies. This evolution shows how much the profile of members has diversified over the space of a decade as a result of changes surrounding the rules which regulate this type of activity."
Also causing the sector to evolve is the ongoing development of markets outside Europe, particularly the Middle East, Latin America and Africa. Additionally, standards have been introduced that require organisations in Monaco – in particular, those that are in direct contact with the clientele and marketplace – to have a professional certification. With all these changes, institutions in Monaco are being forced to meet new standards.
Peyer said that the Monaco authorities' decision to adhere to new international regulations is a good thing, as this could encourage clients with multiple bank accounts to bring offshore assets to the principality. He explained: "The Monaco financial sector is incredibly stable. It is one of the rare countries in the world to be debt-free and still able to retain its tax laws. We are also fortunate to have a close relationship with the authorities, with whom it is easy to communicate. Moreover, let us not forget that Monaco's banking sector is closely supervised and is dependent upon the Banque de France – which only serves to reassure investors."
However, there are other challenges that remain in the sector. The threat of cybercrime escalates every year, as more processes are tied to digital services and assets, and banks are often seen as lucrative targets. "There are no more hold-ups, but the criminals themselves are at the very core of IT networks," Peyer said. "It is a real threat and banks take it very seriously."
Banks naturally acquire a large amount of information about their customers, much of which is very sensitive. The creation of the Monaco Cyber Security Agency has lent significant support to essential facility providers, although banks are adopting the latest security measures in order to stay vigilant.
Stability is key
For CMB, maintaining a consistent workforce dedicated to forging a career within the bank is an important factor in staying on top of the many changes occurring in the sector, as well as meeting the needs of clients. Today, CMB employs 220 staff of different nationalities, and is able to meet all the needs of the principality's international clientele. "We have a low turnover of staff, which is quite unusual in the banking sector," Peyer said. "Stability is important to our clients, who do need time to establish a trust-based relationship with their portfolio manager."
This stability also helps the organisation navigate the complex regulatory framework the bank operates in. Peyer said CMB's teams are constantly evolving: "Since the FATCA and AEOI tax regulations came in, the sector has become extremely complex, and nowadays no single person could claim to be a master of it all. In fact, my role is not to be a specialist in every domain, but rather to be the conductor of my orchestra of experts."
Despite the relatively small size of Monaco's banking sector, it has played its cards right in the international financial marketplace, particularly in relation to the wealthy clients the principality solicits. "We remain under the radar and are therefore not involved in the brutal rivalry that exists between the big marketplaces, which allows us to be selective in our choice of clients," Peyer said.
Under Peyer's leadership, CMB has cultivated many long-term relationships with clients, all built on a personalised service. "Client relations are at the heart of our DNA," Peyer said. "We always listen to our clients' needs, and we have been able to form firm bonds, sometimes over several generations." Today, in traditional private banking, the average age of clients is 70 and CMB is also banking the new generation with a more innovative and sophisticated offering. Peyer explained how this is changing the bank's services: "We adapt the way we communicate, as well as our products, according to the age of a client. For instance, we have been taking into account that, perhaps paradoxically, those most wary of new technology are aged in their 40s and 50s. Unlike their parents or children, they are more aware of cyber-risks."
A holistic approach
CMB has also taken on an active role in its customer lives beyond pure wealth management. In 2016, under the guidance of Marie-Helène Parisi, CMB created a first-of-its-kind educational programme to enable female clients to take on a lead role regarding the management of family wealth. The Women and Finance Academy educational programme is designed to empower CMB's female clients in their financial decisions. The students are taught by internal and external professionals about different financial topics during a one-year period and put theory into practice through the management of their personal virtual portfolio. The nine modules that make up the course cover financial markets, asset allocation, credits and behavioural finance. When complete, the course enables students to take on a leading role regarding the management of family wealth.
In October 2017, CMB launched the Philanthropy Academy, aimed at fostering new synergies between the participants and philanthropic stakeholders in Monaco. The six-module course covers all the topics that a philanthropist needs to understand in order to embark on their business adventure: evaluation criteria, vision, opportunities, resources and partners. CMB's team of lecturers is also supported by many external experts and guest speakers. This new academy allows CMB to contribute to the public's awareness of the values of philanthropy and offer it a new investment axis for its patrimonial strategy. "Philanthropy means being committed to working for the wellbeing of humanity," Peyer said. "An institution like ours has a duty to get involved in the future of the next generations." Building on the success of these two projects, more CMB Academies and other new projects are planned to be unveiled in 2018.
A strong set of values is the defining force behind CMB's achievements, especially now that it is entering its third generation of clients. The bank has designed a 'pyramid of values', consisting of commitment, innovation, diversity and respect of rules. These values, which have informed events the bank has organised, its digital modernisation efforts and its commitment towards digital security regulations, has made sure that the banks acts with integrity and care for its customers.
Having now existed for more than 40 years, CMB's workforce has built its client base by living up to its slogan of 'generation value for generations'. This has ensured that a high percentage of client dealings go well beyond one-off interactions. "By distilling what it is that makes each client and family unique, CMB anticipates specific needs, builds trust and is able to offer a high-quality service," Peyer said. With this dedication to clients, personalised service and a focus on what tomorrow may bring, the organisation is looking forward to another 40 years of success.