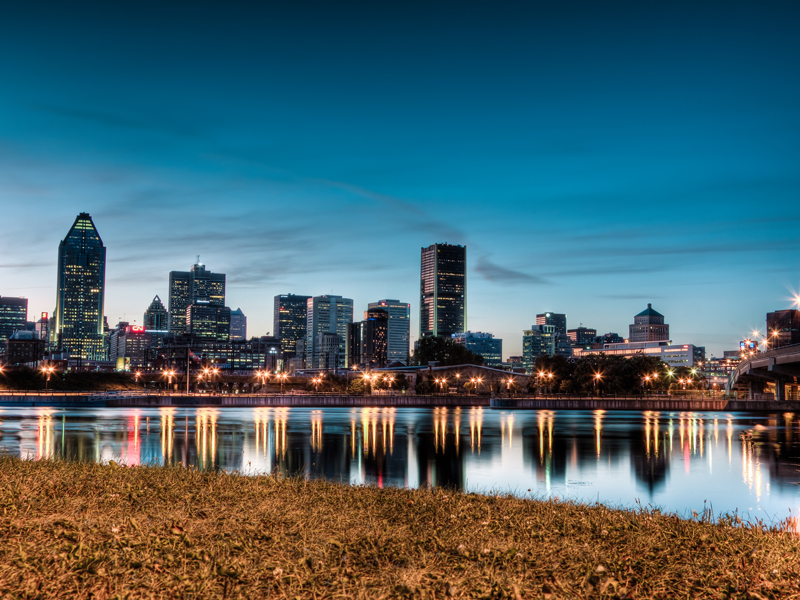 Montreal, the location of BMO Financial Group's Canadian headquarters. The company has been assisting customers for 200 years and offers a highly diversified raft of financial services&nbsp
Interview with:
Dev Srinivasan, Head of Canadian Business Banking, BMO Financial Group
Over the past few years, customer expectations have changed dramatically. With many industries already successfully operating on demand and immediately providing goods and services to consumers, sectors not operating at this speed appear painfully outdated. Standing out is also difficult: if service is immediate and largely the same between competitors, how can a company appear unique?
In a market where the vast array of choices can be overwhelming, we have found that articulating a compelling story can be the differentiating factor for many people
Serving customers for 200 years and counting, BMO is a highly diversified financial services provider. With total assets of $728bn as of the end of January 2018, it is the eighth-largest bank by assets in North America. With a team of diverse and highly engaged employees, BMO provides a broad range of personal and commercial banking, wealth management and investment banking products and services to more than 12 million customers.
Dev Srinivasan is Head of Canadian Business Banking at BMO Financial Group, serving the small business to mid-market segment. World Finance spoke with him about how the bank is adapting to new customer expectations and how it continues to stand out in such a dynamic market.
How has business banking changed over the last several years?
We've built a fantastic business supporting both our clients and the communities in which they run their operations. We are justifiably proud of what we have achieved together with them, but now we are at a turning point and our competition has changed. We are no longer just competing against other banks, and our clients are expecting more in terms of services. Uber, Apple and a host of other companies have changed what people expect from a business, and people are now holding all other industries up to their standard, with banking being no exception.
In a market where the vast array of choices can be overwhelming, having a differentiated value proposition in what can be a commoditised business is key to outperforming competitors. With the support of employees from across our business, we have come together to discuss what makes us different, what defines a great customer experience, and what motivates us to give our all each and every day. The result is a story that tells our clients who we are and what we stand for – things we know they value and expect.
What has BMO focused on in order to stand out?
We believe that choosing a bank is one of the most consequential decisions a business owner can make. We know that the success of the partnerships established between business owners and their banks are vital to the ongoing success of both.
We truly believe that trusted advice is not a commodity, and we refuse to be seen as just lenders. As true business partners, we help our clients manage their challenges and opportunities at every stage, whether they are building, growing, stabilising, expanding or selling a business. We also remain fiercely local; we live, work and make decisions in the communities we serve. We form relationships with our clients thoughtfully. We are great in good periods, and even better when challenging times arise. As a result, we are grateful to see that those who know us, love us.
How does BMO add value to its products and services?
Fundamental to our client relationships is our unique value proposition. Indeed, it's not just any corporate value proposition: we created this with our clients as well as our employees. Simply put, we are a powerful business partner to our clients. A relationship with us creates better options and outcomes, meaning our clients emerge stronger.
To deliver on our value proposition, our relationship managers need to consistently put themselves in our clients' shoes. That takes daily inspiration. What inspires us? Our clients, and their unique stories. So, to keep that client focus, we all agreed on five business beliefs that inspire us.
Can you expand on these five beliefs?
Our first belief is that owning a business is an act of courage. We have tremendous respect for the entrepreneur willing to take on the difficulties and challenges that accompany building and sustaining a business. Which brings us to our second belief. Choosing a bank is one of the most consequential decisions a business owner can make. Our business banking teams bring to bear the right resources from all across our bank, always at the right times.
Our third belief is that the relationship managers who act as simple order-takers are short-changing their clients. If we are just providing capital, we are doing them a disservice. We want to do more – we want to make our clients' businesses better. We believe that all successful businesses need a strong banking team that can challenge their thinking, assumptions and plans. Such a team can help clients identify ideas and obstacles that they may not have yet considered.
Fourth is that clients hate surprises and silence. We know that nothing beats great execution. Indeed, when there are missteps, fixing them and recovering exceptionally well is the key to ongoing success. Continuity, stability and responsiveness are similarly vital.
And finally, we believe that early conversations create better options and outcomes. We work to have ongoing, candid conversations about our clients goals and dreams, which ultimately leads to stronger results.
How has focusing on these beliefs changed BMO?
These beliefs have led to real action and crafted an approach to client experience that all of our business banking employees have taken on board. We know our clients' industries, businesses and what is important to them. We make sure our objectives are aligned with those of our clients. To help clients meet their objectives, we create a plan together and clearly articulate steps and a time frame for goals to be achieved. We execute our plans with honesty, integrity and transparency so there are no surprises. We follow through on commitments and fix our mistakes. We also revisit these plans to ensure that we are adapting to our clients' changing needs, and always look for new ways to impress them.
How does BMO cater to businesses across different sectors?
While our beliefs and our approach underpin all our relationships, we also recognise that not everyone can be treated the same. For example, we have put a focus on three growing business segments and have already seen impressive results. These segments benefit from specialised products and advice, meaning a banker needs to have a strong knowledge of the industry to serve a client effectively. When we provide that extra value, companies in those segments reward us with their business.
Technology, for instance, requires significant specialisation that banks typically have not been able to master. This sector in particular requires a solid knowledge of softer assets such as emerging trends and new ways of doing business. Over the past year, our approach to this sector has led to significant inroads for BMO.
What are the sectors that BMO is focusing on?
Technology is one of these areas. It knows no borders, and our bankers, with their strong cross-border capability, understand this. For instance, just recently we financed the expansion of an IT services firm through the acquisition of two complementary companies, one located in Ontario and the other in Washington state.
We have had a lot of success with our differentiated approach in agriculture, where knowledge of the local market and the broader industry is very important. Also, we know that our agriculture clients value local leadership and local decision-making in credit and risk. Knowing our clients and establishing a strong presence in the communities where they do business, including local event sponsorship, is vital to developing that relationship.
We also know that our agriculture clients face many challenges, from weather and transport issues to market forces. We stand with them throughout the business cycle with practical solutions. Just recently we launched a relief programme to assist farmers in Western Canada who were unable to market their grain crops because of a shortage of rail transportation.
Finally, healthcare has become an important sector for us. Given strong fundamentals in the industry, creative, stretchier structures are possible with the right expertise and we are positioned to deliver that expertise to our clients. As an example, pharmacies are looking for specialised products and services given their potential, but unrealised, earnings. BMO recently established a customised financing and banking offer with a branded pharmacy network to make it easier for their banner members to grow their practices.