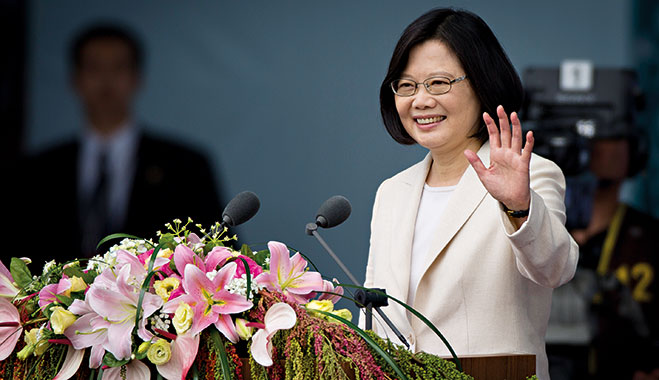 The Republic of China's 14th and recently elected President, Tsai Ing-wen&nbsp
On January 16, it was announced that presidential candidate Tsai Ing-wen had been elected as the 14th President of the Republic of China (Taiwan), making the Democratic Progressive Party the sole party in power. In the history of Taiwan's constitution, Tsai Ing-wen's premiership marks only the third rotation of political parties in power. The new government officially took office on May 20, after which time, as expected, multiple organisations across Taiwan's political and financial arena have experienced a seismic shift in terms of its management.
One of the first major reshuffles was the appointment of a new chairman of the Financial Supervisory Commission (FSC). As a result of Taiwan's new cabinet, gradual changes are being made in terms of the leadership of finance's peripheral units and government-owned holding companies, including Taiwan Financial Holdings, First Financial Holdings, Mega Financial Holdings and Hua Nan Financial Holdings. Along with these major changes in personnel, Taiwan's banking industry is continuing to digitise, propelling domestic players to new heights in both their home market and the wider Asia region.
Domestic expansion
At the end of March, the Chairman of Mega Financial Holdings and Mega ICBC, Yeou Tsair Tsai, submitted his resignation to the board of directors, becoming the first person to leave this government-owned financial institution before the next government takes position. Tsai's resignation was approved swiftly by the major shareholder of Mega Financial Holdings, the Ministry of Finance, and became effective on April 1. Naturally, the announcement initiated much speculation regarding possible candidates for the position, with potential candidates now being weighed up by the new government.
During Tsai's 15-year tenure at Mega ICBC, he established new and pioneering policy directions for the institution's development, avoiding fierce competition within the domestic market and provided services to the Offshore Banking Unit, which enabled Taiwanese companies to go global, as well as leading a strategic expansion into new overseas markets. Jui-Chuang Chuang, Senior Vice President and General Manager of the Planning Department at Mega ICBC said: "Under Tsai's leadership, Mega ICBC built a global e-banking system in 2003, which links more than 30 overseas branches or subsidiaries in order to provide corporate customers with 24-hour transnational funds management capabilities – more than 67,000 business clients have now signed up to it. He also established a fund management and dispatch centre for customers, which was so successful that competitors in the Taiwanese market quickly emulated the model."
In keeping with the trend of promoting Asia's future economic development, Taiwan's government has spared no effort to support Taiwanese banks becoming regional leaders
During Tsai's time as president – from 2001 to 2006 – Mega ICBC achieved a record-breaking pre-tax profit of TWD 10bn ($308m) in 2004. This record was again broken a decade later with TWD 20bn ($616m), by which time Tsai had been promoted and was serving as the bank's Chairman. In the past two years, Mega ICBC has maintained earnings above TWD 30bn ($925m), outperforming all of its domestic peers.
Under Tsai's leadership, Mega ICBC also became the third largest bank in Taiwan by volume of assets, in addition to attaining a far bigger global network, superior assets and an excellent performance overall, which have all contributed to its reputation for long-term stability and profitability.
The chairman established a distinct management style, which more closely connected the bank's profits and employee rewards, with great success on both the individual scale and for the institution at large. As a result, the bank's employee performance bonuses and other compensation schemes have increased considerably to entail a nine-month bonus.
In keeping with the trend of promoting Asia's future economic development, Taiwan's government has spared no effort to support Taiwanese banks becoming regional leaders. The FSC continues to make considerable efforts to amend regulations, conduct international financial personnel training and strengthen cooperation with the Asian financial supervisory authority. It has also signed memoranda to assist financial institutions in Taiwan to compete in the Asian Cup.
"The amalgamation of the government-owned Mega Financial Holdings Firm with a top-notch and high-grade rating bank is the most anticipated merger in Taiwan's financial market", said Mei Chi Liang, SVP, General Manager and spokesperson at Mega ICBC. Tsai's resignation ahead of this planned deal has prompted even greater competition among those vying for his former role.
Following the regime change, some of the highest ranking individuals of the financial sector have been appointed to the finance cabinet, while top managers in the government-owned banks will be replaced over the coming six months or so. Liang said: "The future performance of the banking sector under the new leadership will be closely watched, particularly given the momentous changes occurring in the sector as a result of the digitalisation trend that is now taking place in Taiwan and across the world".
Stepping into digitalisation
The migration of Taiwanese banking onto online platforms is moving ahead at a rapid pace, particularly as a result of 'Bank 3.0', the government's deregulation scheme for online and mobile banking, which is set to accelerate further over the coming year. Wendy Hsu, Senior Vice President and General Manager of the Global Electronic Banking Center told World Finance: "Mega International Commercial Bank prides itself as being at the forefront of this change. As one of the country's leading banks, with 108 domestic branches and 40 foreign outposts, including a network of wholly-owned subsidiaries in Thailand and Canada, Mega ICBC has long been committed to delivering mega service through mega innovation".
Whether in online banking, mobile banking or mobile payments, Mega ICBC has consistently striven to deliver cutting-edge solutions for its clients, which offer new ways for them to conduct their everyday financial transactions through virtual pathways, yet without the restrictions of fixed business hours or traffic jams. "That openness, flexibility, and commitment to innovation dovetails with the Financial Supervisory Commission's Bank 3.0 drive, which is all about change", said Hsu.
Such examples include when, in 2004, Mega ICBC launched its 'Order Online, Airport Pickup' scheme, which makes it far easier for clients to buy foreign currency and travellers cheques. Or when, in 2013, Mega ICBC started to collaborate with mainland China third-party payment service providers, and the building of the 'Cross-Strait Online Payment Service: Mega Payment for Purchase in Mainland and Taiwan'. It helped to process online transaction payments to and from mainland China. By using this platform, Taiwan's manufacturers and exporters no longer have to worry about how to collect and process payments, bringing greater convenience and advancing the e-commerce industry.
As part of the Bank 3.0 drive, last year the FSC extended the reach of digital platforms to 12 new types of financial transactions, from applications for standardised, low-risk retail banking products and personal or home loans, to online wealth management and cross-selling. Mega ICBC is leading this new trend, which has already conducted some of the relevant process planning on its Global e-Banking System Funds Management Platform, enabling funds to be transferred and settled online in any foreign currency.
"There are certain scenarios where faxed directives must be used, but as long as security conditions are met, it is no longer necessary to submit the original document", said Hsu. At Mega ICBC, clients now have the option of directly uploading a photo or a scanned document of a stamped paper directly onto the Global e-Banking System. Once a signature is verified, the associated payment is released for processing through an electronic certificate or dynamic PIN card. "It is a secure, fast and convenient solution."
Saving time and money
Another significant improvement has been greater access to working capital. Previously, in order to obtain prearranged credit, corporate clients had to fill out a 'loan guarantee drawdown book': now, they can access that working capital via the Mega ICBC Global e-Banking System, saving time and making business more efficient.
Further improvements to electronic transaction flows and new e-financial services that will meet client needs better are imminent and will help to drive innovation – especially after a cross-departmental committee was established in preparation for Bank 3.0. In addition to bringing the 12 services approved by Taiwan's FSC online, the committee's objective is to refine and enhance various cloud services and explore the potential applications of big data.
"Mega ICBC has long sought to harness new technology in order to develop new types of e-banking services that can help Taiwanese companies expand globally, as well as ensure the bank's continued success as banking competition intensifies in the digital era", said Liang. "In the last four years alone, we have invested more than TWD 400m [$1.2m] in new technologies, thus helping to boost Mega ICBC's average profit per employee by 37 percent year-on-year to just over TWD 4.6m [$141,000] in 2014 on a standalone basis.
"As the era of Bank 3.0 approaches, Mega ICBC will stay at the forefront of Taiwanese banking by providing clients with the best possible services using the latest technology available. Our vision is to become a top-notch Asian bank and embracing the digital age is central to our strategy. By bridging the gap both we, and our clients, can reach the world."