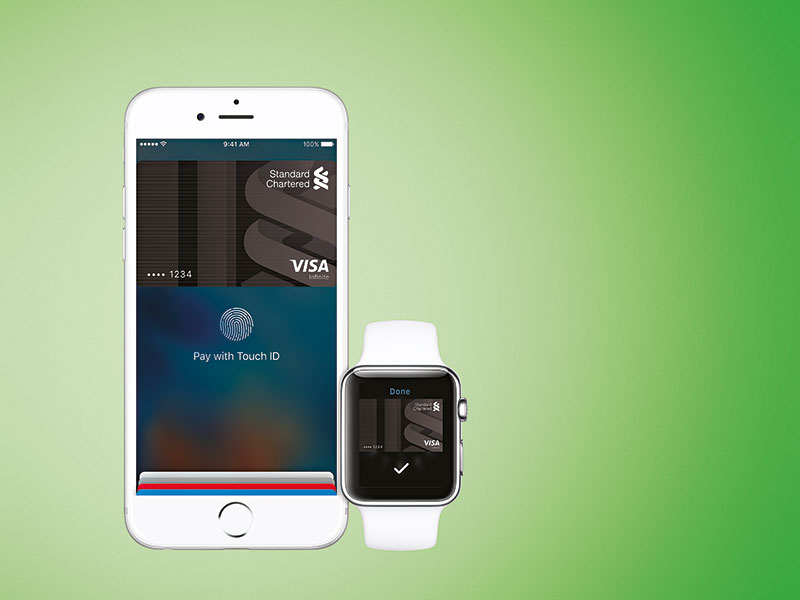 Standard Chartered has collaborated with Apple, Samsung, Google and Visa, among others&nbsp
Author:
Dwaipayan Sadhu, Head, Retail Products, Standard Chartered Bank (Singapore)
February 10, 2017
At Standard Chartered Bank, our aspiration is to be the digital bank with a human touch. That said, becoming a truly digital business is not just about being forward looking: it is about pushing towards a strategic transformation that will allow us to create new and exciting services for our customers, thus enabling them to interact with us seamlessly.
Our digital transformation has been fortified by our drive to deliver superior value, as well as a user-friendly experience for clients, equipping our frontline agents with digital insights and incorporating cutting-edge technology into our processes.
Banking is fast approaching a bright new digital world, and technology will be at the forefront of our customer-centred vision for the future.
In this digital journey, we are guided by the following core pillars: simplicity, personalisation, mobility and agility. But above all else, our driving motivation has always been our clients and how to improve their banking experience. To deliver on our promises, we believe that harnessing the power of technology will complement our clients' active and fast-paced lifestyles, remove obstacles and provide freedom and access to our services on our customers' own terms. We also believe that our enhanced services will empower our customers and give them the choice and opportunity to bank in a way that's both fresh and innovative.
Collaboration is key
There is no denying digital banking is already part of our clients' lifestyles; more than one third of our retail banking clients in Singapore use digital banking platforms as their preferred mode of banking, and complete the bulk of their transactions in this way. In fact, our customers are increasingly choosing to make online transactions over physical transactions.
Striking the balance between a personal service and technologically optimised banking is a difficult task
We also think it is important to collaborate with like-minded partners to deliver practical solutions and high-quality products that are unique in the market. In 2016, we became the first – and only – international bank in Singapore to offer a complete suite of mobile-based and scheme-based wallets to our clients.
We are collaborating with wallet providers such as Apple, Samsung and Google, as well as Visa and MasterCard, to deliver convenient and seamless payment methods for our clients, affording them with more options and greater flexibility. Since striking these partnerships, we have witnessed a high adoption rate among our cardholders for the recently launched digital wallets, a testament to the popularity of such schemes.
The bank also believes that, in order to meet our clients' needs in the digital ecosystem of today and tomorrow, collaboration between the financial and technology sectors will lead the way forward. There is no better example of this than our recent collaboration with Uber, the world's most popular ridesharing app. We are now offering credit cardholders in six markets (Singapore, Indonesia, Malaysia, Vietnam, India and the UAE) up to 25 percent cashback for all global Uber rides. This collaboration is part of Standard Chartered's digital agenda to deliver simple and convenient banking through digital channels for increasingly tech-savvy clients.
Providing the human element
Banking is, after all, a service, and Standard Chartered Bank understands that, even in the digital age, it is important to incorporate a human element into our digital channels. While clients often speak fondly of the warm service they experience when transacting at our branches, at the same time many have migrated to self-service banking or digital banking.
Striking the balance between a personal service and technologically optimised banking is often a difficult task, but maintaining client relationships and points of reference between our bank and our customers is of paramount importance to us. And this means bringing a human touch to the digital landscape.
Standard Chartered is the first bank in Singapore to offer video banking to clients directly from our website. This is another milestone in our retail banking digital journey, as video banking offers clients all the features and benefits of a face-to-face interaction at a branch, but with the flexibility and convenience of banking from just about anywhere. Clients can choose to connect securely with us via video call, audio call or text chat. Since its launch in June 2016, we have had more than 6,000 interactions with our clients through these new channels.
Standard Chartered is investing in technology in order to streamline the application and processing of financial products
We are also focusing on achieving end-to-end digitalisation for the entire process in order to enhance the experience of tech-savvy clients when they access banking services. This involves harnessing technology to help our staff to serve clients more efficiently.
In 2016, we started using the Retail Workbench, a digital tablet-based sales and service tool that brings the bank to clients. Seamlessly integrated with the bank's back-end infrastructure, it allows sales staff to open accounts for clients digitally and makes banking services much faster, simpler and completely paperless. Through incorporating such tools, we are able to use digital technology to deliver a better banking experience for all of our clients.
Our customers have increasingly mobile lifestyles, and we think it is important to provide them with instant services on the go. With deposits and other banking products on a single mobile platform – along with a suite of product information and digital marketing brochures – our staff will be able to respond to a client's needs instantly and in person.
This is a clear demonstration of how Standard Chartered is investing in technology in order to streamline the application and processing of financial products, while generating higher productivity, greater cost efficiency and stronger risk controls for the bank.
The digital journey
Developing unique offerings, such as video banking and the most extensive mobile payment solutions in Singapore, has been part of the bank's culture for years. Standard Chartered has been the first to move in many areas, and we pride ourselves on staying ahead of the game.
We were the first to launch a two-in-one internet banking security token credit/debit card in Singapore, which is still unmatched by the calculator-like, clunky, standalone internet banking security tokens issued by other banks. We were also the first (and only) bank in Singapore to provide clients with online equity trading access to more than 10,000 shares listed on 13 major stock exchanges in 10 global markets on our digital platform.
Many of our early investments in digital technology have already reaped positive results. Digital adoption and transactions have grown exponentially, and we have consistently been rated best in class by Global Finance, winning the World's Best Internet Banking award for six years running. This year, World Finance awarded Standard Chartered the titles of Best Digital Bank and Best Mobile Banking Application in Singapore, making 2016 our seventh consecutive year to win prestigious industry accolades in Singapore.
But we are not stopping there. Over the next 12 to 18 months, we plan to further digitalise our business and add to the capabilities that we are already offering. We will continue to introduce new products and services on our digital platforms and we will remain responsive to the ever-evolving expectations of digital consumers. This includes developing and enhancing cross-border real time foreign exchange payments, biometrics and our mobility platform for frontline agents.
As part of the bank's long-term strategy, we aim to strengthen our digital capabilities, reach out to our customers with digital technology, and further enhance our clients' banking experience through innovation. Our clients have always been at the heart of our efforts to innovate and digitalise banking, and will continue to be the focus of our digital evolution in the years to come.