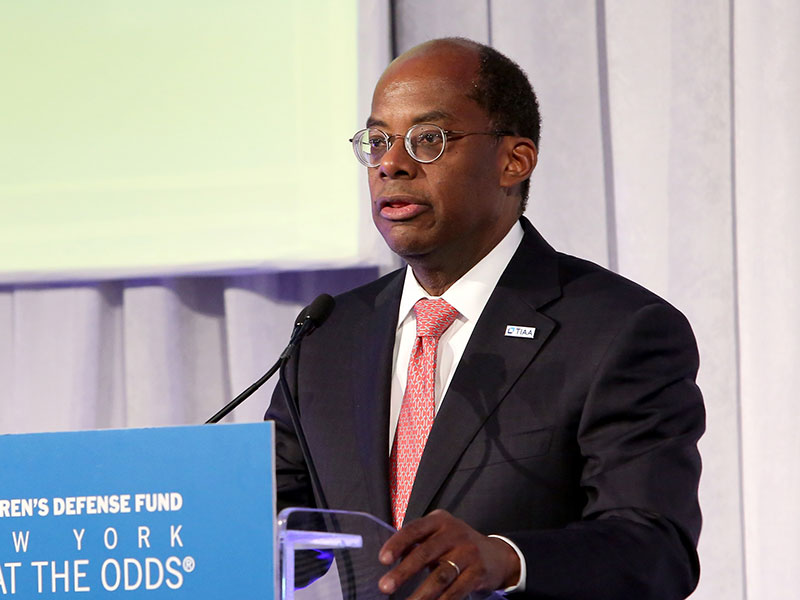 TIAA's CEO Roger Ferguson speaking at a gala earlier this year. TIAA has announced plans to acquire Florida-based EverBank &nbsp
American financial services group TIAA has entered into a definitive agreement to acquire Florida-based EverBank in a bid to strengthen its banking credentials. The deal builds on the group's decision four years ago to branch out into banking services, and, according to CEO Roger Ferguson, puts the project 10 years ahead of where it would've been if allowed to grow organically.
The transaction is slated for completion mid-2017, by which time the two will be well into a "new chapter", with different ownership but with the same commitment to employees, customers and communities, according to sources at EverBank.
"EverBank's complementary capabilities and two decades of profitability make this an excellent investment and a great strategic fit for TIAA", according to Ferguson. "Together, we look forward to bringing an enhanced level of service and an expanded range of financial solutions to our millions of loyal customers and the institutions we serve."
The deal builds on TIAA's decision four years ago to branch out into banking services
Again according to Ferguson, EverBank's strength in digital and mortgage business is one of the reasons why TIAA is interested. Having managed retirement assets for employees of universities and non-profits for decades, its banking services are open to the general public and represent a significant departure from its core business.
Rob Clements, Chairman and CEO of EverBank, said: "Our two companies are a great match. We look forward to introducing our unique consumer and commercial banking products to the millions of individuals and the institutions that TIAA serves today, while enhancing the investment and retirement product offerings for our clients."
The acquisition gives TIAA $27.4bn in assets and another $18.8bn in deposits, while greatly enhancing the group's online and mobile banking services, two areas for which EverBank is widely admired. At $19.50 per share, TIAA is paying a 43 percent premium to the bank's book value, although sources there will be hoping to make up the difference in cost savings and value-added products and services.