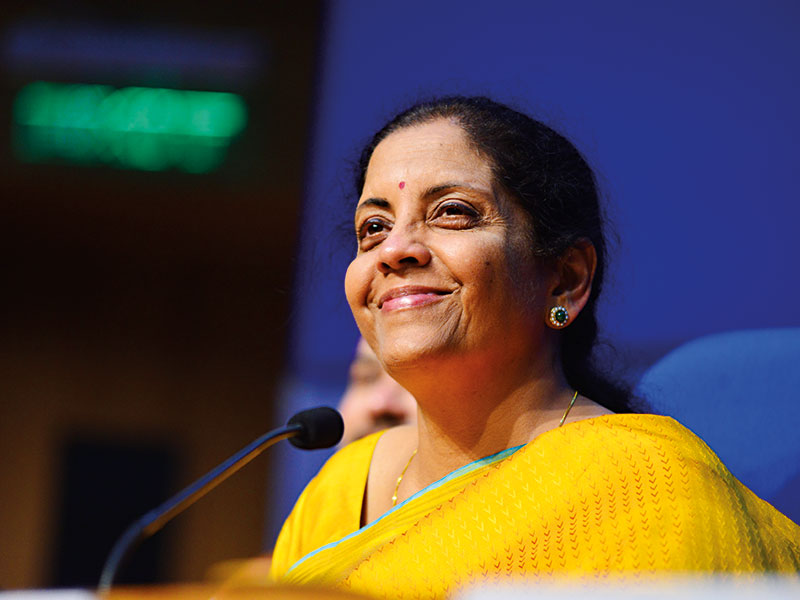 During her political career, Nirmala Sitharaman has become well known as a leading figure in the BJP and an individual willing to face her critics head-on&nbsp
"In a multi-party democracy, many issues which you want – or do not want – will be raised. It is for us to make it relevant or not so relevant with our answers"
Nirmala Sitharaman
Nirmala Sitharaman was appointed as India's Minister of Finance in May 2019, to much fanfare. After all, she was the first woman to hold the position full-time (Indira Gandhi briefly took on the position in 1970, alongside other duties) and her already-significant political career promised big things. Shortly after joining the Bharatiya Janata Party (BJP), one of India's two major political forces, Sitharaman was earmarked for stardom: she was quickly appointed as a party spokesperson, and then became a junior minister.
During her political career, Sitharaman has become well known as a leading figure in the BJP and an individual willing to face her critics head-on. A YouTube video where she rails against suggestions that she is a liar has been viewed more than 3.5 million times. Unsurprisingly, her strong-willed personality led Indian Prime Minister Narendra Modi to select her as his defence minister in 2017. She demonstrated her uncompromising attitude in February 2019 when she authorised an airstrike on Pakistan's Balakot terrorist training camp; it was the first time warplanes from either nation had crossed the line of control for almost 50 years. That turned out to be one of her final acts as defence minister before she took up her current role in charge of India's almost-$3trn economy.

First things first
One of the landmark events for any finance minister is the announcement of a new budget. The pressure on Sitharaman was significant: not only was she new to the job (she had been made finance minister just a few months prior), but she was also the first woman to take on the role in a full-time capacity and was carrying the weight of India's much-touted economic potential on her shoulders.
One of Sitharaman's main tasks is to change the negative economic narrative that has taken hold in India
It is little surprise, then, that Sitharaman's debut budget avoided any controversial changes in direction for the nation's economy. Instead, it focused on maintaining India's upward trajectory, targeting gradual and sustained growth. Infrastructure was one of the budget's priorities, with Sitharaman promising $72bn to improve the country's railway network and an additional $11.6bn to bolster its roads. Robust and efficient infrastructure is vital to economic development in all countries, and although the nation's railways are extensive – Indian Railways boasts the third-largest network in the world under single management, with more than 68,000km of tracks – more work needs to be done in terms of improving reliability and safety.
What's more, Sitharaman understands that improved infrastructure will go a long way to reducing India's rural-urban divide. "We will invest widely in agricultural infrastructure," she said during her speech accompanying the budget. "We will support private entrepreneurships in driving value-addition to farmers' produce from the field and for those from allied activities, like bamboo and timber from the hedges and for generating renewable energy."
Despite India's ongoing economic growth, many rural areas are yet to benefit. Approximately 70 percent of India's population resides in such locations, and yet agriculture contributes just 14 percent of total GDP and poverty levels remain much higher there. Infrastructure is a significant cause of this disparity, and so it was unsurprising when Sitharaman made it a focus area for her budget. By 2022, India's 75th year of independence, she pledged that all rural households would have access to electricity and clean cooking facilities.
Sitharaman also undertook efforts to boost the country's investment climate. In particular, the budget outlined changes to foreign direct investment (FDI) rules for single-brand retailers. Companies, like Apple, that operate as a single, unified brand must currently source 30 percent of their goods from within India if they are proposing levels of FDI above 51 percent. Any relaxations here would be welcomed by multinational firms, which have sometimes struggled to source the products they need from within the Indian market.
Making up for mistakes
More notable than the reforms being proposed was the tone Sitharaman adopted when announcing her first budget. Throughout the speech, she was clear in pushing back against the criticism that has often been directed at her party and, in particular, Modi's leadership. "On many programmes and initiatives we had worked on [an] unprecedented scale," Sitharaman said. "Average amount spent on food security per year approximately doubled during 2014-19 compared to the preceding five years. Number of patents issued more than trebled in 2017-18 as against the number of patents issued in 2014. Our last-mile delivery stood out and the unknown citizen in every nook and corner of our country felt the difference."
Even when pointing out negative economic trends affecting the nation, Sitharaman wrapped them in a broader positive message, commenting on how FDI inflows had "remained robust despite global headwinds" before skirting over a 13 percent annual decline. Partly, this PR initiative reflects the fact that all is not well in the Indian economy. While the country once looked on course for double-figure GDP growth rates, expansion has since slowed to just 4.5 percent. This has called into question the long-term aim of creating a $5trn economy by 2025. More pertinently, Sitharaman knows she must fight back against accusations that the country's struggles are of its own making.
Among the economic missteps that have been blamed on the ruling BJP is Modi's cash restructuring policy, which scrapped 86 percent of India's circulating currency almost overnight. Demonetisation was supposed to help the government crack down on black money and counterfeit notes, but a report by the Reserve Bank of India found that almost 99 percent of the cancelled currency was successfully deposited in banks – effectively legitimising the ill-gotten cash. The policy only appears to have been effective at causing huge disruption to sectors that rely on cash for their operations. It remains to be seen whether Sitharaman's move to impose a two percent surcharge on annual cash withdrawals exceeding INR 10m ($135,000) will prove to be less chaotic, but it should help push businesses towards digital payments at least.
Nirmala Sitharaman in numbers:
2019
Appointed as India's finance minister
70%
Proportion of India's population living in rural areas
$72bn
Promised investment in India's railways
14%
Agriculture's contribution to Indian GDP
Other failings laid at Modi's feet include India's shadow banking crisis. Collectively, the country's non-bank financial companies, or shadow banks, hold a staggering $42bn in assets, but are not regulated in the same way as traditional banks. Some analysts argue that it is only a matter of time before defaults start to occur. If this led to contagion reaching the rest of the country's financial sector, the results would be calamitous. One of Sitharaman's main tasks, therefore, is to change the negative economic narrative that has taken hold in India. Her personal background as BJP spokesperson will help her argue for the progress that Modi and his government have made, but she will need to back this up with concrete economic metrics.
Second time lucky
Sitharaman's second budget as India's finance minister was announced back in February. This time, the anticipation was even greater, with the country's economic woes becoming further entrenched: in May last year, India lost its title as the world's fastest-growing economy.
Near the top of Sitharaman's to-do list was boosting consumer spending. During the first half of the 2019-20 financial year, private consumption in India grew by a disappointing 4.1 percent. The finance minister has looked to address this by imposing a new tax system that should result in lower-middle-class families retaining more of their income. The entirety of the budget, in Sitharaman's words, is to provide "ease of living" for the Indian people.
Once again, criticism has been quick to emerge. The new tax system is an optional one whereby citizens forego a number of exemptions in exchange for paying a lower rate of tax. Alternatively, they can choose to stay with the old system, which possesses around 70 additional tax exemptions. The problem with the tax restructure is that it is not immediately clear whether individuals will end up paying less tax. This limits how effective it is likely to be in terms of encouraging consumer spending.
Perhaps the biggest news to emerge from the budget is the proposed $30bn divestment of state-owned assets, with Air India and the Life Insurance Corporation of India both expected to be sold. This would certainly help balance the books, particularly with the state's fiscal deficit expected to rise to 3.8 percent of output this year. Still, Sitharaman will need to brace herself for a renewed backlash. The privatisation of state-run businesses is an emotive issue, and critics will be quick to claim that it is a short-sighted measure if proceeds are not committed to long-term investment.
One area where the new budget is likely to receive more support is in terms of its implications for new technologies. Although India has a strong history of embracing IT services, its adoption of more advanced digital tools has been patchy. A report by McKinsey Global Institute found that rectifying this shortfall holds huge economic potential for the country. Strengthening the digital economy could create between 60 million and 65 million jobs by 2025 and provide efficiency benefits across a wide range of sectors, from healthcare to agriculture.
Sitharaman knows she must fight back against accusations that the country's struggles are of its own making
"The new economy is based on innovations that disrupt established business models," Sitharaman explained in her budget speech. "Artificial intelligence, Internet of Things, 3D printing, drones, DNA data storage, quantum computing… are rewriting the world economic order. India has already embraced new paradigms such as the sharing economy, with aggregator platforms displacing conventional businesses. [The] government has harnessed new technologies to enable direct benefit transfers and financial inclusion on a scale never imagined before."
Head to head
Both China and India have huge populations and are in the process of dragging themselves up from positions of relative poverty into ones of economic strength. By 2030, the two nations are predicted to hold the titles of first and second place in the global economic hierarchy. Despite this, there is a feeling that India is being left behind by its East Asian rival.
Recent geopolitical events have brought this rivalry into sharp relief. The ongoing trade war between the US and China should have provided a huge opportunity for Indian exporters to meet the global demand for a range of products. However, for the most part, China's loss has not been India's gain. In fact, some of India's exports actually fell as the trade war rumbled on.
This failure to capitalise is partly due to India's poor record in terms of global competitiveness. The country slipped 10 places to 68th position in the World Economic Forum's Global Competitiveness Report last year, and improving this area of the domestic economy will surely be one of Sitharaman's foremost goals during her time at the finance ministry.
Sitharaman has been in politics long enough to know that unfavourable comparisons between India and China will provide easy ammunition for critics of herself and her party. But as BJP spokesperson and then defence minister, she also showed a resolve that suggests she will do what she thinks is best for India, ignoring the outside noise. That approach will help her as she attempts to steer the country's economy towards its lofty $5trn goal. There remains plenty of work to do if she is going to achieve it.
---
Curriculum Vitae
Born: 1959 | Education: Jawaharlal Nehru University
1984
After studying economics at Seethalakshmi Ramaswami College, Nirmala Sitharaman obtained a master's degree in the subject from Jawaharlal Nehru University in 1984. Her PhD thesis focused on the Indo-European textile trade.
1986
In 1986, Sitharaman moved to the UK, beginning her career in the corporate world. She worked at PricewaterhouseCoopers as a research manager, as well as the BBC World Service, before moving back to India in 1991.
2006
After returning to her home country, Sitharaman joined the right-wing Bharatiya Janata Party in 2006. She was appointed as a spokesperson for the political group in 2010 and, subsequently, a junior minister.
2010
In 2010, she became one of the co-founders of the Pranav International School in Hyderabad. The institution is renowned for its innovative and holistic approach to teaching, promoting a stress-free learning environment.
2017
Sitharaman became India's first full-time female defence minister. Her focus was on boosting domestic defence production and developing strategic partnerships with a number of global powers, including the US and Russia.
2019
In 2019, Sitharaman delivered the first budget by a female Indian politician since Indira Gandhi in 1971. Her long-term aim while in the role of finance minister is to transform India into a $5trn economy.