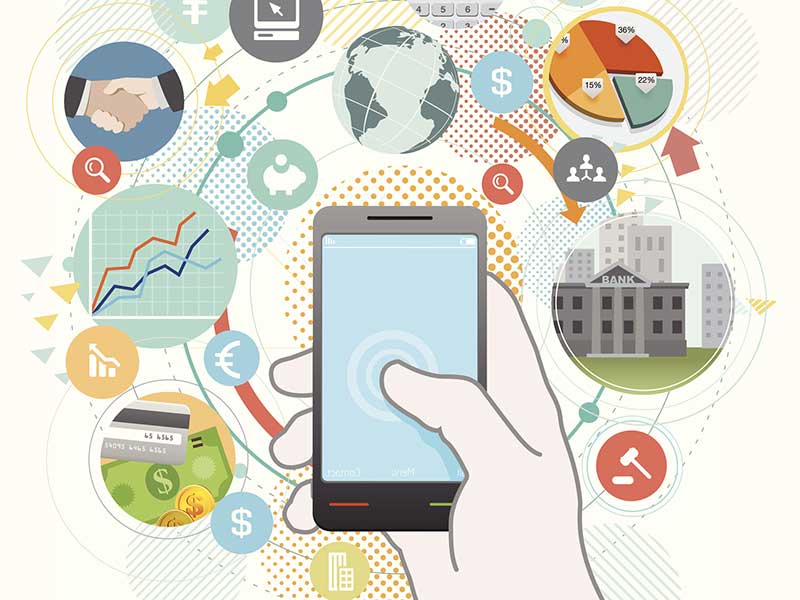 Advances in technology have changed the insurance business and the needs of its customers&nbsp
The full digitalisation of products and processes is at the core of recent developments in the Hungarian insurance market. In the past 10 to 15 years, several technologies have appeared in our daily lives that we previously did not have access to.
Advances in technology have resulted in a huge amount of new information being released to us, which has not only changed the insurance business itself, but also customers' needs and their own everyday lives.
In today's world, it is essential to follow the trends and constantly live with the opportunities provided by technology. After all, if we fail to do so, we fall behind, and this is also true in business.
At Allianz Hungária, the last few years have been about continuous renewal in order to meet customers' changing needs. Allianz Hungária has built its future on the progress made in the innovation of operation; the key to competitiveness in our rapidly changing and developing world is the exploration of opportunities in digitalisation.
Meeting customer needs
Technological developments should serve the needs of all customers, while individual processes must be simplified, cost-effective and more convenient. In order to increase efficiency, we had to complete more and more technological improvements in the past few years.
The first step was the renewal of fast quotes and other calculators on the website, while the MyAllianz Portal has also been improved. With MyAllianz, customers can take control of their insurance, allowing them to see details of their cover, make payments, view insurance documents, request policy changes and notify Allianz of a claim.
The web interface has been also refreshed. It now boasts a uniform appearance across all platforms, making it easier to use, based on providing solutions complying with the latest trends.
We have to prepare for a world where ignoring IT developments and the failure to track trends will be great barriers to competitiveness
In the customer service division, more and more enquiries now come from social media platforms. As a result, Allianz Hungária has built up the same operational structure on Facebook and LinkedIn as in its call centres. Customers can follow the company on social media platforms; they often choose to reach out through Facebook, and Allianz offers assistance through Facebook Messenger. Almost 250 people sent their queries via Facebook Messenger in 2016.
The central Allianz Hungária Facebook page has nearly 50,000 followers, but if we count the official pages managed by its tied agents, Allianz Hungária has almost 80,000 likes in total. Tied agents' activities on social media are necessary, not only because of potential sales, but because this grants the company easier access to its customers (and vice versa). The agents are quite active on these sites, generating 98 percent of all Allianz Hungária posts across 400 Facebook pages.
Payment possibilities
Cashless payment solutions are becoming more and more commonplace. Due to the introduction of the QR code on paycheques, it is accepted that customers can pay their premiums via their smart phones. If customers prefer to manage their account over the phone, Allianz Hungária – as the first company in the Hungarian insurance market – provides them with the possibility to pay the premiums through a secure phone platform.
In Hungary, customers prefer a wide range of payment options – while older customers prefer to pay in person, young adults favour online services and processes with limited personal contact. Last year, Allianz Hungária and Ingenico Group introduced a new method of credit card payment in the customer's home, which utilises secure card reader terminals and a connection with smart phones.
Beyond the risk management involved in the use of cash, the traffic management and the control of the records was very expensive. We have therefore decided that our tied agents will also have mobile terminals. We keep the needs of our customers in mind when allowing them to pay on the site and at the time they prefer, safely and quickly, providing not just the paycheques, bank demand or bank transfer form to choose. The transaction figures show that this innovative solution is appealing to our customers, but of course we are also aware that some people prefer to pay in cash. They may be more difficult to reach with these developments.
Digital products
As the Hungarian insurance market continues to grow, more people would like to obtain insurance and asset management solutions anywhere, through the channel that is the most convenient to them. Modular, digital products and solutions are an ever-increasing demand, and so in most of Allianz Hungária's business and segments, only digital products have been introduced since 2016. Digital products incorporate online processes, from calculating the expected premiums, sales and administration to the claim management processes. These processes could allow everything to be done online by customers as a self-service.
Of course, to promote the opportunities of digital products, Allianz Hungária offers online discounts to those who take out an insurance policy online. For example, there is the travel insurance loyalty programme, which is actually a discount programme that rewards customers' allegiance. If somebody joins the programme and collects the discounts, he or she can get a 25 percent discount on their travel insurance.
Allianz Hungária on Facebook
48,000
Allianz Hungária's Facebook likes
30,000
Tied agents' Facebook likes
78,000
Total likes
The biggest development in the insurance sector comes from the consolidation of the claims management processes. In 2016, Allianz Hungária's claims experts received tablets to improve the service they give to the customers. The Wi-Fi tablets are optimised for outdoor activities and extreme weather conditions, allowing claims experts to strengthen their mobility and enjoy a more efficient workflow. The application running on the tablets means digital damage assessments, damage calculations, diagnostics and settlement agreements are all available on-site.
The main advantage of such developments is that they improve service quality by allowing optimisation and, following the repair costs, improving efficiency of claims management. Moreover, they help to evaluate the work of claims experts and repairers. The current status of the entire claims process can be constantly monitored, and the automatic data upload function minimises manual data entry.
Inside the call centre
Reducing manual work processes plays an increasingly important role in the sector's growth, primarily because speed is key in competitiveness. This is also true for the reaction time of responses to customer inquiries. Since 2012, Allianz Hungária's Contact Centre has received 70,000 customer requests a month on average, and more than 100 employees are tasked with responding to these.
More than 80 percent of these cases are answered and solved by the Contact Centre, which is an outstanding result internationally. On an annual basis, every 15th call results in contracting, a figure which represents a benchmark on an industrial level.
The consolidation of processes allows the available data to be treated and used as a resource for business decisions. In general, it is true that high-level business analytics capabilities should be the body for the available data to obtain information. This depends not only on expertise, but also on organisational, cultural and mind set changes. Inside the organisation, the attitude to data should change.
Challenges in business
Although digital services are growing in popularity, this does not mean the role of agents and brokers will significantly decrease. However, we have to prepare for a world where ignoring IT developments and the failure to track trends will be great barriers to competitiveness.
This could be frightening for a company with an international background and with decades of experience, because it has to present an extremely high adaptability to customers. However, all types of new thinking or mindset changes when approaching new opportunities show high degrees of flexibility and adaptation.
Companies around the world expect an unfavourable situation in the market, but this must not dissuade the larger efforts. You can never sit back, because the constantly changing environment presents us with new challenges. The future is not what we thought it would be a few decades ago: the world has accelerated, and unexpected turns and unpredictable changes now characterise our lives.
Global renewal agenda
This constant change is a characteristic of financial services too. Those firms that wish to retain their competitive edge and continue to grow are those who anticipate the changes. In 2016, Allianz instigated a multi-annual, group-wide renewal agenda that aims to strengthen the pillars of group operations and set a new growth path for subsidiaries. The subsidiaries in 70 countries should strive to do their business by paying attention to customer needs.
Those firms that wish to retain their competitive edge and continue to grow are those who anticipate the changes
Allianz Hungária's German parent company aims to improve efficiency by digitalising the entire company. The profit achieved will then be turned back for investments related to resources and growth promoters.
Allianz is also looking to create global businesses that can take advantage of economies of scale. This renewal agenda is adapted in Hungary according to market conditions. All of the development projects start with asking customers what they think about Allianz Hungária and its services. Any valuable feedback is built into the subsequent processes.
In these surveys, the company focuses on exploring the key areas for improvement and examining the cases through the eye of a customer. This helps to identify points where intervention is needed in order to achieve higher levels of customer satisfaction.
Continuing work begun in recent years, we will improve communications, significantly decreasing paper-based communication in parallel with increasing electronic data, and moreover we make available online payment options the widest.
In 2016, Allianz Hungária celebrated its 30th anniversary. It has been the leading insurance company in Hungary for three decades, and it is appreciated by the society as a responsible, innovative and reliable company.