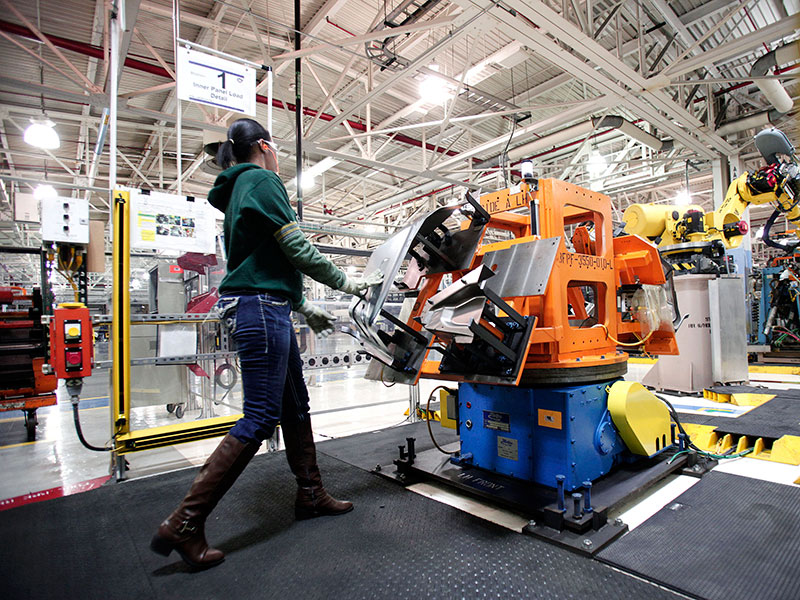 A Fiat Chrysler stamping plant in Michigan, US. Fiat Chrysler has announced it will be investing $1bn into upgrading two of its US factories&nbsp
Author:
Erica de la Harpe
January 9, 2017
The US arm of automobile manufacturer Fiat Chrysler announced on 8 January a $1bn investment into the "retooling and modernisation" of two of its manufacturing plants in the US Midwest. The factory upgrades of the plants in Michigan and Ohio aim to create 2,000 new US jobs by 2020, and will focus on the production of three new Jeep SUV and pickup truck models. The production of the Ram pickup truck will also be moved from Mexico to the US.
Fiat's CEO and architect of the company's merger with Chrysler, Sergio Marchionne, announced in 2014 his intentions to step down in 2018 following the completion of the company's five-year strategic plan. This latest billion-dollar investment forms part of the design, and fits into the latest series of factory changes that were announced by Fiat Chrysler back in July 2016.
Donald Trump's pro-growth policies are an additional consideration for companies in the US automobile market
The move comes in response to decreasing demand for small and medium-sized cars. With gas prices remaining relatively low in recent years, US consumers' preference has shifted away from sedans and hatchbacks, prompting Fiat Chrysler to focus on the expansion of its truck and SUV production.
The migration to bigger vehicles is a positive consumer shift for automakers, according to Adrienne Roberts of the Wall Street Journal. She said that SUVs and pickup trucks "command higher price tags and deliver bigger profits in the US", particularly "at a time when several other global markets are under pressure and development costs are rising due to regulations and a move to more autonomous vehicles".
Donald Trump's pro-growth policies, including his proposed 'border tax', are an additional consideration for companies in the US automobile market. Ford Motors, who in January this year scrapped a $1.6bn plan to build a factory in Mexico in favour of investing in a plant in Michigan, has referred to 'market conditions' as a key motivating factor behind the decision.
Ford's CEO Mark Fields described the move as "a vote of confidence in what we think the president-elect is going to pursue". He also said: "It's right for our business."
Vehicle production has become a thorny political issue between Mexico and the US following the presidential election in 2016, with Trump vocalising his opposition to companies producing cars in Mexico for export to the US. Trump publicly condemned companies, including General Motors and Toyota, for continuing the practice, while also announcing an impending border tax on companies. In January 2017, he tweeted:
General Motors is sending Mexican made model of Chevy Cruze to U.S. car dealers-tax free across border. Make in U.S.A.or pay big border tax!

— Donald J. Trump (@realDonaldTrump) January 3, 2017
Though Fiat Chrysler's move will be a blow to Mexico's already struggling economy, it does not signal the end to the country's automobile manufacturing. Companies such as Volkswagen, Ford and indeed Fiat Chrysler will continue to produce smaller numbers of small and medium-sized cars in manufacturing plants across Mexico.
Additionally, on 9 January – in stark opposition to Fiat Chrysler – BMW announced a $1bn investment plan into one of its manufacturing plants in Mexico.
The impact that shrinking manufacturing options in Mexico will have on competition does nevertheless raise a number of questions. As a recent report from the Mexican Ministry of Economy highlighted: "Compared with the United States, Mexico offered [in 2016] reductions of 12.3 percent in manufacturing costs of auto parts, 16.3 percent in metal components, 9.8 percent in precision components and 15.2 percent in plastics supplies for the industry."
With Mexico's strong involvement in free trade agreements and low duties, it is in a highly competitive position globally. Should US gas prices rise or the Trump administration reconsider its free trade agreement participation, even despite a burdensome 'border tax', companies may no longer consider the US to be the economic haven it is currently perceived as.