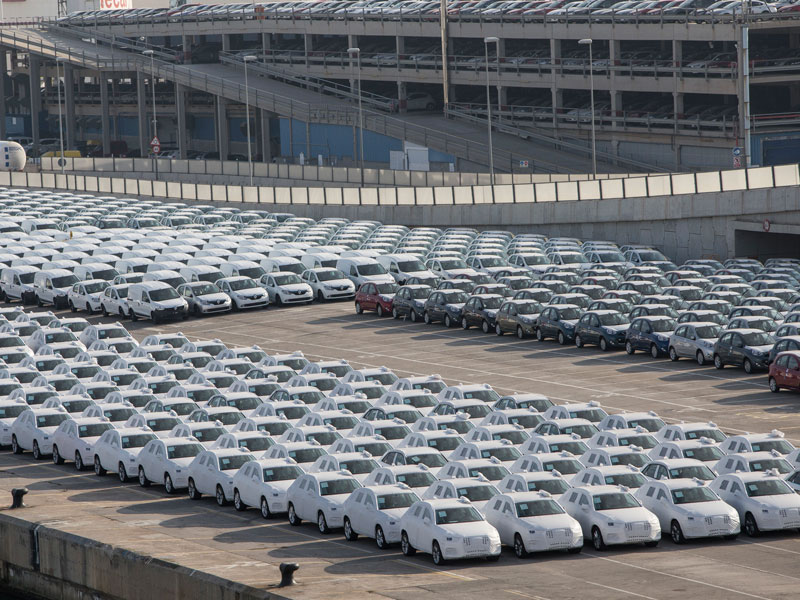 The 2008 financial crisis severely impacted Spain's economy, but its robust exports sector has allowed it to bounce back effectively &nbsp
Spain was hit as badly as any country following the 2008 financial crisis. The collapse of the nation's housing bubble revealed the unsustainability of its high GDP growth rate, after which the economy began contracting, unemployment skyrocketed and a €100bn ($113.6bn) rescue package was needed. Spain joined Europe's group of economic basket cases dubbed the 'PIIGS'.
Companies are continuing to focus on exports even though domestic demand is starting to return
Today, Spain's economy tells a very different story. Its GDP is forecast to expand by 2.1 percent in 2019, outperforming most other nations in Western Europe, and economic reforms have been implemented to make Spanish businesses leaner and more profitable. Exports have been at the heart of this resurgence.
The crisis of a decade ago forced firms to make difficult decisions, but they are now reaping the rewards. By tapping into global supply chains and international markets, Spanish businesses have been able to grow even when domestic troubles persisted. Whether or not the country can continue its export-led boom, however, will depend on maintaining the right level of investment and hoping that global demand avoids a downturn.
Trimming the fat
The simplest explanation for Spain's export surge is that, following the financial crash, businesses were given little choice but to look overseas. The crisis of 2008 caused a significant decline in domestic demand – one that was unlikely to be a flash in the pan. William Chislett, Associate Researcher at the Real Instituto Elcano, told World Finance that there is "nothing magic" about Spain's recent export growth.
38,373
The number of Spanish firms that could be classified as 'regular exporters' in 2012
50,562
The number of Spanish firms that could be classified as 'regular exporters' in 2017
67%
of Spanish exports are sent to other EU countries
$18bn
Amount received by the Spanish automotive industry in greenfield investment between 2007 and 2017
"With a shrinking domestic market, both in the private and public sector, small and medium-sized companies in particular risked going to the wall because of a shrinking domestic market," Chislett explained. "The only alternative they had was to go abroad and see if they could sell there, which they did successfully on the whole."
The automotive sector remains the biggest exporter of Spanish goods, but even looking at smaller firms, a growing reliance on exports can be clearly discerned. In total, the number of Spanish businesses that can be classified as 'regular exporters' – firms that have exported for four years continually – increased from 38,373 in 2012 to 50,562 in 2017. In addition to motor vehicles, Spain also exports significant amounts of machinery, plastics, pharmaceuticals and food products.
Ironically, it seems that Spain's current growth is not in spite of the financial crisis, but because of it. As well as causing domestic demand to plummet, wages in the country also fell, making Spain more competitive across global markets. A comparison with Italy – another of the so-called PIIGS countries that suffered so much following the financial crash – demonstrates that Spain's export-driven success is not easily replicated.
Following the 2008 financial crisis, productivity in Italy fell, meaning that it required more employees or higher costs to produce goods and services. In Spain, partly as a result of painful cost cutting, productivity levels remained level. This means that today, the unit labour costs in Spain remain four percent lower than they were at the beginning of 2008. In Italy, on the other hand, they are now 12 percent higher.
Going global
Spain's ability to boost its export figures is also testament to the way in which its domestic businesses have managed to integrate themselves within global supply chains. Between 2007 and 2014, Spanish export firms increased the proportion of imported components that constituted their goods and services, indicating that they became more incorporated within global value chains.
Businesses are also starting to look further afield. Although EU states still make up the most common destinations for Spanish goods – intra-EU trade constitutes 67 percent of the country's exports – other markets like China and Turkey are growing in significance.
Even in tough times, Spain has found the resources to invest in its most successful export sectors. The Spanish automotive industry received over $18bn in greenfield investment between 2007 and 2017 – an amount that has enabled it to shift its focus and improve profitability. SEAT, for example, returned to profit for the first time in approximately 10 years back in 2016 and agreed to up production at its Martorell factory as a result.
Spain's export growth is not limited to goods, with services also showing signs of improvement. The export of non-tourist services has grown more than sevenfold over the past 25 years, with knowledge and company-based services accounting for much of the recent growth. Exports of Spanish services accounted for 10.5 percent of GDP in 2017 – a figure only bettered by the UK among the EU's top five economies. Perhaps most promising of all, though, is the way in which companies are continuing to focus on exports even though domestic demand is starting to return.
During its pre-crisis heyday, Spain's economy was being driven by credit-fuelled construction projects
"The temptation is always there for businesses to just focus on the home market once domestic demand picks up again," explained Chislett. "Others, however, will rightly be reluctant to give up on the hard work required to secure market share overseas. The motor industry will never focus just on the domestic market, but even a lot of the smaller [businesses] are now regular exporters."
Over the past few years, domestic demand in Spain has grown steadily, expanding 2.9 percent in 2017. A general return of market confidence has provided businesses with the assurances they need to begin targeting their goods and services at the Spanish market again. Even so, they are reticent to give up the market share they have acquired overseas. After all, if they do so, there is no guarantee that they will be able to get it back again.
The pain in Spain
Although Spain's export-driven economy is often held up as a prime example of how to recover from an economic downturn, it should be remembered that there has been plenty of difficulty along the way. As well as wage cuts, there have also been labour market reforms that have made it easier for businesses to fire their employees. These reforms may have been necessary to improve Spain's competitiveness, but that will provide scant consolation to workers who have had to put up with stagnant pay packets for the last few years, or who lost their jobs altogether.
The move towards exports has successfully restructured Spain's economy, but even that comes with risks. During its pre-crisis heyday, Spain's economy was being driven along by credit-fuelled construction projects, which eventually collapsed under the weight of their own debt. The construction industry is now much smaller and exports have grown to fill the gap, but the sustainability of this approach has also been questioned.
If global growth was to slow, for example – and many predictions suggest it will – Spanish businesses that rely on overseas sales may begin to struggle. The IMF recently cut its world economic growth forecasts for 2019 and 2020 twice in the space of three months. Unresolved issues in the EU and an expected slowdown in China are at the root of such concerns.
Even if such forecasts prove to be overly negative, other issues could derail Spanish businesses. Currently, many of their exports have a low technical component that makes them particularly susceptible to competition from emerging markets.
"A number of problems remain for the economy as a whole," said Chislett. "The education system is pretty lousy and this factors into the economy. Spain needs an education system that produces more skilled workers, which will, in turn, create more workers that can contribute higher up within the export value-added chain."
The gains from the export booms are also not being shared equally, with a substantial proportion of Spain's exports concentrated in the hands of just a few organisations. Looking at 2017, the top 10 exporters accounted for 15 percent of the country's exports, while the top 25 accounted for a quarter. Given such figures, it is perhaps unsurprising that Spain's continued economic growth is hiding some ongoing problems.
Spain's Gini coefficient – a measure of a country's income inequality – is among the highest in Europe, and more than a quarter of the population remains at risk of poverty or social exclusion. Even Spain's unemployment figures, which have certainly improved since the financial crisis, remain disappointing: total unemployment is around 14.5 percent, although it has been steadily declining in recent years (see Fig 1). Perhaps more concerning is that youth unemployment is close to 40 percent.
Clearly, the export boom has not managed to resolve all of Spain's economic woes. In order to ensure that exports continue to perform well and the related economic benefits are shared around, greater investment is needed to allow small-to-medium exporters to continue expanding. Only then can the country move away from an export trade that is dominated by a handful of major players.
Similarly, funding for research and development must be increased. Spain's budget currently resides at just 1.2 percent of GDP – far below that of the EU's biggest spenders. This not only traps Spanish firms in a cycle of low-value exports – it leaves them highly susceptible to competition from higher-skilled workforces elsewhere.
Spain left it too late to move away from its dependence on an overheating real estate market, and subsequently had to rely on a series of painful reforms to recover from the economic crisis of 2008. Although exports have come to the rescue, there are no guarantees that they can be relied upon forever. Spain must now start planning for sustainable long-term economic prosperity that is based on hi-tech services and domestic consumption, in addition to exports.