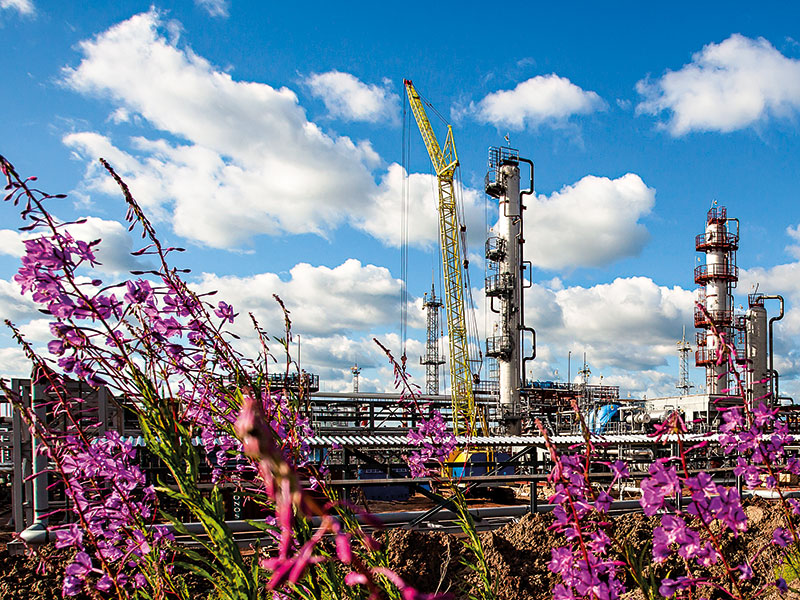 The first of the gas processing plants installed at the Yaraktinsky field, which will have a capacity of 3.6 million cubic nanometres of gas per year&nbsp
Author:
Ekaterina Arbuzova, PR Specialist at Irkutsk Oil Company
November 1, 2016
Although the possibility of gas infrastructure in East Siberia has become an attractive prospect for both oil and gas producers, significant challenges remain. As testament to this, Irkutsk Oil Company (INK) has dedicated more than six years of development to this particular area of activity.
More than 13 years ago, INK established itself as the first oil producer in the region, utilising its resources even without developed infrastructure for transportation or the presence of well foundations. Adapting to such conditions, INK grew to become the largest privately owned independent oil producer in Russia, consisting of several companies that specialise in every stage of the hydrocarbon extraction process (from research to production) across INK's 23 licensed fields.
INK is also the region's most experienced firm when it comes to difficult projects and commissions within East Siberia. Its most recent development consisted of opening eight new fields in the Irkutsk region and the Republic of Sakha. In the same vein, the past five years have seen INK drastically increase its production of crude oil, achieving more than 5.6 million tonnes in 2015, while 2016 is projected to exceed 7.5 million tonnes.
The technology used was able to yield both gas and petroleum in locations that were bereft of infrastructural developments
The largest taxpayer in the Irkutsk region, INK supplied over RUB 200bn (equivalent to $6bn at the time) to the government's coffers between 2007 and 2015. As a consequence, the company's net profit acts as an economic stimulus to the entire region.
Capturing success
The official start of INK's gas framework in 2010 was marked by the introduction of gas re-injection into formation, with the simultaneous capture of liquids such as gas condensate. Just two years into the project – which was the first of its kind in Russia – INK was able to capture associated petroleum gas (APG).
The main innovation behind this advancement lay in the accessibility of the project, as the technology used was able to yield both gas and petroleum in locations that were bereft of infrastructural developments. These achievements received much praise and recognition from the European Bank for Reconstruction and Development, the project's financing partner.
In recent years, INK has made significant investments into increasing the capacity of the compressors that process APG at its Yaraktinsky field. The Markovsky field, where the company also aspires to achieve the utilisation of APG, was included in INK's gas project as well. Consequently, there are now 13 compressor units with a total power of 34MW in operation in both fields. Having this capacity in place boasts numerous advantages: importantly, they include the elimination of flaring gas, as well as a considerable reduction in the emission of greenhouse gases.
Given the success achieved by the Eastern Siberian project, INK then proceeded with the construction of several facilities, all of which relate to the processing of natural gas and APG. Furthermore, the framework for a coherent transportation system, predominantly concerning propane, butane and stable gas condensate, will soon be available for buyers of said valuable gas components. As such, it seems the gas industry in Eastern Siberia will flourish.
"I think that our example [of developing infrastructures in the region] will enter textbooks", said Chairman of INK's Board of Directors, Nikolay Buynov. "Many decisions still remain on paper, not set in concrete. Only in 2018, when the operation will literally start working, will we say we
have succeeded."
Project backbone
Through a $40m investment in 2014, INK has raised international awareness about its gas programme. Then, in 2015, as the project began to increase its operations, INK tripled its investment into the concept, reaching $125m. The first phase of construction is now near completion, which will culminate in the establishment of natural and gas infrastructure in the region. The results will bear a production rate of 3.6 million cubic metres of gas per day, as well as creating a new pipeline that will stream liquefied petroleum gas (LPG) from the Yaraktinsky field to the city of Ust-Kut along a distance of 196km.
Speaking of the progress INK has made, Buynov remarked that this gas infrastructure is "the backbone" of a great future – not only for the project, but also for the whole region.
5.6m tonnes
Irkutsk Oil Company's 2015 crude oil production
7.5m tonnes
The company's projected total production for 2016
As things currently stand, the general processing of LPG is scheduled to commence in the first half of 2017. In parallel, propane and butane delivery to respective clients of the company will begin as well. The initial dispatch of LPG will consist of 160,000 tonnes per year, most of which will be transported by railroad to both foreign and domestic markets. In the local mobility sector, car drivers and public transportation will soon benefit from cheaper fuel and a cleaner environment. And here lies another major opportunity for the LPG industry: to displace gasoline and diesel fuel in river vessels.
New niche
INK's new facility will have the ability to produce value-added products, such as propane and butane mixed with isobutane, which will meet international standards. With the capacity to process 1.8 million tonnes of natural gas liquids per year, the facility will be highly functional as well.
As natural gas liquid contains up to 39 percent ethane, by adding ethane processing, the facility's processing power will be increased by another 30 percent, to 2.4 million tonnes. Eventually, ethane will form the feedstock for the facility, effectively actualising the third phase of INK's gas project. The project is sui generis at its core: no comparable undertakings exist in the region at this time.
The launch of the facility will change the direction of INK's sales strategy by supplying Pacific Rim countries with finished goods that will be transported by both land and sea. Deputy Commercial Director Vladimir Asmakovets told World Finance: "This market is large and exciting: China's imports increase every year, with 2015 bringing 10 million tonnes of LPG, in comparison to only four million tonnes imported in 2013. Japan also consumes more than 10 million tonnes of LPG per year. INK holds an advantageous position in terms of logistics, as Asia-Pacific markets border us."
Three additional gas processing plants with a daily capacity of six million cubic metres each will be supplied by UOP, a company owned and operated by Honeywell, within the next two-to-three years. UOP is a leader in modular plants for the natural gas industry and the world-leading manufacturer of gas processing equipment.
Another company that is deeply involved in the process is Toyo Engineering, which prepared front-end engineering design of the gas processing plants and assisted INK with development of the concept of the project. Teaming up with such experienced partners is essential for the undertaking of this project, as INK's technologists and engineers have yet to accomplish tasks of such scale and complexity without external assistance.
Around $215m has been spent on the realisation of the project to date, while the total spending – which includes the construction of production facilities – is estimated at $3bn. INK's ambitious goal is to monetise all components of natural gas and APG from virtually all of the company's fields.
The culmination of INK's gas project is the realisation of an advanced gas chemical complex. Indeed, this complex will allow the company to utilise the maximum potential of its gas resources. INK plans to have a polyolefin-production facility based in city of Ust-Kut, which will manufacture both linear low-density polyethylene and high-density polyethylene. Equipped with the most advanced technology available, the factory can dispense up to 500,000 tonnes of polyethylene per year. To accommodate such a high output, INK plans to build a 100MW-capacity power plant on the site.
The realisation of the three-phase project will have a great effect on the socio-economic status of East Siberia. In addition to creating myriad new jobs, INK's plan will lift the living conditions of the citizenry and form a favourable economic atmosphere. Given that during the first 15 years of production the government is expected to collect more than $3.1bn in tax revenues, the project will significantly increase the local government's budget as well. This in turn will have its own ripple effect, spurring economic activity and development throughout the region.